Scriptures on Being Strong: When life's challenges blur our vision and grace feels like it is far away, it's in those trying moments that we can turn to be strong bible verses that will help us to unlock our inner fortitude. Hardships may test us, but they are designed to make us strong and not to not break us. Remember, what doesn't defeat us only serves to make us stronger. Below we have looked at some bible verses about being strong
Scriptures on Being Strong
1. Psalm 46:1-3
1. God is our refuge and strength, a very present help in trouble.
2. Therefore we will not fear, Even though the earth be removed, And though the mountains be carried into the midst of the sea;
3. Though its waters roar and be troubled, Though the mountains shake with its swelling. Selah (NKJ)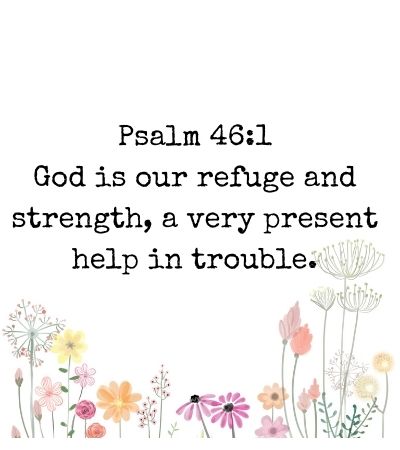 2. Joshua 1:9
Have I not commanded you? Be strong and of good courage; do not be afraid, nor be dismayed, for the Lord your God is with you wherever you go." (NKJV)
3. Proverbs 18:10
The name of the Lord is a strong tower; the righteous run to it and are [a]safe. (NKJV)
Read: Verses about Going Deeper With God
4. Isaiah 40:30-31
Even the youths shall faint and be weary, and the young men shall utterly fall,
But those who wait on the Lord Shall renew their strength; They shall mount up with wings like eagles, they shall run and not be weary, They shall walk and not faint. (NKJV)
5. Isaiah 41:10
Fear not, for I am with you; Be not dismayed, for I am your God. I will strengthen you, Yes, I will help you, I will uphold you with My righteous right hand.(NKJV)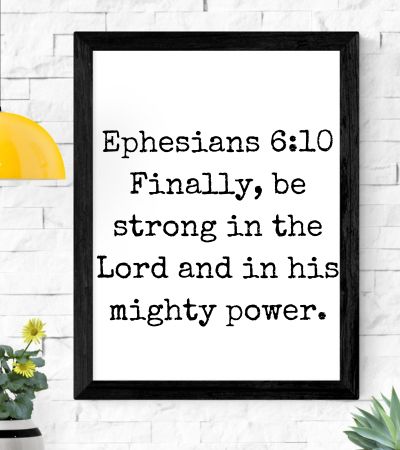 6. Exodus 15:2
The Lord is my strength and song, And He has become my salvation; He is my God, and I will praise Him; My father's God, and I will exalt Him (NKJV)
Bible Verses About Being Strong
1. Psalms 34:19
Many are the afflictions of the righteous; But the LORD delivers him out of them all (NKJV)
2. 1 Chronicles 16:11
Seek the Lord and His strength; Seek His face evermore! (NKJV)
Read: Bible Verse about Sleeping Too Much
3. Psalms 34:17
The righteous cry out, and the Lord hears, And delivers them out of all their troubles.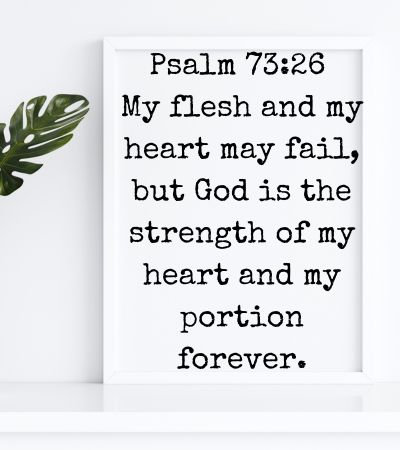 4. Psalm 27: 1
The Lord is my light and my salvation; Whom shall I fear? The Lord is the strength of my life; Of whom shall I be afraid?
5. Psalm 32:7
You are my hiding place; You shall preserve me from trouble; You shall surround me with songs of deliverance. Selah
Read: Scriptures on Laziness and Procrastination
Stay Strong Bible Verse
1. Ephesians 6:10
Finally, be strong in the Lord and in his mighty power.
2. 2 Corinthians 12:9-10 
But he said to me, 'My grace is sufficient for you, for my power is made perfect in weakness.' Therefore I will boast all the more gladly about my weaknesses, so that Christ's power may rest on me. That is why, for Christ's sake, I delight in weaknesses, in insults, in hardships, in persecutions, in difficulties. For when I am weak, then I am strong.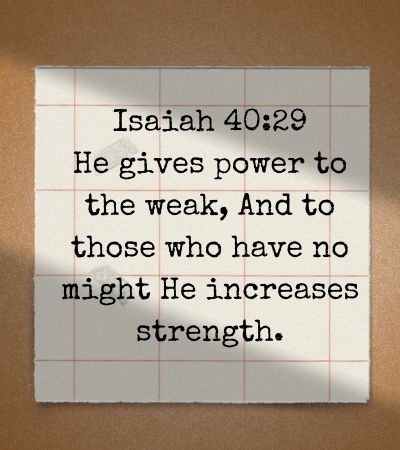 3. Psalm 73:26
My flesh and my heart may fail, but God is the strength of my heart and my portion forever.
Being Strong Bible Verse
1. Isaiah 40:29
29. He gives power to the weak, And to those who have no might He increases strength.
2. 2 Corinthians 4:8-9
8. We are troubled on every side, yet not distressed we are perplexed, but not in despair
9. Persecuted, but not forsaken: cast down but not destroyed
3. Jeremiah 17:6-7
7. Blessed is the man that trust in the Lord, and whose hope the LORD is
8. For he shall be as a tree planted by the waters, and that spreads out its roots by the river, and shall not fear when the heat comes, but its leaf shall be green; and shall not be anxious in the year of drought, neither shall cease from yielding fruit
Read: Quotes About Strong Woman of God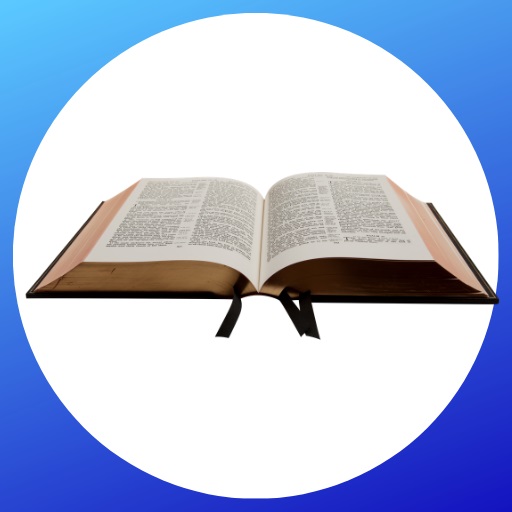 Mzuri Springs provides you with free study guides, devotionals, useful articles, and more