Christian Valentine Messages for Husband: This valentine's day you cannot miss the opportunity to send a heart-touching valentine's day message to your husband.
If you prefer religious valentine's messages, we got you covered. Our Christian valentine's messages for husband are unique and will be a blessing to him.
There are many ways to celebrate with your husband this valentine's day, but one of the things you cannot fail to do is send him romantic married couple love valentine's day quotes for husband.
Christian Valentine Messages for Husband
1. Happy valentine's to the love of my life, you are a gift from God and I am happy to be in you.  Cheers to many happier moments.
2. I thank God for giving me a caring man like you. My world is better because you add so much sunshine to my life. Blessed valentine's day to you, darling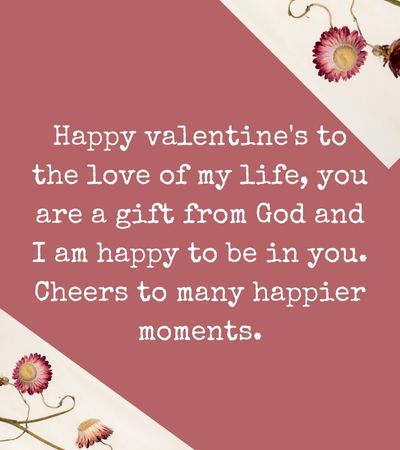 3. On this valentine, I must admit God gave me the best husband anyone could ask for. You are the true love of my life. Happy valentine's day to us!
4. I always admire the great man you are; you will always have a special place in my heart. May God continue to bless and happy valentine's day.
5. Darling, you mean the world to me. I am trusting that through God's guidance, we will have many happier moments. happy valentine's day to you, my husband.
6. Thank you, babe, for being an exceptional husband. I pray for you to be blessed with good health and success. Happy valentine's day hubby
7. I wish you a happy valentine's day surrounded by God's love and peace. Lots of love from your wife.
8. Your love and kindness are indescribable. You are a true epitome of a godly husband. Wishing you the best.
9. My God-given days continue to be enjoyable and interesting for having you in my life. I love you, my dear.
10. On this valentine's day, I choose to celebrate you for being the husband I always wished for. Special valentine's day to you.
Read: Bible Verses for Valentine's Day
Religious Valentine's Messages for Husband
1. Thank you sweetheart for continually adding a smile to my face. I appreciate you with all my heart. happy valentines day hubby
2. On this valentine's day, may God fulfill the desires of your heart and add you more fulfilling years. Happy valentines to my loving husband
3. You are a priceless gift in my life, and I wouldn't trade you for anything. Have a blessed valentine's day.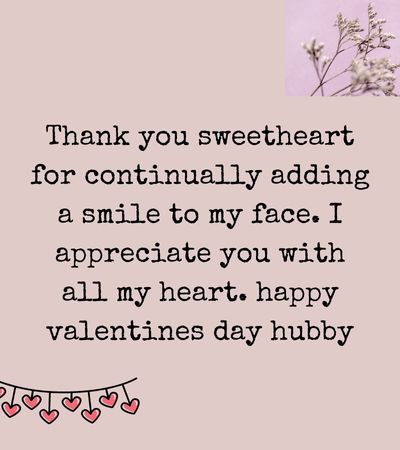 4. Babe, thank you for the sacrifices you make to ensure I have the best life. Best wishes to you
5. Happiest valentine's day to the coolest husband in the world. You are God's image of a great dad and husband.
6. You are not only handsome, but you are also kind-hearted and lovely. Having you means having more than I ever imagined.
Read: Good Morning Text To Make Her Fall In Love
7. I pray to God to always enable me to be the wife you always wanted.
8. Thank you, darling, for in time of need you always stand by my side.
9. May the favor of God always be with you and make you a great man. The world needs more special and caring people like you. Happy valentine's day to you.
10. If I had an opportunity to repeat my life's journey, I would gladly choose you to be with me. I am grateful to God for having you.
11. May our love for each other be renewed this Valentine's day. Happy valentine's day to you!
12. Every moment spent with you is cherished. Hoping for better days with you by my side.
13. My love for you grows stronger every day. Let your heart and mind be renewed by God's love this day. Happy valentine's my husband.
Final Thought
This valentine's day you don't have to worry about getting the right religious messages for your husband. The above messages will bring a smile to your dear husband. Best wishes as you have a fantastic valentine's day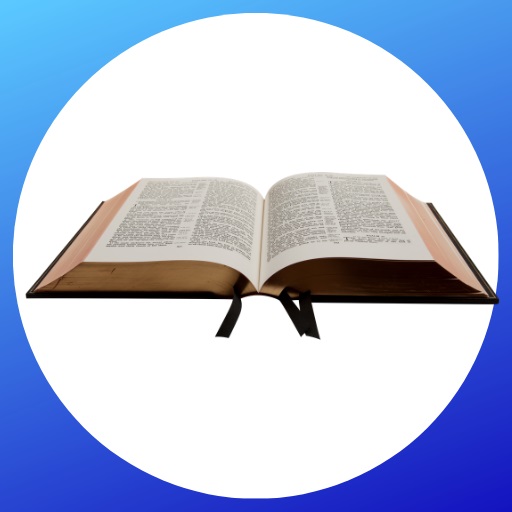 Mzuri Springs provides you with free study guides, devotionals, useful articles, and more