Inspirational Easter Messages: These Inspirational Easter Messages will leave you inspired to face life from a better perspective.  Although many may see it as a season for chopping off the ears of chocolate bunnies, this season is very important to every Christian. It is a season where they commemorate the resurrection of Jesus. It can be a period where your dreams, faith, and aspirations are rebirthed and renewed.
Below are some of the best Inspirational Easter Messages for Friends, family, and colleagues. They are basically inspirational Easter quotes from the bible, best authors, and leaders.
Inspirational Easter Messages
Easter reminds us that Jesus loved sinners. Since He preferred working with imperfect people, there is still hope for you and me, with Him on our side the best is yet to come.
It is a happy Easter yet again, we are once reminded that no man was denied like Jesus, he suffered that we have the best. Happy Easter.
The joy of having a Savior is once again in our minds this Easter.
Although they gave him a crown of thorns that didn't stop him from fulfilling God's will. No matter the difficulty let us hold to our faith to ensure we fulfill God's perfect plan for us. Happy Easter
Happy Easter! Here is the greatest news? Our Lord has risen; He is not here. Nothing could hold him, not even death. Because he conquered, we shall also conquer through His power.
It's a happy Easter knowing that our Lord is the only living savior, no one is like Him. Every day He leads us into the righteous path.
Happy Easter, it is another time to reflect on life through our Lord's word. To let go of our burden and leave them at the cross.
Easter reminds us that life never ends inside 6 fits under the grave. Love will eventually conquer all. Happy Easter!
Happy Easter! As Christ rose from the dead, so will the power of God raise us from the dead.
Happy Easter, God is love, nothing will ever change that.
Inspirational Easter Messages for Friends
Happy Easter! Let us be thankful because Jesus gave us one more chance to be great people. His suffering on the cross washed us from our sins.  All the best my dear.
What a wonderful day it is, an Easter Sunday, a day that reminds us never to lose faith. My friend, have faith in Him!  Don't forget to talk to Him, He is listening. Happy Easter!
Wish you a hopeful and happy Easter. As Spring adds new life I wish you will have renewed faith to look unto Jesus our savior.
Happy Easter my friend. Let's celebrate that our Lord has the best plans for us. Nothing is impossible with Him.
May God shower you with his blessing this Easter. Let your faith in Him never waiver.
Our lives would be nothing without the grace of God. The same way without Easter we wouldn't be assured of resurrection.
Life passes very fast, let this Easter be a reminder that our time in this life is limited but one with our Savior is limitless.
Happy Easter! This season let's get committed to the things that matter.
It's another time of the year to understand the battle that Jesus won over the evil forces of Satan.
The work of our lives has no meaning if the work of the cross wasn't accomplished.
This Easter let's add the quality of our life by adding Christ in our lives.
2000 years ago the kingdom of God gave its best, His only son. Let's celebrate that God gave the best.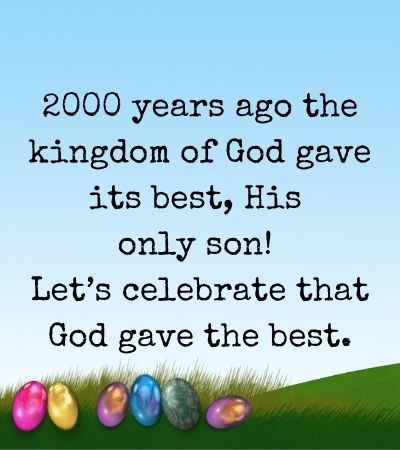 In a world where there is no way, we can rejoice knowing that Jesus is our way!
Wish you a marvelous Easter Sunday, let not only your faith be renewed but also your strength. God bless you.
Easter is good proof that with God all things are possible. Where God is, there is abundant life.
Let not your heart be discouraged this Easter, we have a savior who washed our sins and continues to fight the battle on our behalf.
To error is human but to forgive is divine. This Easter choose a new start and let go of the burden that weighs you down.
Rejoice and hold on to your faith this Easter, one day we will meet our savior.
Our Lord Jesus Christ came to earth to give us an opportunity to enjoy eternity with Him, so don't let your faith waver away. Trust more in Him. Happy Easter.
Happy Easter John, may the achievements gained out of your efforts remain to reach your future generations. May God continue to bless.
Inspirational Easter Quotes From The Bible
Jesus is the resurrection and the life. To anyone who will trust in Him will never die -John 11:25-26.
Death came through a man and the resurrection of the dead comes also through a man. 1 Corin 15:21.
We understand that Christ was raised from the dead, he will never die again; death no longer has power over him. Romans 6:9.
Son of Man must be given over to the hands of sinners, be crucified, and on the 3rd day be raised again. Luke 24:6-7.
You killed the creator of life, but God raised him from the dead. Acts 3:15.
Inspirational Easter Messages to Employees
Happy Easter to you, may the love and forgiveness of God be added more in your life this day. May Christ help you and lead you to the right paths.
May the Lord bless you this promising day of Easter, may it be a renewed start of greater prosperity, achievement, and contentment. Wish you a Happy Easter.
It takes the hand of God to know the true meaning of Easter. Wish your heart will find rest in God. Happy Easter.
Easter is a day to be glad. Christ cut the chains of slavery for us. Have a blessed Easter Monday.
Have a lovely Easter break, you are a true epitome of a true Christian. May the Lord bless you as you enjoy your time with your family.
Wish you a joyous Easter! You are an outstanding employee who is fearless to stand firm in God's word. Thank you for standing with us.
May the boundless love and blessings of God be with you during this Easter season. Wishing you peace and success all through the season.
Wishing you a very fabulous Easter holiday. May God shower your family with blessing and happiness now and always!
It is a wonderful day to be alive, sending you my heartiest Easter holiday wishes, may Almighty God favor you and make your dreams come true.
Hope this Easter brings for you enough grace to enable you to achieve what may seem impossible. You deserve the best and I trust God will bless you abundantly.
Hello, my friend, I pray that true joy will be painted in your heart this Easter season. Happy Easter!
I hope Easter meets you with joy and prosperity. Have a wonderful Easter!
Christian Inspirational Easter Messages
Easter starts and ends with love, for God loved the world that he gave his best to us. Happy Easter
Let's rejoice for we are no longer slaves of evil, the price paid for our redemption is so great to ever think of giving up. Happy Easter.
It is another year to celebrate the goodness of God. Not only is Easter a reminder of God's love, it is also a chance to share his blessings with others. Happy Easter.
He has risen! It is a day to celebrate and spread the good news.    May the love of God embrace you and your family. Happy Easter,
Sending this warm Easter message to you my friend. You are a good team player and you deserve the best that life has to offer. Cheers to an exciting Easter Monday.
The undying faith in Jesus has been renewed once again this Easter. It's time to recommit all our hopes and dreams to the everlasting savior. Enjoy your Easter Holiday!
Happy Easter to you! Celebrate this season with lots of positive inspirations and happiness. All the best
I take time to wish you a happy Easter Monday filled with an overflowing basket full of love, good health, and success.
May we on no occasion lose confidence every time we are facing problems. The confidence we have in Jesus is that He overcame the worst that man had to face, so we shall also overcome.  May that be our basis of strength, cheerful Easter.
Let's rejoice it is Easter!  Easter reminds us that even though we will one day go to the grave, the grave won't hold us forever. Amen
This Easter Holiday may the company of loved ones give you a hopeful reason to fight on and hold on to your faith in Jesus.  Have a joyful Easter.
The complete plan for the future has its key in the resurrection. We know there is more to life than wealth, fame, and friends. Eternal life awaits all those who walk in Christ's footsteps. Wish you a Happy Easter.
Easter Wishes for Family and Friends
Conclusion
As you send your Easter Card to your family and friend you can include one or two above Inspirational Easter Messages. This will give some extra meaning to your Easter messages.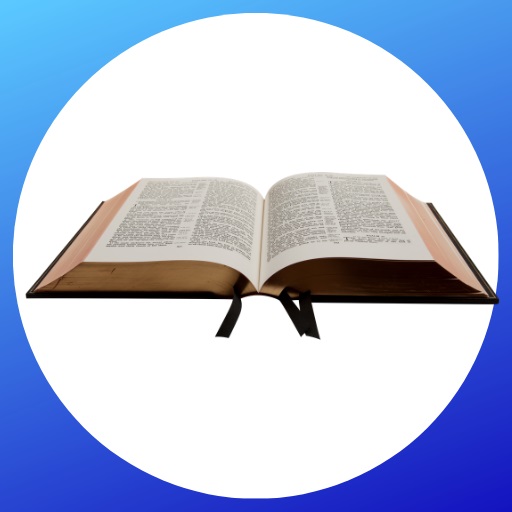 Mzuri Springs provides you with free study guides, devotionals, useful articles, and more