Prayer Points Against Hindrances: It is good to understand that the Christian life is not a simple walk. At one point hindrances are expected to come out way, but with help assured to us by Jesus through the Holy Spirit, we shall overcome them.
Below we have looked at some of the prayer points against hindrances.
Having a look at them will help you build your faith more. Hope you find these points of great assistance.
Prayer Points Against Hindrances
1. Thank you Father for you are taking away all the hindrances in my life and you are making way in the wilderness and streams in the wastelands
2. Lord help me not to dwell in the past things but to look forward past any hindrances and know new things are coming to my life.
3. Holy Father give me the courage to throw off all the things that hinder me and the sins that burden my heart against progress.
Read: Prayer Point for Financial Breakthrough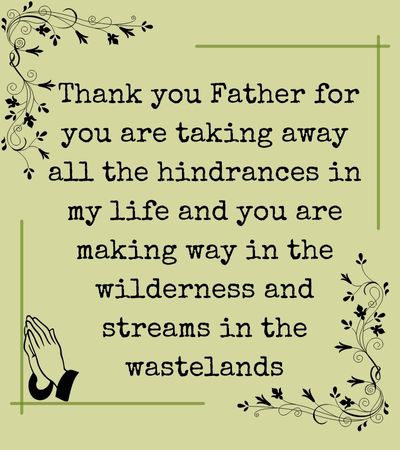 4. Lord, I call upon you to deliver me from all the troubles and hindrances that stagnate my life
5. In the name of Jesus, I pray against any unforeseen spiritual hindrance in my life.
6. I believe in a mighty God who can help me advance against any evil spirit that wants to attack me.
7. Father, I am grateful for your word that promises us that no weapon fashioned against will prosper. I believe you will deal with all hindrances to make a way where there seems to be no way.
8. I come against any discouragement that may hinder me from achieving what God has intended for my life.
9. The divine power of God will destroy any stronghold that hinders my prayers.
Read: Prayers of Repentance in The Bible
Prayer Against Hindrances to Breakthrough
"God,  You are a great God yet you hear us when we pray even for the smallest need in our life. You even fight the battles for us when the ranging storms come. Father, I have been fighting a battle on my own, but now I surrender all to you, fight for me Father. Let my enemies see that I serve a living God who can give justice to those who call on Him. In the name of Jesus, I come against any hindrances that have delayed my prayers. In Jesus' name, amen"
"Our God in heaven you have assured us that we are more than conquerors through Christ Jesus. Help me to fully believe in you and the promises that you have given us. You gave us Jesus, to be our Savior and my prayer is that you grant me victory in all the hindrances I am facing. This I believe in Jesus name, Amen"
Read: Christian House Warming Message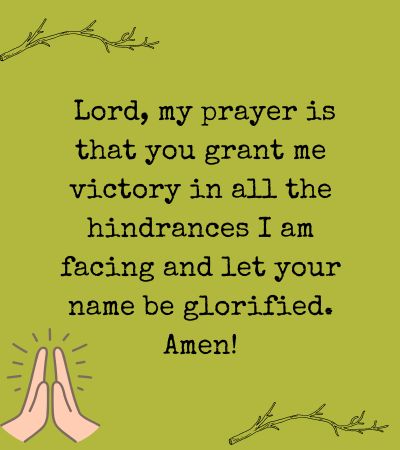 Prayers Against Hindrances
"Thank you, God, for there is nothing that comes my way without your knowledge. Our father you ensure that we are never tempted beyond what we can handle. Give me the strength to overcome these hindrances, and if it is in your will, provide a way to victory. Thank you Mighty God, In Jesus' name, Amen"
"Thank you, God, for your promises are true, and Amen. When facing problems in this life I will hold on to you. Father help me to overcome all that I am facing today. In Jesus' name, I command all the wicked plans against me to be burned by the fire of the Holy Spirit. I believe in Jesus name, Amen"
Read: Prayer to Get a New Home
Bible Verses About Hindrances to Prayer
Psalm 66:18
"If I had cherished sin in my heart, the Lord would not have listened." (NIV)
James 4:3
"When you ask, you do not receive, because you ask with wrong motives, that you may spend what you get on your pleasures." (NIV)
1 Peter 3:7
"Husbands, in the same way, be considerate as you live with your wives, and treat them with respect as the weaker partner and as heirs with you of the gracious gift of life, so that nothing will hinder your prayers." (NIV)
Read: No More Delay Prayer Points
Proverbs 28:9
"If anyone turns a deaf ear to my instruction, even their prayers are detestable." (NIV)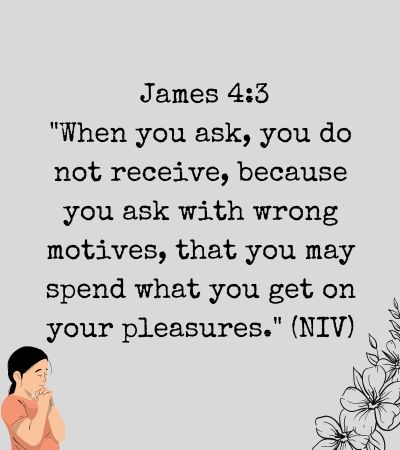 Matthew 6:5-6
"And when you pray, do not be like the hypocrites, for they love to pray standing in the synagogues and on the street corners to be seen by others. Truly I tell you, they have received their reward in full. But when you pray, go into your room, close the door and pray to your Father, who is unseen. Then your Father, who sees what is done in secret, will reward you." (NIV)
Mark 11:25
"And when you stand praying, if you hold anything against anyone, forgive them, so that your Father in heaven may forgive you your sins." (NIV)
Isaiah 59:2
"But your iniquities have separated you from your God; your sins have hidden his face from you, so that he will not hear." (NIV)
1 John 5:14-15
"This is the confidence we have in approaching God: that if we ask anything according to his will, he hears us. And if we know that he hears us—whatever we ask—we know that we have what we asked of him." (NIV)
Read: Short prayer for peace of mind
Prayer Points Against Hindrances to Breakthrough
1. Romans 8:37
"Yet in all these things we are more than conquerors through Him who loved us." (NKJV)
Are you facing hindrances? Believe you are more than a conqueror
Warriors go to battle expecting to win, that is the attitude that every Christian should have. You may be weak physically but our Christian battles are often spiritual, battles which we cannot fight for ourselves, our role is only to pray, believe, and love God. How can we fight spiritual battles? These battles are not ours to fight but the Lord's, that is why we are more than conquerors through Christ Jesus.
2. Isaiah 54:17                    
"No weapon formed against you shall prosper, And every tongue which rises against you in judgment You shall condemn. This is the heritage of the servants of the Lord, And their righteousness is from Me," Says the Lord." (NKJV)
Nothing will harm you
The good thing about knowing the scriptures is that you know the exact promises to claim before God.  When praying against hindrance the book of Isaiah 54:17 has given us the surety that nothing will harm us. You cannot be harmed by your enemies, just believe and hold on to nothing else but the truth and faith you have in the Lord.
Read: God Will Fight Your Battles Scripture
3. Exodus 14:14
"The Lord will fight for you, and you shall hold[a] your peace."(NKJV)
The Lord will fight for you
Imagine having someone who will fight for you when the battle becomes tough. That is the surety we get when we fully believe in the Lord. The greatest battle in the bible was won by the power of the Lord, mighty men didn't have a chance where the Lord was fighting for His people. As you face different hindrances in this life, have faith that God will fight for you when you ask and believe.
4. 1 Corinthians 10:13
"No temptation has overtaken you except such as is common to man; but God is faithful, who will not allow you to be tempted beyond what you are able, but with the temptation will also make the way of escape, that you may be able to bear it."(NKJV)
Others have overcome hindrances and so can you
Sometimes when we look at what we are facing we end up thinking that the mountain before us is the greatest in the whole world. But sometimes when we hear and witness what others are going through we realize that our problem is like a small aunt's hill. Nothing is new in this world, whatever you are going through has been overcome by others, and this is a good assurance that you can also make it.
Read: List of Answered Prayers In The Bible
Important points on prayers against hindrances
Always believe that God will answer you
Before praying ensure you have forgiven all those who could have wronged you
Let God fight for you, do not aim at revenging to anyone
Humble yourself and pray for God's will to be done over all the hindrances you are facing.
Claim the promises that God has given to us, He has promised and He will fulfill
Have an open heart, tell everything to God, and be willing to let go of everything that is not pleasing to Him
Conclusion: Prayer Points Against Hindrances
The reason why people don't prosper even when they are destined to do so is because of the difficulties and hindrances they face. Some of the reasons why people fail is because of failing to take the right steps in life. Others fail because of spiritual battles, battles that can only be won by prayers and other both prayer and fasting. God has a good plan for all who believe in Him, even those who do not believe the Lord's blessing somehow get to them. He is a Graceful God intending to help us and even fight for us.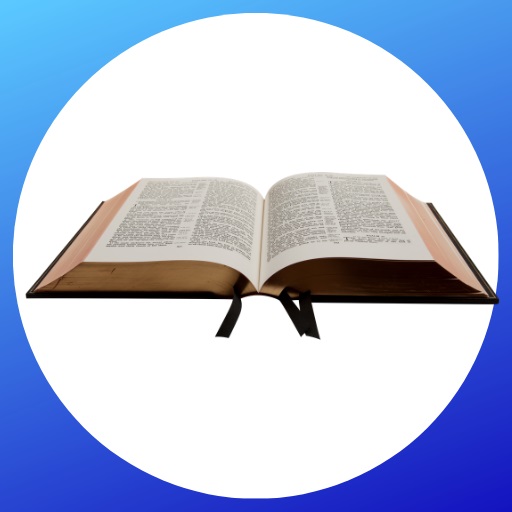 Mzuri Springs provides you with free study guides, devotionals, useful articles, and more