Christian Love Quotes for Wife: Looking for the best Christian love message for her?  There are many sweet things to say to a Christian girl and in this article, we have put together messages and quotes that will bring a smile to her face. Additionally, these godly love messages for her will also help you come up with messages that will help you express your love for her.
Christian Love Quotes for Wife
1. Where love is, God is. I thank God our love grows stronger each day.
2. Your love inspires me to be more selfless.
3. Because you Love God with all your heart, it becomes easy for me to love you. I am glad to love you back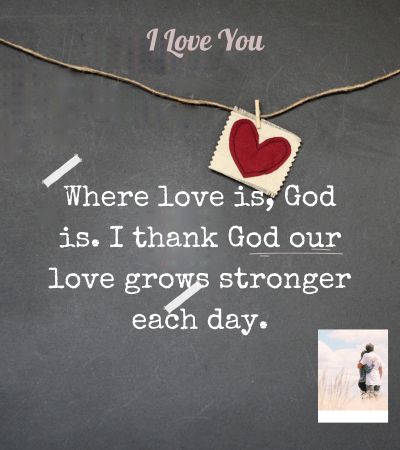 4. Your love is kind and true, you are the angel in my dreams.
5. God bless you, my princess, you are the biggest blessing in my life.
6. I will not lie and tell you that you are the air that I breathe, but I will sincerely say you add more life to the life I live. I thank God for you.
7. Every time I count the blessing in my life, I count you twice. Love you
8. God knew I needed a lady like you to maintain the sanity in my life.
Read: Christian Love Notes to Husband
Christian Love Messages for Her
1. At last, the girl I always prayed for has agreed to be mine, I promise to love you right.
2. You have conquered my heart with your love. I pray our love will overcome all to last forever.
3. You are the beautiful bird in my life, always beautiful and impressive to look at. God must have spent more time creating you. Love you.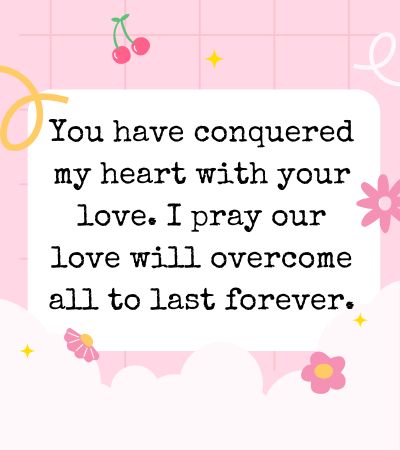 4. You are God's gift in my life. My love for you keeps my heart warm. I love everything about you.
5. You are the blooming lavender in life, a beautiful flower given to me by God. I have every reason to be happy.
6. My love for you is more than desire, it is admiration and respect for the great god fearing girl you are.
7. Love is God given, and true love is patient, kind and gentle. I promise to love you as the precious gift in my life.
8. In my eyes, you are the sparkle that lightens my life. Thank you for being beacon of God's love in my life
9. Loving you has proved to be a prudent course, I am hoping God will bless our love and make it bloom to something great.
Read: Good Morning Prayer for Her
Christian Love Notes to Wife
1. You are my flower from heaven, so grateful to God for giving me the chance to love you.
2. You are the apple of my eyes.  and the virtuous lady in my life, I love you so much.
3. God gave me the desires of my heart when He gave me you. I cherish you.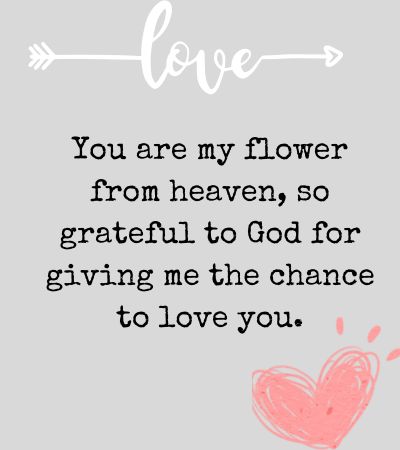 4. You are very beautiful both on the inside and on the outside. Thank God you are fearfully and wonderfully made
5. Your love is real; am sure God's word inspires you on how to love.
6. Genuine love covers a multitude of sins, thanks for you have mended my heart to love you more.
7. I am not afraid to declare my love for you, before God and man
8. Love is the greatest gift from God. I can gladly declare to the world that I love you with all my heart.
Read: Have a Blessed Weekend Messages
Spiritual Love Messages for Her
1. The more I love, the more love I have to offer. May our love be a true demonstration of God's blessings in our life.
2. My dear I will take care of you, and guard your love in my heart. You are a very important person.
3. Open your heart and be glad. You have my love and the endless love of God is always with us.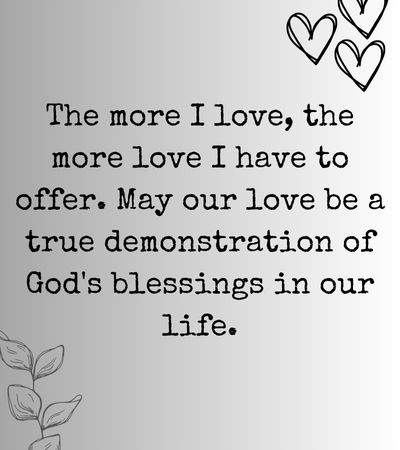 4. True love comes from God. You know how to pass on the perfect love from your heart. I am grateful to have you.
5. No joy can compare to the sweet moments we share. Love is the joy we get from God
6. To love another person selflessly is to see the hand of God. You are the twinkling star in my life.
7. One of the best ways I am sure will always love you is by taking time to pray for you.
8. To truly love another person means putting our needs before theirs. Love you, my dear
Read: Christian Christmas Wishes for Wife
Bible Love Message for Her
1. On your happiest days, I find my joy, I am always delighted to see you happy! May this love be a reflection of the sacrificial love demonstrated by Jesus Christ.
2.  You are the right lady that God has given me to cherish and love.  Seeing your smile brightens my day, I love you, honey.
3. In my heart and soul, there is a true commitment to always love you right. May God help me to fulfil all the great plans I have for you.
4. I promise to love you each day, when my love becomes weak I will pray for God's unending love to fill my love for you.
5. Heaven is never short of supply for love, if we are heavenly connected, our love will grow stronger
6. Love without actions is weak. May our love become stronger in deed and behavior.
7. My dear, our relationship is meaningful and beautiful because of you. You are the God-given lady.
8. From the day I saw you, I never imagined spending my life with any other person. You will always be God's best choice in my life.
Read: Christian Wedding Wishes
Christian Love Messages for Girlfriend
1. Our Love becomes stronger as time passes. I am contented that you are the perfect soul mate that God created for me.
2. Love makes us better people. You have made me become a better person.
3. Through love and faith I am hopeful that our future will be bright.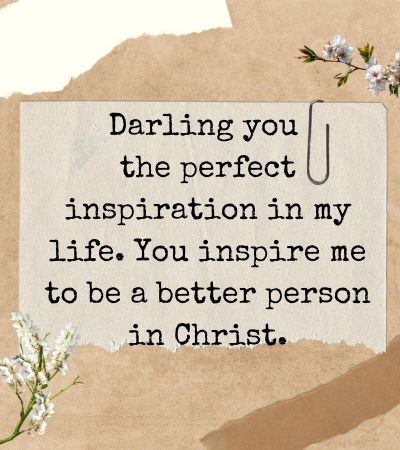 3. In my world, I know there is no better lady than you. If in eternity I will have a chance to choose I will still choose you.
4. Love renews our hope. My life became brighter the day I met you. I love you so much, love!
5. Having you in my life is an eternal blessing. I cannot calculate the value you add to my life, it is priceless!
6. Each day is a day to love, we should miss the opportunity to show love.
Read: Goodnight Messages for Him to Make Him Smile
Godly Love Messages for Her
1. Darling you the perfect inspiration in my life. You inspire me to be a better person in Christ.
2. Through our support and prayers for each other I know the future holds a lot. You are the girl I would give my all just to be with you.
3. I look forward to an encouraging spiritual journey with you. I will always search for the best ways to show you my love for you.
4. I would run 1000 miles just to be with you. May God's love binds us eternally.
5. You are the jovial lady in my life, I will never let you go and I seek for God's guidance in every step we take.
6. With you in my life, your love inspires me live  in a happy and godly life.  My heart has a special place for you
7. The love we share has made me a better person. May God bless be with us to build a wonderful future,
Read: Short Religious Christmas Quotes 
Sweet Things To Say to a Christian Girl
1. You are the biggest motivation in my life.
2. Spending my time with you is always thrilling and fulfilling.
3. Please always smile more, your melt my heart with your smiles.
4. My life is now full of good memories because of you.
5. Life has many twists and turns but as long as we are together I don't care where it takes us.
6. Even though I love you, I will continue to learn better ways to love you!
7. The little things you do for me are what make my life enjoyable. Thanks so much.
8. Even when it is dark the best thing we can hold on to is each other.
9. Your happiness is my priority, hope nothing will take away your happiness.
10. I need you to like the way a phone needs its charge to recharge it.
11. Holding your hands is the simplest but the most romantic thing will always enjoy.
12. To me, you are my world, I love you with all my heart.
13. I am lucky to find the one who both my heart and soul long for.
14. Even when you don't say a word to me, the sight of you in front of me gives me enough joy.
Read: Religious Good Morning Messages for Her 
Conclusion: Christian Love Quotes for Wife
At any time of the day, your girlfriend or your wife will appreciate a short romantic message that is meant to show her your love. If you have a busy schedule that you may not be able to find time to write a long romantic message, you can simply text her one of the above short messages.  As a boyfriend or husband, you have no excuse for not expressing your love for her. Be creative in your way and your marriage or relationship will become better. All the best as you send her short love messages.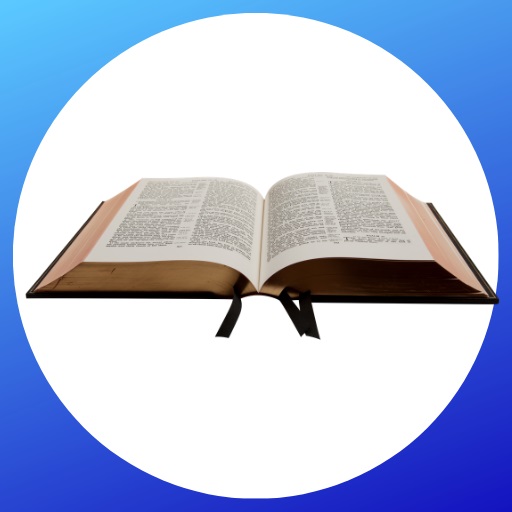 Mzuri Springs provides you with free study guides, devotionals, useful articles, and more