Christian Baby Shower Messages: If you are wondering what to write in a baby shower card, your search has come to an end.
A baby brings a lot of joy, and as you organize a baby shower to celebrate a mother-to-be, you cannot fail to have an inspirational baby shower message.
Below are baby shower wishes you can send to a religious mom or mom-to-be.
Christian Baby Shower Wishes
1. Happy baby shower to you! I know your baby will grow in the cover of God. You have nothing to fear for God is with you.
2. I am wishing you the best as you wait to have your baby. This baby has been entrusted to you because God knows you will raise it well. Congratulations
3. A precious gift is soon to be delivered to the world. I pray that the Lord will be with you and give you what you need to become a wonderful and godly mom.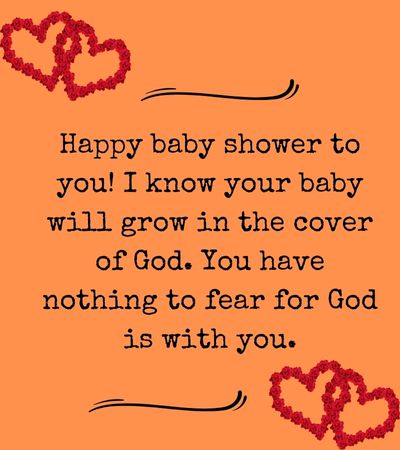 4. Happy baby shower day to you my dear, the baby you are carrying is a heritage from the Lord and he will be a blessing in your life. Congratulations!
5. On this day we have enough reason to praise the Lord. Your baby will be blessed with good health and peace from birth.
6. I pray as you welcome your baby, you will never lack what he will need to grow up in the right and godly way. Blessed baby shower to you
Read: Baby Shower Wishes for Friend
Christian Baby Shower Messages
1. The gift of a child comes from God. Congratulation on receiving a heavenly gift.
2. I rejoice with you for being blessed with a child. May the Lord be with you as you wait to have your baby.
3. It is a wonderful day and a happy baby shower! Seeing you travel the road to motherhood has been great. May the Lord keep you and watch over you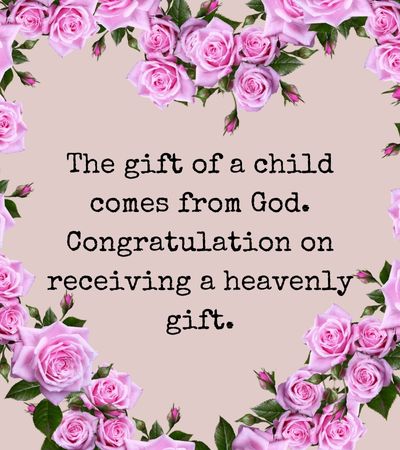 4. A happy baby shower for you my dear, you will be a great mother. I continued to pray for you as you finish the last lap of your trimester.
Read: Happy 8 Months Baby
5. It is a special day to celebrate with you! Indeed, God has blessed you greatly. We look forward to the arrival of your bouncing baby. Happy baby shower day to you
6. The plans of God in your life are great. You are special and I celebrate you. I am praying for safe delivery.
7. With lots of love for you we have set aside this day to show you we celebrate with you. Your little one will be surrounded by love and happiness.
8. Be strong in the Lord. Soon you will hold your bundle of joy. May you experience joy and peace from above. All the best my dear friend
Read: Baby Shower Messages for Sister
Religious Baby Shower Wishes
1. May the Lord renew your mind and body as you usher your baby into the world. All the best and safe delivery.
2. I wish you a joyful arrival of your baby. May he grow up being loved by God and man.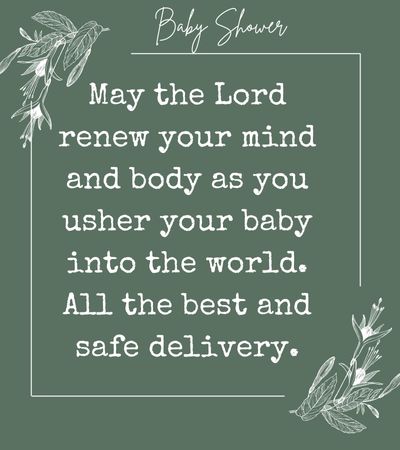 3. Grateful to God for giving you the chance to experience a good and healthy pregnancy. As you finish this race, I pray for good health.
4. The grace of God will be sufficient for you to soon enjoy your baby's unconditional love and tenderness. Best wishes to you.
5. We thank God for fulfilling the desires of your heart. This baby will add joy to your life. Congratulations and have the safest delivery.
Read: Best Wishes for New Beginning
6. The blessing of God adds no sorrow; I pray your child will have the best foundation to become a godly child. Congratulations
7. The precious life of your baby is God-given. She is a gift that will be more than a blessing.
8. As you have your baby, always commit your plans to Him For He is the friend who sticks closer than a brother. Happy baby shower!
Baby Shower Christian Message
1. I thank God for soon you will receive a priceless gift in your life. I am praying for your good health and your baby's health. All the best.
2. In thanksgiving and praise to God, I pray that you have all the that you need to be a wonderful mom.
Read: Religious Pregnancy Announcement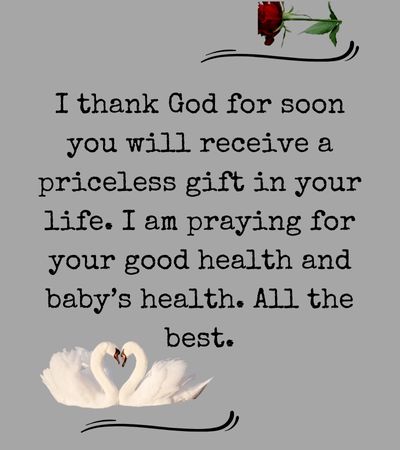 3. May the Lord go before you make ways for you. May He watch over you and your unborn baby. Have a blessed baby shower
4. There are countless things to be grateful to God for on this special baby shower. May His hand continue to guide you. Happy and blessed baby shower
5. The faithfulness of God can be seen in your life. Enjoy this baby shower in thanksgiving and gladness in your heart. Best wishes to you
6. The Lord who gave you your baby is the same one who will provide and give you the grace to be a wonderful mom. Cheers to an enjoyable a
7. This will be a memorable day, we celebrate the far you have come and the far you will go. Congratulations on the soon birth of your child. God bless you
Read: Biblical Encouragement for New Moms
Religious Message for Baby Shower Card
1. God has been good to you, for nine months you have carried His creation in your womb, Congrats my dear.
2. Your prayers have been answered, and I rejoice with you. All the best.
3. Children are a heritage from the Lord. We thank God for giving you the chance to become a mother.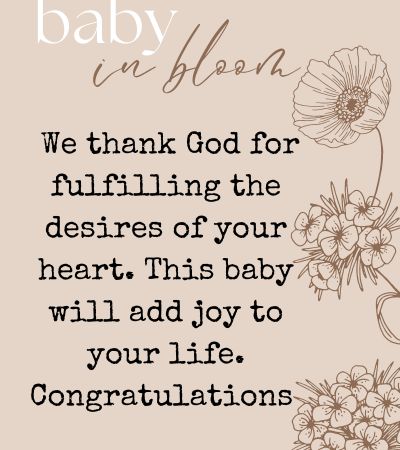 4. You have been rewarded with the best gift any woman can expect. Praying for your safe delivery.
5. Rejoice for the Lord knew your child even before she was created in your word. He will take care of you both. Congrats.
6. Unto you, a baby girl has been given to you. May God add you the knowledge to bring her up on the right path. Love you.
7. We thank God for giving you the grace to carry the little one for 9 months. Wish you a peaceful transition period to motherhood.
Read: Being A Mom Quotes and Sayings
Biblical Baby Shower Messages
1. God knows how to add joy to our lives. You are so blessed to expect a baby. We celebrate with you!
2. May the Lord grant you grace to be the best mother to your baby girl.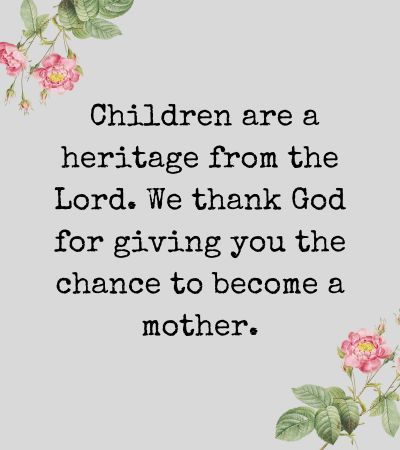 3. Congrats, a miracle has come to you, you are blessed to expect a baby girl. May happiness come your way.
4. Cheers! Delighted to see the goodness of God in your life. I Pray your new baby girl will bring more joy to you.
5. Praise God for the gift of your baby. Her eyes, little hands, and innocent look will remind you of the goodness of God.
6. Good gifts come from God, we thank Him for giving you a baby boy. Congrats.
7. Heaven has smiled on you. Congrats! May God be with you as you prepare to bring your child into the world.
Read: Welcoming New Born Baby Quotes
Final Thought
Baby showers create a wonderful moment for you to celebrate a sister, cousin, aunt, or friend who is expecting to have a baby. The above spiritual quotes for baby showers are unique and will help you celebrate your loved one in the best way.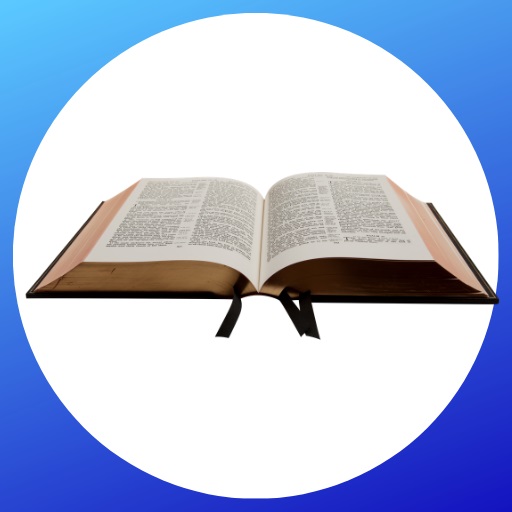 Mzuri Springs provides you with free study guides, devotionals, useful articles, and more