Thank You and Farewell Message to Colleagues: After several years or months of working together, you are finally leaving the company for greener pasture. To appreciate your colleague for the support and the time you shared you can send them farewell messages.
Goodbye Messages When Leaving a Company are important because they indicate the value which you saw in your colleagues. These can messages build better relationships that allow people to connect even after leaving their organization.
To help you come up with the best farewell messages we have compiled several messages as shown below.
Thank You and Farewell Message from Colleagues
1. Without a doubt, you have inspired me in so many ways. I wish you the best as you get into a new role.
2. May you be successful in all you do. It is only the beginning of new things in your life.
3. Thank you for holding my hand when I needed help. You have been important in my life. Goodbye.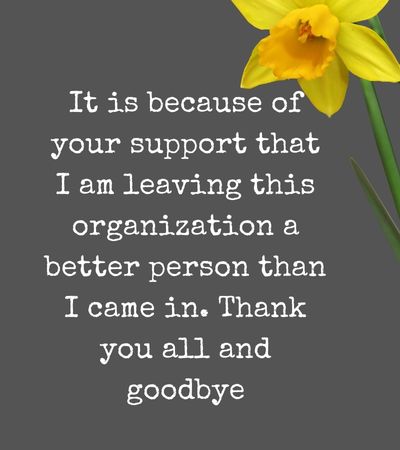 Read: Thanksgiving Message to Colleagues 
4. I will surely miss working with you. You are a hand working person and the future looks bright for you.
5. No words can be enough to appreciate the support you have shown us as our team leader. All the best in your endeavors.
6. From having a common working place, I have known a great friend in you. Farewell, my friend and thank you for your inspiration.
7. It has been a wonderful opportunity to work with you. I pray that as you get into the new position more blessings will come your way.
. It breaks my heart that I won't be working next to a good guy like you. On the other hand, I am glad you have a lot to achieve in your new role. Best wishes to you.
9. I can't believe that you are finally leaving. It's been an honor to work with you. Farewell my colleague, hope you keep in touch.
Read: Farewell Message to Outgoing Pastor
Goodbye Message to Colleagues on Last Working Day
1. The times I have worked with you have been great. You have been more than just colleagues, but good friends. Wish you well, goodbye
2. This company has been my second home for the last 5 years. I have no words to appreciate every one of you. All I say is, may the coming days bring more success. Goodbye.
3. You deserve an award for the way you have treated me in this company. My skills and experience have grown better working with you. I will miss you and I hope our path cross again. Goodbye.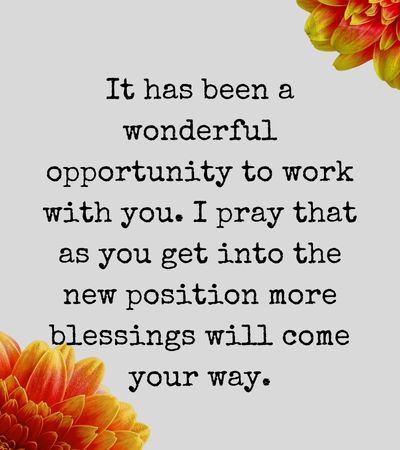 4. Farewell and good luck in all you do. It is because of your support that I am leaving this organization a better person than I came in. Thank you all and goodbye
5. I must admit that it has been an exceptional opportunity to work with you. I hope even after I leave we shall retain our friendship. Cheers my friends
Read: Quotes by Christian Leaders
6. It is exciting to see the wonderful position you have gotten, I will truly miss your jokes and laughter in the office. May the new position be fulfilling.
7. The journey looks bright for you. May your story become great as you get into the new job. Thanks for being a good colleague.
Farewell Message to a Colleague
1. You knew how to handle every one as per our character. You never lacked the right words to inspire and that is why we are taking this time to say thank you. All the best in your future endeavors. Bye.
2. Your great contribution to the company cannot go unnoticed. I know you have what it takes to become successful everywhere you go. It has been wonderful working with you. All the best
3. No farewell message can be enough to express how important you have been to this company. You were quick to help, and support anyone who needed your assistance. May you continue to shine on the bright light of kindness even in your new role
Read: How to Thank Someone for Money
4. You have grown to become a resourceful person over the years. Although the company still needs you, we have no option but to rejoice with you on your appointment. Farewell
5. Keep on doing your best, the sky is the limit. All the best as you venture into a new opportunity. Cheers and all the best.
6. You are a manager that will miss. You took interest in us and ensured we attained the best. Without a doubt, we will miss you and your leadership skills. Goodbye.
7. Thank you for setting better standards for your teammates. As you challenged them, may you also find the best challenge for your life. All the best and goodbye
Read: Christian Teamwork Quotes
Farewell Message to Colleagues After Resignation
1. Thank you for the good memories you have helped me create and enjoy the time I have worked with you. Goodbye
2. Thank you for giving me the chance to work under your mentorship. The valuable lessons I have learned are great and I thank you. I will miss you greatly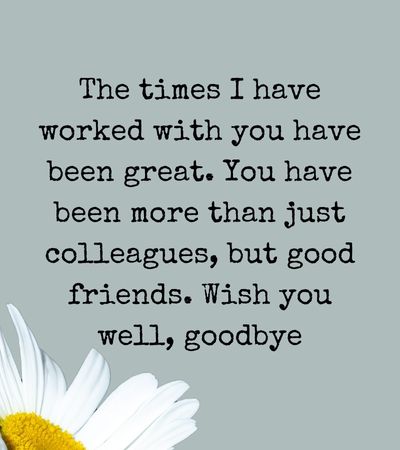 3. Life has many twists and turns, I never thought I would leave the organization after a few months of working here. I am glad I got the opportunity to offer my skills in the best way. Thanks for your generous support. Bye
4. The sweet memories of working together will remain with me.  I would love it if life gave us another opportunity to work together. Cheers to a bright future.
5. Farewell, are not easy more so if one enjoyed the company of the people leaving. As I leave I am hopeful that we shall keep in touch. Wishing your wonderful days ahead. Goodbye.
6. The office environment was more jovial when I worked with you. It might be difficult to get such an excellent coworker but I appreciate the good times we worked together. Wish you God's blessing in all you do.
Read: Religious Thank You Messages, Quotes & Sayings
Conclusion: Thank You and Farewell Message to Colleagues
Even in the workplace, farewells don't come easy, more so if the person leaving the company was a friend or a good colleague. However difficult it may seem, you shouldn't miss the opportunity to wish your colleagues goodbye as you leave for green pastures. Additionally, if you have a colleague leaving the company, take time and send them thank you and farewell message.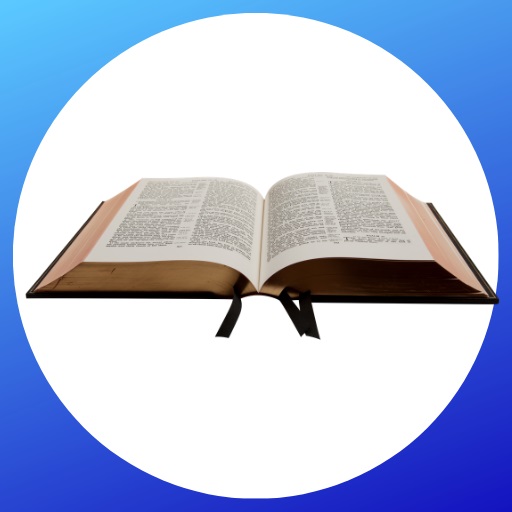 Mzuri Springs provides you with free study guides, devotionals, useful articles, and more