25th Birthday Caption: Turning 25 Years is not just any other age; it is a time for self-discovery and the age when one can make independent decisions. At this point, most guys have completed college and are on their first jobs. You have every right to celebrate your 25th birthday in style. Below we have looked at some of the best 25th Birthday Captions for your Instagram or any other social media status. Hope you will get one that will meet your needs.
25th Birthday Captions
Hurray 25th birthday! it's a day to celebrate.
25th birthday! it is a time to thrive, strive and move.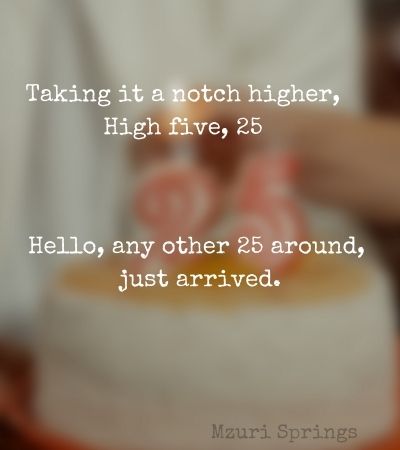 The champagne must pop today, turning 25th!
Officially 25, I can wait to unveil the future.
Cheer to 25 years in a life with no mess.
Halloo mama! Your baby is now 25.
Oh my! Did I time travel! How can I be 25?
Dreaming or not, I have only 5 years to say bye to my 20s. It is a wonder. Can't believe have lived a quarter a century!
25 candles on a birthday cake? It is time to let go of the candles.
25 but yet to grow old!
Welcome 25, the age to look old to the 10 years old and young to the 50 years old.
25 it is, choosing to shine like the star.
Finally, my Mid-twenties is here, choosing every step right.
No more self-doubts, it's time to raise my head, welcome to life.
25 years old, the right age to be in.
The right time to change into best moves, 25 is here.
25th Birthday Captions for Myself
Just landed on my 25 birthday, the right time for self-discovery.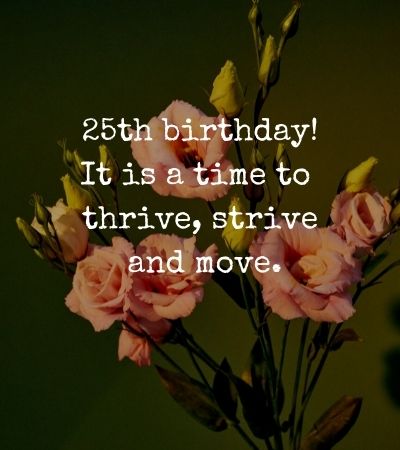 Taking it a notch higher, High five, 25.
25, and feeling buzzing.
Hello, any other 25 around, just arrived.
Officially into the club of mid-twenties.
Can't believe it! Starting Season 25 of my life.
The page turns today, hope the 25th chapter will be pleasant.
25th Birthday Captions for Him
The younger good years have gone, now look forward to better years. 25th birthday is best
Today is a special day for you to turn 25! Happy birthday sweet heart.
Choose to renew your hopes. Cheers to a life full of aspirations!
Congratulations! A little dance must be done today for making it this far, Happy 25th birthday!
Today is a super special day, having lived a quarter a century is an honor. Happy birthday, babe
The 25 years you have lived have been wonderful. Cheers
Although nothing is certain in life, you have learned to overcome your fears, Hurray, you are a warrior in your own way. 25th birthday it is
25th Birthday Quotes
Age is a measure of quantity, it's up to me to choose the quality of my life.
Ensuring I let my years count, as a substitute for counting the years.
Still 20 with 5 years of knowledge.
Hooray! My wisdom teeth just turned 5.
25, sitting on a quarter a century.
25 it is. No more fears!
I may age, but I choose how to grow up!
At 25, choosing to get better not get old.
Welcome to 2 plus 5, let the adventure begin!
Age is just a number, to the old I become old and to the young, I remain young.
Smiling at my 25th, I choose the 3 L's- Love, Live, and Laugh.
Caption for 25th Birthday
Getting of age every year but my inner self is still a youngster!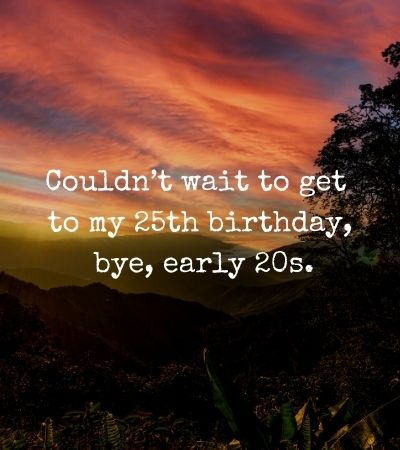 The 25th birthday without selfies is like a birthday without cake.
Age is just a figure, but the value of 25 years of love is immeasurable.
Can wait to unveil the new 25th Chapter of my life.
Cheers! On the 25th day I celebrate simply because I was born.
25, a quarter of life already lived.
A toast to my 25th, old enough but still I can get away with it.
25th year of celebrating my first cry on earth.
25 and I can say "it has never felt and looked better!
Couldn't wait to get to my 25th birthday, bye early 20s.
After 25 years of growth, I must say I have bloomed well.
Recognizing God for great 25 years here on earth and cheers to many more to come.
I am halfway to 50.
Twenty 5ive Is Here.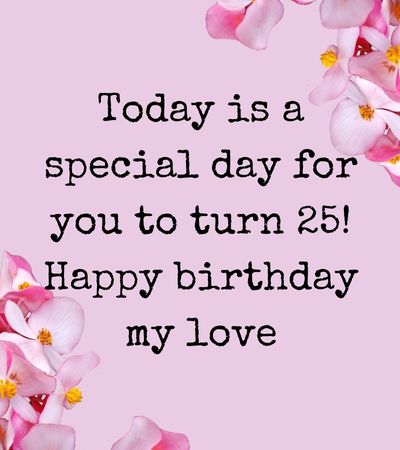 Don't want to be sentimental so… let's just say 25 is a complete chapter in my life's book.
Guys, I made it to 25! All Glory to God.
25th Birthday Captions for Girlfriend
Happy 25th birthday, my girl is celebrating life and learning to enjoy the smell of roses though they have thorns.
Cheers for becoming the person I have always wished for. Happy 25th birthday to your my girl! .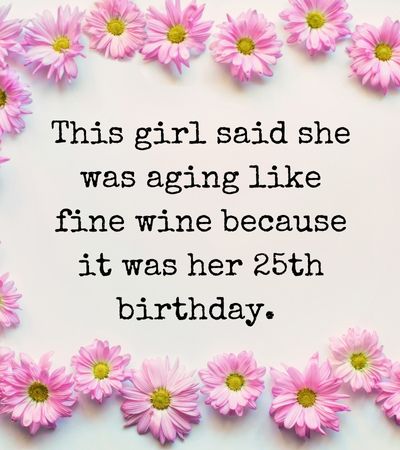 Celebrating your 25th birthday may look like a simple thing, but for me, it is a reminder that we still have a chance to do our best.
Happy 25th birthday sweetheart.  Join me to celebrate the goodness that God has brought my way.
The ride has not been stress-free, but I am pleased to say that each river was worth crossing. Happy wonderful birthday to you!
Yes! Today is your life's 25th earthly anniversary.  I know the future is bright but so far there's so much to be happy about.  Happy birthday girlfriend.
Christian 25 Birthday Captions
Thus far is the Lord, 25 it is, full of life and full of love!
Hurray, can't calm down, in a few hours and I will be 25, I thank God!
For 24 years God has allowed me to overcome many hardships, and today i joyfully turn 25 years. Happy birthday to me
I thank God for the 25 years of my life, it feels like a century but has only been half a decade.
I'm getting older, I'm getting hotter, just like the way God intended it to be
By God's grace today I turn 25.
See Also: Religious Birthday Wishes for Sister
Conclusion: 25th Birthday Caption
If you are looking for Good Captions for your 25th Birthday, then you have gone through some of the best. With the above captions, your Instagram, Facebook, Twitter or TitTok selfies will be well captioned. Be assured your 25th Birthday Caption will be outstanding and memorable.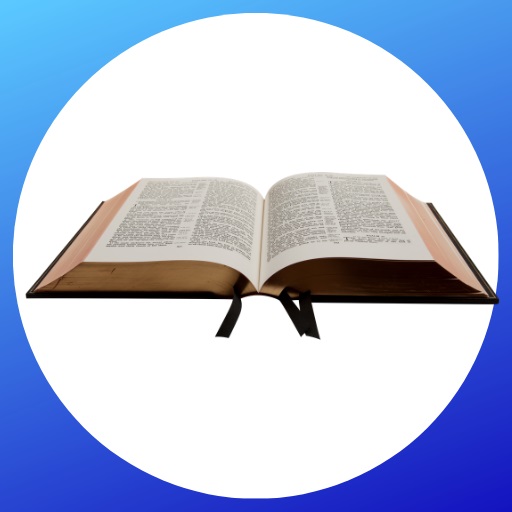 Mzuri Springs provides you with free study guides, devotionals, useful articles, and more