Religious Birthday Wishes for A Teenage Girl: If you have a teenage girl in your life, don't miss the chance to send her your special birthday message. So how do you say happy birthday to a teenage girl? In this article, we have come up with the best birthday messages for a teenage girl.
Teenagers are special, often at this stage, most girls have lots of things going on in their life. A unique and special birthday wish can bring extra joy to a teenager's life.
Below we have looked at the best birthday wishes for a teenage girl, including religious birthday wishes for a 13 to 18 year-old old girl. 
Religious Birthday Wishes for Teenage Girl 
1. As you get older never forget that you are fearfully and wonderfully made by God's perfect hands. Cheers to a wonderful birthday
2. I know you will grow up to become a god-fearing and well-respected girl. Wishing the best on your special birthday
3. I am happy my teenage girl is becoming more beautiful each day. May the Lord watch over you each day. Happiest birthday my girl
4. My girl, you are a God-given gift. As we celebrate your birthday, my prayer is that all your dreams will come to pass. Happy birthday to you!
5. May the coming year be prosperous, full of good health and happiness. Wishing you the best in your teenage life.
6. Your life is in God's hands. No weapon fashioned against will prosper. May the Lord's favor be upon you. Blessed birthday to you 
7. May God's blessing over your life come in different ways. You are a blessing in my life. Have a wonderful birthday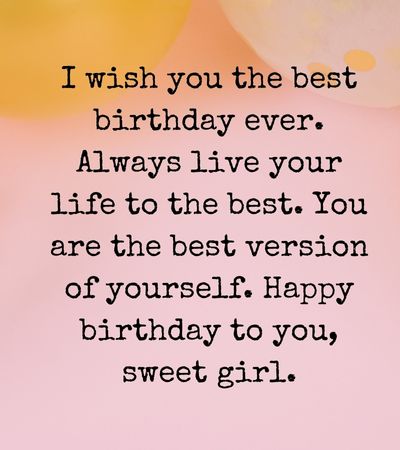 Read: Christian Birthday Wishes for Young Man
Birthday Wishes to A Teenage Girl 
1. Happy birthday to the most beautiful girl, as you celebrate may you discover the best thing inside your heart. Cheers to a fun-filled day.
2. As you get older let your passion burn brighter than your fears. You have great things to achieve. Happy birthday to the coolest teenage girl!
3. Happy birthday baby girl! Wishing you the best. May you grow to become a girl with the right fierceness and gentleness needed to attain your dreams.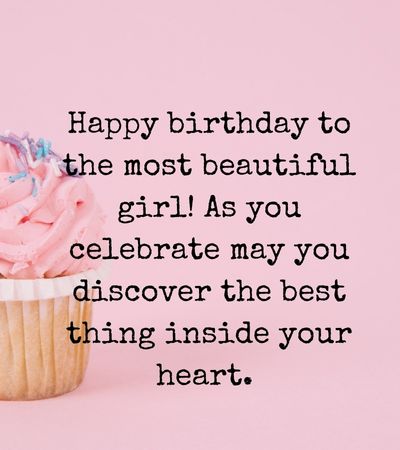 4. You are meant to become a wonderful woman. Never allow anyone to make you feel inferior. Have a blissful birthday my girl
5. I wish you the best birthday ever. Always live your life to the best. You are the best version of yourself. Happy birthday to you, sweet girl.
6. You are a special teenage girl; you look like a beautiful flower blooming in the bright sunshine. Wishing you a marvelous birthday.
7. I am wishing you the best on your coming birthday. You are getting into another amazing stage of your life. Enjoy every moment. Best birthday wishes to you. 
Read: Heart Touching Birthday Wishes for Best Friend Girl
Christian Birthday Wishes for Teenage Girl
1. As the Lord blesses His people, I know you will also receive your blessing. Happiest birthday girl
2. May the Lord fulfill your heart's desires. I couldn't have asked for a better gift that you my girl.
3. Happy birthday, girl! Welcome to the teenage stage, a time to discover your potential. Love you and God bless you.
4. May the Lord's wings of love cover you and comfort you at all times. Happy birthday
5. My birthday wishes for you is to grow in all aspect of your life. You may prosper in all you do.
6. May you grow into a humble and well-respected lady. You are an amazing girl. Enjoy your special day.
7. As you soar through life, never fear failure. It is in your failure that you learn to become better. God bless you on your birthday
Read: Heart Touching Birthday Wishes for Baby Girl
Teenage Girl Birthday Wishes
1. On your birthday, let the light of God's word be the guide in your life. Happy birthday
2. Finally, the beautiful girl has turned 15. You look amazing! May your day be blessed with more happiness. Happy birthday Girl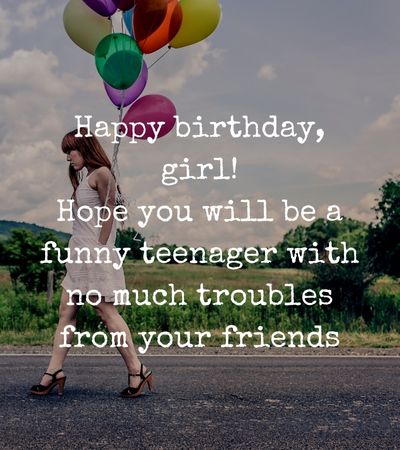 3. Hurray, be glad, it is your 16th birthday. God has been gracious to us. We celebrate you for the far you have come.
4. The positive spirit on your 14th birthday is God-given. My prayer for you is to grow into a god-fearing girl. Cheer to a blessed day
5. I am glad you have grown to become a hardworking and generous girl. The future looks great for you. Put your trust in God. Wishing you the best on your 13th birthday
6. We celebrate with you on your 15th birthday. May the hand of God keep on guiding you in the right ways. Blessed 18th birthday! 
7. Happy 18th Birthday! May love surround you and peace be upon you as you add another year to your life. God grant all the desires of your heart!
8. Happy 16th birthday, girl! You are the apple of my eye. Thank you for being an obedient girl.
9. I pray kind words, purity, and wisdom be filled in your heart as you turn 15 years today. Lovely birthday to you.
Read: Bible Verses on Birthday
Final Thought
Your teenage girl often looks for your affirmation and love. One of the best ways you can make her feel special is by taking the time and celebrate her birthday. Be ready to build a strong relationship with your teenage girl. Show her your love and celebrate the days she considers special. The above birthday wishes for a teenage girl will help you come up with the best message.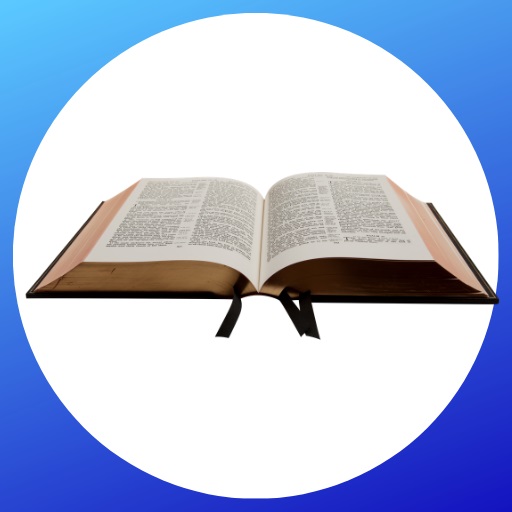 Mzuri Springs provides you with free study guides, devotionals, useful articles, and more