Biblical Names for Boys: The bible has some of the most beautiful and meaningful names to name your baby boy. Biblical boy names have been there for centuries and still very classical.
A good number of parents worldwide have named their children using bible names. That's why you find Bible Names for Boys are common in most parts of the world especially in USA.
In this post you will find Biblical boy names and meanings that you can use to name your child. Go through this Unique biblical boy names and select the one that you feel is best to name your child.
Find inspirational boy names from the bible both in the Old Testament and New Testament.
Biblical Names for Boys
Abaddon
Abagtha
Abana
Abdiel
Abel
Abiah
Abiathar
Abidan
Abihu
Abijah
Abishalom
Abishua
Abner
Abram
Absolom
Adina
Popular Bible Names Boy
John
Peter
James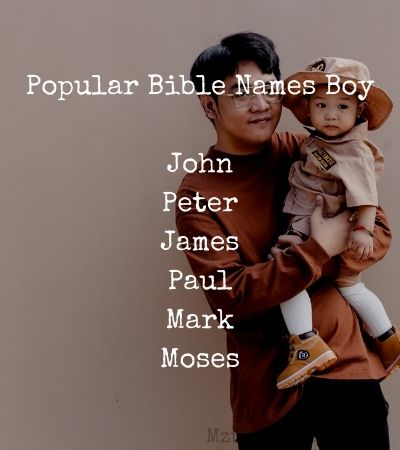 Paul
Mark
Moses
Joshua
Matthew
Jessi
David
Phillip
Aaron
Noah
Seth
Simon
Samuel
Joel
Joseph
Daniel
Andrew
Isaiah
Biblical Baby Names for Boys
Adonijah
Adriel
Aenon
Alexander
Aman
Amariah
Amaziah
Amok
Amos
Amoz
Anani
Ananias
Andrew
Andronicus
Apollos
Aquila
Asa
Asahel
Asaph
Asher
Boy Names of the Bible
Asriel
Azareel
Azariah
Azmon
Barak
Barnabas
Bartholomew
Baruch
Bashan
Benaiah
Bethuel
Bezer
Bildad
Boaz
Cain
Calah
Caleb
Camon
Christian
Boy Names from the Bible
Claudius
Cornelius
Dalphon
Dan
Darius
David
Demetrius
Dishon
Ebenezer
Edrei
Eladah
Elah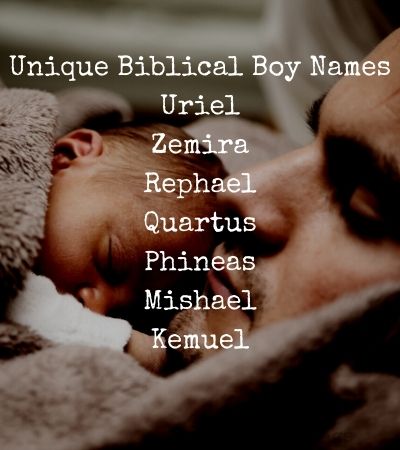 Elead
Eleazar
Eli
Eliakim
Eliel
Eliezer
Elihu
Biblical Boy Names
Elijah
Elim
Eliphaz
Elkanah
Elnathan
Elon
Enoch
Ephraim
Eran
Erastus
Esau
Ethan
Ezekiel
Ezra
Felix
Festus
Fortunatus
Gabriel
Classic Biblical Boy Names
Adam
Abel
Absalom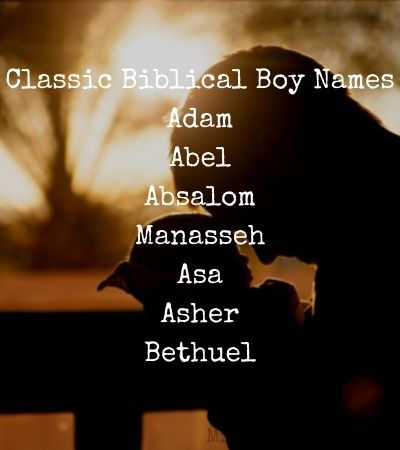 Manasseh
Josiah
Amaziah
Naboth
Asa
Asher
Bethuel
Boaz
Eli
Samuel
Joram
Gabriel
Gideon
Jonathan
Zechariah
Judas
Simon
Christian Names for Boys
Gad
Gaddiel
Gaius
Gamaliel
Gera
Gershon
Gideon
Habakkuk
Haggai
Haman
Haziel
Hebron
Helek
Hermas
Hezekiah
Hillel
Hiram
Hosea
Hur
Hushai
Boys Names in the Bible
Ira
Isaiah
Ishmael
Ishuah
Israel
Issachar
Ithamar
Jabez
Jabin
Jacob
Jada
Jair
Jairus
Jakim
James
Japheth
Jared
Jason
Javan
Jedaiah
Jedidiah
Jehiel
Jemima
Jerah
Jerahmeel
Jeremy
Jericho
Jeroham
Jesaiah
Jesimiel
Jesse
Jesus
Jethro
Joab
Joash
Job
Joel
John
Jokim
Jonah
Jonathan
Bible baby names boy
Jordan
Joseph
Joses
Joshua
Josiah
Josias
Jotham
Jubal
Judah
Judas
Jude
Justus
Kamon
Kemuel
Kenan
Kenaz
Kerioth
Korah
Laban
Lael
Lazarus
Lemuel
Levi
Lot
Lucas
Lucifer
Lucius
Luke
Malachi
Manasseh
Marcus
Mark
Matthew
Matthias
Melchizedek
Meshach
Micah
Micaiah
Michael
Mishael
Mordecai
Moses
Nadab
Nahalal
Nahaliel
Nahum
Naphtali
Nathan
Nathanael
Neco
Nehemiah
Nekoda
Nemuel
Nereus
Nicodemus
Noah
Obadiah
Obed
Omar
Onesimus
Ophel
Oshea
Othniel
Ozni
Paul
Perez
Peter
Philemon
Philetus
Philip
Phineas
Phinehas
Quartus
Raamah
Rakem
Ramiah
Rephael
Reuben
Samson
Samuel
Saul
Sergius
Seth
Shadrach
Sheba
Shem
Silas
Simeon
Simon
Sivan
Solomon
Stephen
Tarsus
Thaddaeus
Thaddeus
Theophilus
Theudas
Thomas
Timothy
Titus
Tobiah
Tobias
Uel
Uri
Uriah
Victor
Zechariah
Unique Biblical Boy Names
Rosh
Rufus
Rumah
Zemira
Rephael
Quartus
Phineas
Mishael
Kemuel
Tilon
Timon
Urias
Uriel
Uzziah
Vaniah
Zacchaeus
Zachariah
Zacharias
Zebadiah
Zebedee
ZebulunZedekiah
Zemira
Zephaniah
Zerah
Zerubbabel
Zohar
ZohethZuriel
Biblical Boy Names and Meanings
Zachariah/Zach — The Lord recalled
Timothy — Honoring God
Thomas — Twin
Stephen — Crown
Simon — He has heard
Seth — Appointed
Samson — Sun
Philip — Horse lover
Peter — Stone
Paul — Small
Noah — To rest
Nathan — He gave
Matthew — Gift of God
Marcus/Mark — Dedicated to Mars
Lucas — From Lucania
Josiah — God supports
Joshua — God is salvation
Joseph — Jehovah will increase
John — God is gracious
Joel — Yahweh is God
Jeremiah – Exalted of the Lord
Jason — To heal
Jared — Descent
Jacob — Supplanter
Isaiah — God is salvation
Isaac – Laughter
Ethan — Enduring and strong
Emmanuel – God with us
Elisha – My God is salvation
David — Beloved
Daniel — God is my judge
Cyrus — Lord
Caleb — Whole heart
Benjamin – Son of the Right Hand
Andrew — Manly and powerful
Amos — To carry, borne by God
Adam – To be red / earth
Abraham – Father of many, Multitude
Abednego – Servant of light
Aaron – High mountain, mountain of strength
Related Post:
Female Biblical Names
Unique Grandmother Names
Unique Grandfather Names
Christian Coffee Shop Names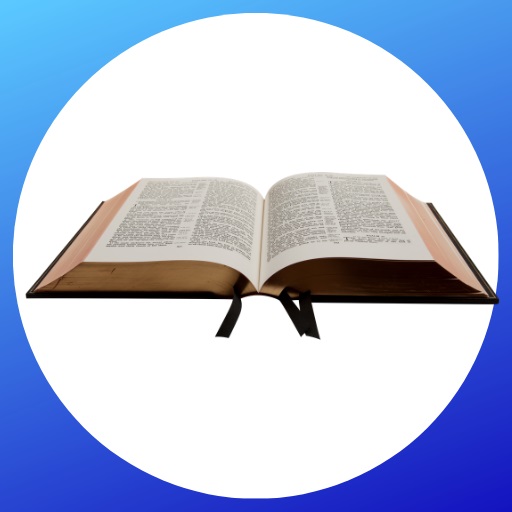 Mzuri Springs provides you with free study guides, devotionals, useful articles, and more