Being A Mom Quotes and Sayings: Ever heard of Mary Washington's influence on her son's life? George Washington once said that his mother was the most beautiful woman he ever saw. All that he achieved was because of the moral, intellectual and physical education he received from her. That is the power of a good mother!
Being a mother is a blessing and today we look at some quotes that illustrate what it means to be a mom. Although being a mom is challenging, it is very possible to enjoy motherhood. To enjoy motherhood, moms need to know how to balance their lives. Take a break when needed, play and enjoy time with their kids, ask for help when it's needed, and many more other good habits.
To celebrate mothers, we have compiled some of the best Being a Mom Quotes and Sayings. These are the best quotes to send to single moms, new moms, and new moms-to-be.
Enjoying Motherhood Quotes
1. "Being a mother is a true blessing! Mothers can shape and guide the soul of a child into adulthood."
2. "Even when being a mother brings exhausting moments, it is always a blessing to be a mother."
3. "You can only enjoy the joy of being a mom when you seek help from God, the One who destined you to be a mother."
4. "It is on her knees where a mother gets the insight to become a blessing to her kids."
5. "Being a mother needs one to be strong and gentle at the same time."
6. "The unconditional love of a mother is indescribable."
Read: Christian Baby Shower messages
Being A Mother Is a Blessing Quotes
1. "A mother's heart is big enough to always give love and inspiration."
2. "Being a mother means enjoying the beauty that comes with watching the little ones grow and bloom to adulthood."
3. "The roles of a mother are like a divine mission, they are God-given."
4. "No matter how well you prepare for it, no mom is fully prepared to be a mother. Each day is a learning opportunity."
5. "The blessing of being a mother is great when moms see their kids take the right path in life."
6. "Tears of joy are what makes a mother rejoice for taking the time to care."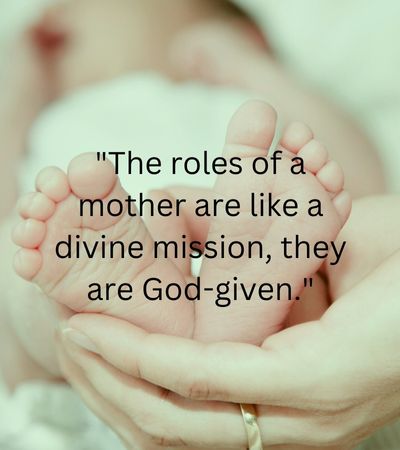 7. "Watching her kids grow is a greater blessing for mothers than having silver or gold"
8. "Being a mother is a blessing, you can never compare it to any other role in life."
9. "What a great blessing is to be a mother, one can watch the influence they had on another person's life."
Find: Being A Single Mom Quotes and Sayings
Being A Mom Quotes and Sayings
1. "Being a mother is about giving life and hope even when the world within looks dark and weary."
2. "It is only in motherhood that most women know the joy of loving unconditionally."
3. "Being a mother means knowing which battles to fight and which ones not to fight."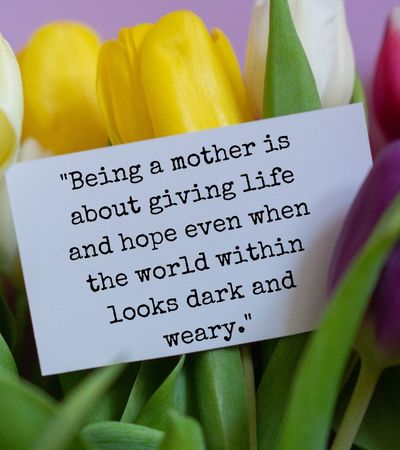 4. "After years of training, a mother knows when to let go of her kids so that they can learn  how to fly higher."
5. "Being a mother requires one to have a heart that shines love through every situation."
6. "All mothers should understand that the hands that rock the cradle are the hands that rule the world."
7. "At times being a mother means your hands and heart are guarded by the angels to care for little angels."
Read: Baby Shower Wishes for Friend
Being A Young Mom Quotes and Sayings
1. "It tiring being a young mom, it requires you to like what you do to have enjoyable motherhood."
2. "The ability to become a young mother is a blessing that comes with lots of learning experience."
3. "No book can have enough room to explain the roles played by a young mom."
4. "Mother's love has the ability to shape history with her words and simple acts of kindness."
5. "A mom cannot change the real world for her child, she can only prepare them to handle life in the best ways she knows how."
6. "It is only in giving her life that a young mother can find the life she desires."
Motherhood Quotes Short
1. "Motherhood is both a short-time and long-term investment."
2. "A mother sees in her kids a diamond, even when the world may see it as a stone"
3. "Moms can mould the minds of their kids and as a result, have an impact on the future."
4. "Being a mother needs one to be prayerful. A praying mother wrestles for the future of her kids on her knees."
5. "Great mothers affect the course of a great future more than they can ever understand"
6. "Being a mother you may not often see the difference you are making in your kids' life, but even in such situations continue doing what you do best.
Read: Deep Birthday Wishes for Mom from Daughter
Being a New Mom Quotes and Sayings
"If you recharge by being left alone, sorry friend but motherhood might be psychologically challenging" Khadee Ize
"When you will see your baby for the first time, you suddenly understand what it means to love someone more than your own life." – Unknown
"Motherhood is a beautiful gift. Postpartum changes are hard to accept at first but they are normal. They are the best reminder of the irreplaceable gift of motherhood."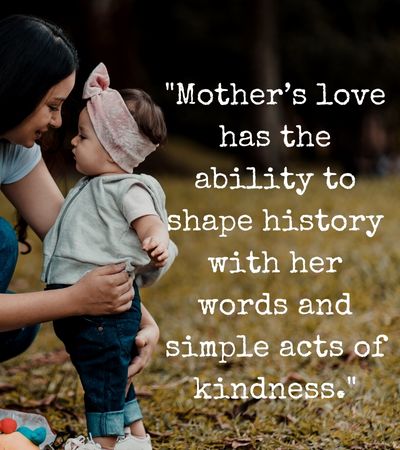 "Motherhood is incomparable to any empowerment ideology". The Women Sphere
"To enjoy being a new mom, accept motherhood, own it, and defend it."
"Having a newborn means you have a little angel to kiss and make you happy"
As a new mom, the moments you spend with your child is never time wasted, it is always time invested"
"As a new mom, your days will be long, but you will be amazed how short the years will be"
"Even with all the preparations to be a new mom, No one prepared you on how much love you will love your own child."
Read: Appreciation Message to A Spiritual Mother
Conclusion: Being A Mom Quotes and Sayings
If you are looking for the right or beautiful words to celebrate your mother or any mom around you, be assured we have come up with the best mom quotes and sayings. Mothers are great, the role they play is more than compared to the appreciation they get. With the above quotes, you can bring a smile to a mom's face by appreciating the role she plays.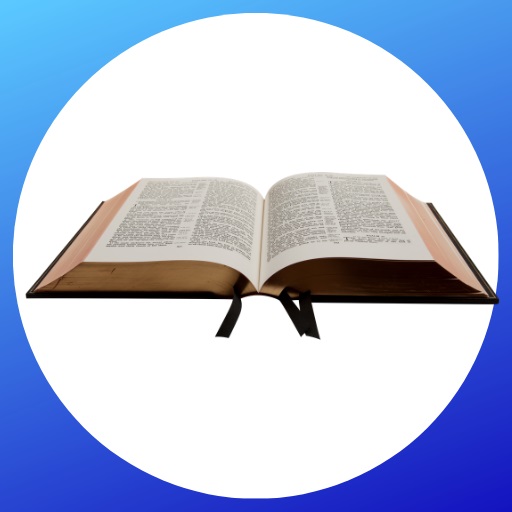 Mzuri Springs provides you with free study guides, devotionals, useful articles, and more