Christian Birthday Wishes for Mom: It should be a delightful thing to celebrate your mom's birthday. There are special ways you can celebrate your mother's birthday and one of the important things you cannot overlook is sending her special birthday messages.
To make your mom smile, we have looked at the best Religious Birthday Wishes for Mom. These birthday messages are a form of a special prayer for her. If you are unsure how to create the perfect birthday messages for your mom, you can go through the following messages and edit one or two to personalize them.
Christian Birthday Wishes for Mom
1. I thank God for giving me the gift of a mother like you. Every day spent with you is a blessing. Happy birthday mom
2. Mom, may you always find your place in the mighty hands of our God. Happiest birthday to you.
3. On this special day, I pray you will find joy and peace in God's plans for your life. Blessed birthday mum.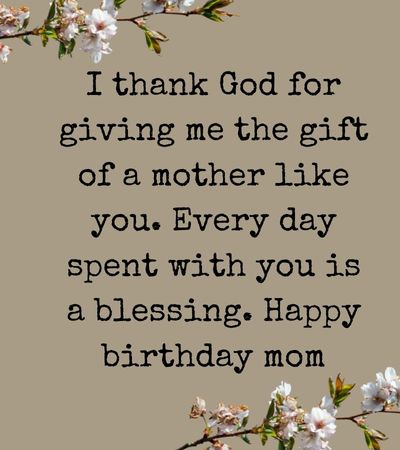 4. Everything about you is important to me.  I am joyful that you are celebrating your birthday. Best birthday wishes to you dear mum.
Read: Christian Birthday Wishes
5. I always admire how you hold everything together. You are a true gem in my life. God bless you on your special birthday.
6. Nothing can ever repay you for the good things you have added to my life. I celebrate with you on your birthday.
7. You are a God gift in my life. Thanks for having great dreams over my life. Wishing you a happy birthday.
8. You have always directed me in the right way. My heart is full of gratitude to you. God bless you on your special birthday
9. Your inspirations in my life are more than can be mentioned. Cheers to a happy and blessed birthday
10. Appreciation for showing me difficulties are channel used to make me stronger. Happy birthday mummy
Read: Religious birthday wishes for mother in law
Spiritual Birthday Wishes for a Mother
1. I pray for you to live longer and see more goodness of God in your life and mine. Cheers to a happy birthday.
2. It is a special day for you, I pray as you get older that good health, success, and happiness will be with you. Happy birthday to you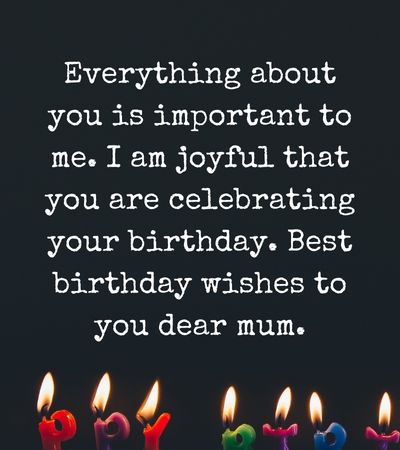 3. You are a lady who gives the best to others. I am proud that you are my mother. Happiest birthday to you
4. I couldn't have a better life without you in my life. Praying for you to have an unforgettable birthday.
5. With great admiration, I must say you are a wonderful mother. May God add you many more years. God bless you on your happy day.
6. One of the fun things that God has allowed me to do is celebrate your birthday with you. Happy birthday darling mum
7. You are a remarkable mom; you have taught me the best lessons in life. Blessed birthday to you.
Read: Birthday Blessings from the Bible
8. I am glad that I have another chance to celebrate your birthday. I believe it will be the best birthday ever.
9. Happy birthday mom, delight yourself in the Lord and He will give you the desire of your heart.
10. Thanks for your unconditional love, you are an exceptional mother. May God shine His love over your life.
11. With simplicity and lots of love, you have raised me to become a better person. I love you and I am glad to celebrate your birthday.
Read: Religious Birthday Wishes for Dad
Religious Birthday Wishes for Mom
1. Happy birthday, my beautiful mom, you know how to add a rainbow to my life. May God's love and peace be with you
2. Mom, you are an excellent mother. I am wishing you better and more blessed days ahead. Happy birthday to you
3. A mother's love is a priceless gift from God. Thank you for being a channel of blessing in my life. Happy birthday, mom.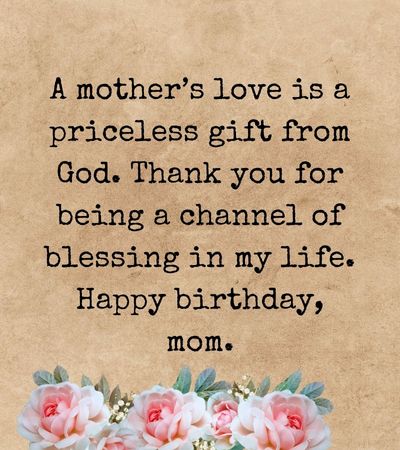 4. Happy birthday, Mommy dearest! This is a special day that God has allowed us to celebrate your special day. May happiness and good health be with you.
5. You are a mom with a brave soul, you have taught me the best lessons in life. Happiest birthday to you mummy
Read: Inspirational Birthday Wishes for Mom
6. Thanks for sharing the secret to a simple and happy life. I am better because of you. Blessed birthday mom
7. May goodness always be with you for all the sacrifices you have put in to see me a better person. Have a fun-filled birthday
8. It is a time to celebrate your happy birthday. My love, support, and care will always be with you. Cheers to a wonderful birthday.
9. Best birthday to the coolest and best mom, may heaven shine in your life all the blessings you need to live a better and fulfilled life.
10. Happy birthday, blessings mom, I celebrate that my beloved mother has been blessed with another year to continue doing things for others.
Read: Birthday Card Messages for Mom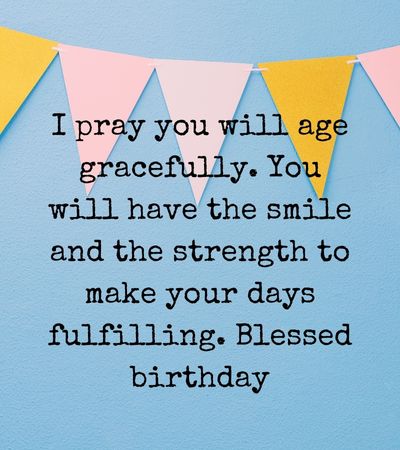 Biblical Birthday Message for Mother
1. Happy birthday my God-given mom, with your prayers and support my life is better than I ever thought. I love and admire you with all my heart.
2. May the Lord bless the work of your hands and award you with what you hoped for. Have a wonderful birthday mom
3. I pray this day will be delightful for you. May God amusingly give you what you have always hoped for. Happiest birthday to you
4. Happy Birthday to the coolest, nicest, and dearest of all mothers! May the coming year bring you all the joy you deserve.
5. Thanks for building my hope in the solid rock of God's word. Happy birthday my loving, mum
6. You are like a diamond that is so precious in my life. You add brightness to my life, Have a marvelous birthday.
7. I pray you will age gracefully. You will have the smile and the strength to make your days fulfilling. Blessed birthday
Read: Deep Birthday Wishes for Mom from Daughter
Religious Birthday Letter for mom
Dear Mom,
I hope you are having a wonderful and blessed birthday. I believe you are, since it is one of your special day. There are many things I would like to give you on this day but the best and the priceless of all is my love. Hope God's love, peace and blessings will be upon you now and forever.
From your child
Touching Birthday Prayer for Mother
"Dear God, I thank you for the gift of a great mother. You have blessed her with another year and I believe it will be a great opportunity for you to use her in the best way. God, I believe you will add more fruitful days to her life. Bless her when she wakes up and when she sleeps. May good health and long life be her portion of blessings from you. Watch over her, let her become the great woman she is meant to be. I commit her whole life to you. I pray in Jesus' name, amen"
Read: Happy Birthday Quotes for Mom That Will Make Her Cry
Conclusion: Christian Birthday Wishes for Mom
Hope the above religious birthday wishes will put a smile on your mom's face as she celebrates her birthday. Ensure to have personalized birthday wishes for your mom. Let her feel the love and the admiration you have for her. Kind words can go a long way in creating a great relationship.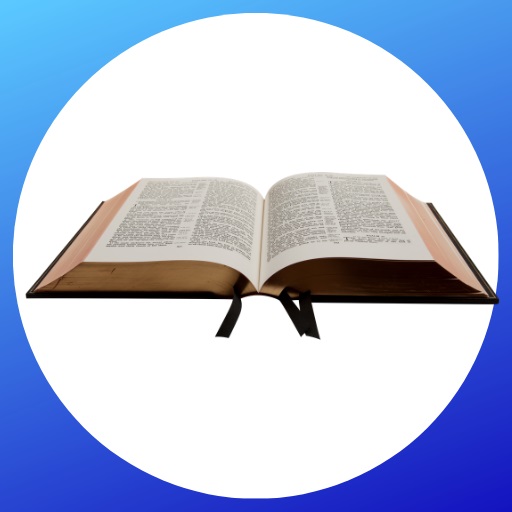 Mzuri Springs provides you with free study guides, devotionals, useful articles, and more