Religious Birthday Wishes for Mother-in-Law:  Are you a son-in-law or a daughter-in-law looking for religious birthday wishes for mother-in-law? Our article today will help you get the right messages to make your mother-in-law smile. As you go through our Christian Birthday Wishes for Mother in Law you will note they are respectful and heart-touching. All the best as you come up with the best birthday wish.
Religious Birthday Wishes for Mother in Law
Cheers to my darling mother-in-law! It is a beautiful day to celebrate your birthday. I thank you for all you have sacrificed for us. Happy Birthday Mum
It is a special day for us, celebrating your 60th birthday is an honor, we thank God for giving you good health. I wish you a happy birthday.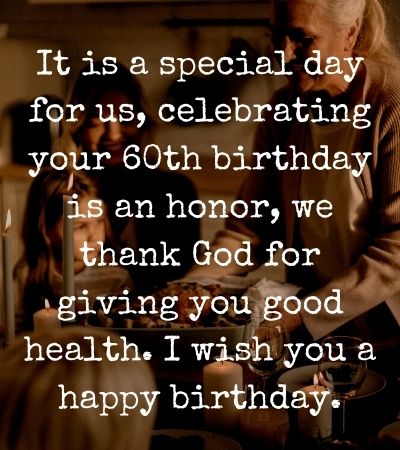 I am blessed to have a good mother-in-law like you. As you celebrate your birthday, may God brighten your soul with joy and laughter.
Word cannot be enough to thank you. With no doubt, to me, you are the best Mother in law in the world. I pray to God to grant you more days in this world. Happy Birthday!
Mum, congratulations on your 58th birthday! You are a strong lady who knows how to mentor and counsel, Wish you well on your birthday.
Your love knows no boundaries. You are an epitome of a true mother. I commit you into God's hands because He is the only one who can reward you for your good works. Happy birthday.
Hello mum, I send you these birthday wishes from the bottom of my heart. May heaven grant you all the desires of your heart. Best wishes from your son-in-law.
Happy Birthday, mum, In my heart I respect and cherish you more than you could ever know. I wish you a joyful birthday.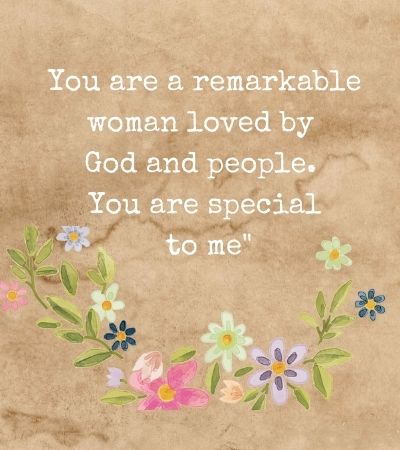 You are a remarkable woman loved by God and people. You are special to me. Let this birthday be the sign for better things to come your way. God bless.
Your wisdom and understanding have counseled many. You have touched the world in your simple ways. We celebrate you. Happy birthday.
Read: Christian Birthday Wishes for Mom
Christian Birthday Wishes for Mother in Law
I praise God every day for giving me the best mother I could've ever asked for. Your smile and kind words have made me a better person. Happy birthday mother'
You are a good mother to your son and granddaughter. You have taught me how to be a good mother to your grandkids. Thank you, and may heaven shine the brightest light on your path, Happy birthday.
Today is an exceptional day for you. I wish you a very joyful birthday! You brought a wonderful son and our marriage flourished because of the counsel you gave him. Wish you long life and many happier birthdays.
Our relationship has become better each passing day. Thank you for bearing with me even when I appeared difficult and less concerned. Happy Birthday, mummy.
You are a godly woman, I have seen the favor of God in your life and I cannot wish for any other thing but to walk in your footsteps. Happy birthday.
Your love is classic in our hearts; we are so delighted to have you with us. happy birthday, mum. I pray for God's love in your life.
Read: Bible Verse for Mother's Birthday
Heart Touching Birthday Wishes for Mother-In-Law
Dear mother, may you be blessed, and may your happiness increase each day. I love you so much, Happy 55th birthday.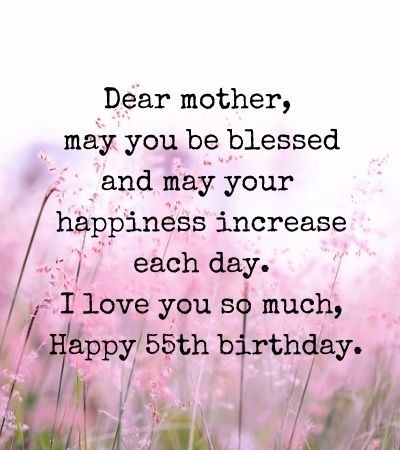 Thank you for being a second mum in my life. Your love is natural and true. Happy birthday.
Each day spent with you is special. I appreciate your kindness to everyone around you, All the best on this special day.
Greeting to an exceptional mother-in-law, I take the time to wish you a blessed day ahead. I admire your strength and commitment to helping others. Happy 50th Birthday, mum.
It is hard finding great women like you. You have a beautiful soul and are not afraid to stand alone as long as what you believe is right in God's eyes. May God add you more days and a happy birthday.
Happy birthday mum, it is your special day and I always note it because you are a special lady in my life. Cheers to blissful days ahead.
Happy birthday to the sincerest woman on earth. I love how you desire happiness and prosperity in our marriage. Cant calculate the many times you had brought joy to my life. Happy birthday.
It is another time of the year that I take time to wish a delightful birthday to a superb lady who brought up her son in the finest way. That man today is a loving father and husband. Happy birthday.
Read: Religious Birthday Wishes for Son
Spiritual Birthday Wishes for Mother in law
Every day we are thankful to God for giving us the strength to live well. Celebrating your birthday today will be a good reminder of your worth in our lives. I will always pray for you.
The prayer of a godly person has a great impact. I know our future generations will be blessed because of you. I pray God will help me to follow in your footsteps. Happy birthday.
This is a day like no other, as your turn 60 years my prayer is that good health, perfect peace, and a happy spirit will be with you all the days of your life. Best wishes from your son-in-law.
God is the perfect rewarder for good deeds, today I pray with faith that God will fill your life with the best thing life has to offer. We love you and happy birthday.
You always find pleasure in serving us delicious cakes and meals. Today as you celebrate your birth, it is your time to relax and hold your hands since we have prepared the best things to celebrate your birthday. May God bless you abundantly!
Read: Bible Verses for Mother-in-Law Birthday
Biblical Birthday Wishes for Mother in law
A very joyful birthday to you, mum. You have planted a good seed of advice in my life. You are one special person whom I can always count on. Love you and may God be with you.
I can confidently say this" Although the tie of marriage connected us, I have come to love you as my mother". Wish you a prosperous year ahead. Happy birthday, Mummy.
May heaven's blessing be with you now and many days to come. You have given us a good foundation to build our family. Your support is more than we ever hoped for. I pray for you this day and may God bless you. 
May double blessing come your way this day. We love you and can't wait to celebrate with you.
Happy birthday to my beautiful mama. You deserve many birthday gifts but none is enough to acknowledge your goodness. May God bless you abundantly.
Read: Birthday Card Messages for Mom
Birthday Prayer for Mother in Law
"Lord in heaven I thank you for allowing us to see another day. You have been good to us that no amount of words can be enough to thank you. Particularly, Father, you have blessed us with a wonderful mother. She has directed us into your ways and we honor you for giving her the energy to do your work on this earth. As she celebrates her birthday today, we ask for your blessing upon her. May your face shine upon her. Let your love surround her and keep her from any danger. Grant her good health and prosperity even in her senior age. We love you Father and we believe everything will be done according to your will. We ask this in Jesus' name, amen". 
Read Also: Religious Birthday Wishes for granddaughter
Conclusion: Religious Birthday Wishes for Mother in Law
Having a mother-in-law whom you can connect with and can even take the time to celebrate her birthday is a blessing. The above Christian birthday wishes will help you make her feel appreciated and loved. Take time and find the most suitable birthday message to send to her. Good luck.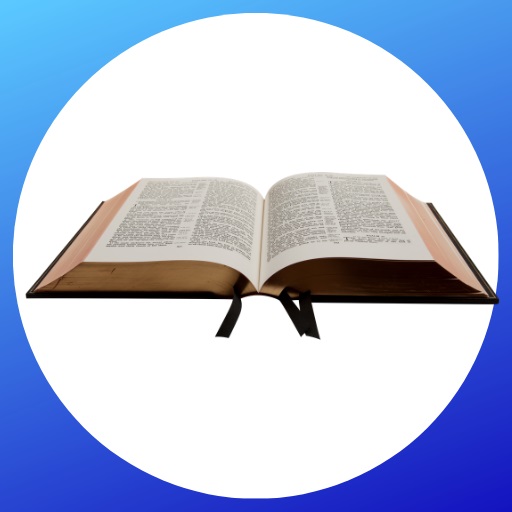 Mzuri Springs provides you with free study guides, devotionals, useful articles, and more