Deep Birthday Wishes for Mom from Son: The best person you interacted with the first time you came into the world is your mother. After carrying you for nine months she welcomes you into her life and is ready to walk with you for the rest of your life. Your mom deserves the gift, praises, and above all best wishes birthday wishes for her special days. As a son, you will likely have a close relationship with your mother, to help you celebrate her we have compiled both deep and Heartfelt birthday wishes for mom from her son.
Deep Birthday Wishes for Mom from Son
1. You are a special mom; one whose smile brightens my world. Wishing you a happy birthday
2. My life is beautiful because I have a loving mom. Will always be glad that you are my mum. Wishing you a
3. I may never have the right words to appreciate you but every moment I spend with you is recorded to be remembered most beautifully. Happiest birthday wishes from your son.
4. My life is warmer and more fun because I have a caring mother like you. Wishing you a marvelous birthday mom.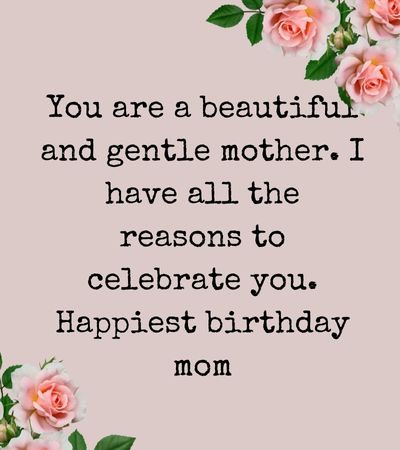 5. Thanks, mom for doing everything in your potential to give me a wonderful life. With admiration, I wish you a wonderful birthday
6. You add joy and peace to my life. You are a God-given mother; the lady I would give the best to see her happiness. Happy birthday, mummy.
7. Mom, may the same happiness you add to other people's life come back to you in double potions. Have a fulfilling birthday, dearest mum.
8. It is another day to celebrate the birthday of the most amazing mom. Happy birthday mom!
9. Couldn't wait to wish you to the best birthday wishes, may you grow older in good health, success, and life fulfillment.
Read: Inspirational Birthday Wishes for Mom
Happy Birthday Mom from Son
1. It is always great to see you smile. On your coming birthday, I will be there to make you smile and enjoy yourself to the fullest.
2. On your birthday, I pray that the best days of your life are still to come. I will be glad to see my darling mother become older and wiser.
3. Happy birthday mom! I am a better version of myself because you took the time to care. I will take care of you as long as I live.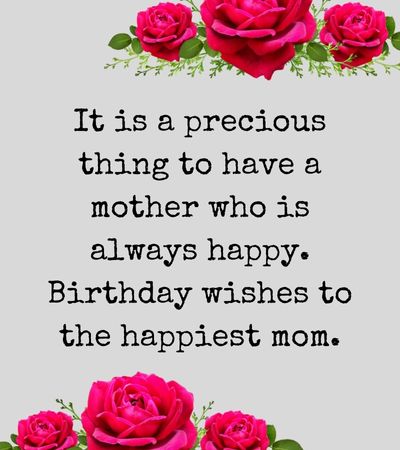 4. I have perfect excuses to see you and delight in seeing you blow out the beautiful candles on your birthday cake. Happy birthday mom, from your son.
5. As your son, I it is a happy moment to see you look forward to another year to celebrate your birthday.
6. Thanks, mom for knowing what is best for my life. I am stronger and wiser because of your counsel. Happy birthday, mom.
7. A spectacular lady in my life is celebrating her birthday. Happy birthday my cute mother.
Read: Deep Birthday Wishes for Mom from Daughter
Touching Birthday Quotes for Mom from Son
1. It is a precious thing to have a mother who is always happy to ever  cause any gloom in anyone's life. Birthday wishes to the happiest mom.
2. A beautiful, radiant, and caring mom like you deserve the best birthday ever. Cheer to a fun-filled birthday
3. You are beautiful and vibrant more than any flowers I have ever seen. You add happiness to my life. Blessed birthday mummy.
4. It is a son's joy to celebrate the best days in his mother's life. Happy birthday, mom.
5. No life can be so happy without the presence of a mother. Thank you for making my life memorable. Blessed birthday mother.
6. You are a beautiful and gentle mother. I have all the reasons to celebrate you. Happiest birthday mom
7. Your son cherishes you every day. I will always be ready to celebrate you, Happy birthday dear mummy.
Read: Christian Birthday Wishes for Grandson
Birthday Message to Mother from Son
1. On your special birthday, I lack words to appreciate you enough. I have lots of respect and love for you. Please enjoy your birthday to the fullest.
2. You have become like an anchor in my life. Through the high and low moments, your love has remained unchanged. Enjoy your birthday my dear mum.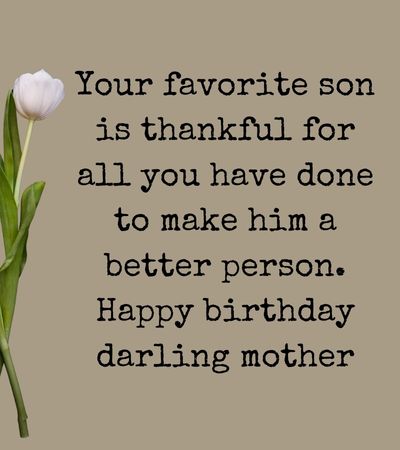 4. As you get older today, I know your heart and memories become better. Continue shining on the light. Warm birthday wishes from your favorite son.
5. Like the sun, your love shines bright for my paths in life to never lack the light needed to make me a better person. Happy birthday my mum
6. You have given me the best environment to sprout, grow and flourish in the best fields in life. You are truly cherished. Happy birthday dear mom.
7. Mum, it is always a joyful day celebrating your birthday. I pray for you to live longer and be blessed more and more.
Read: Christian Birthday Wishes for Myself
Heart Touching Birthday Wishes for Mother in Heaven
1. You were an excellent mother, the qualities and abilities you had re not easy to find. Happiest birthday wishes from your son who misses you a lot.
2. As I celebrate your birthday. I am thankful for all you did for me to make me a better person. Happy birthday darling mother in heaven
3. Although I would have liked you to be here, it is good to know you are in a better place. I still remember your birthday with warm memories of you in my heart.
4. The sound of your beautiful singing always goes through my mind. I have a fun reason to celebrate your life. Best birthday wishes from your favorite son
5. With your kind words and warm memories , I have enough reason to appreciate life. Miss you alot.
Read: Religious Birthday Wishes for Son
Funny Happy Birthday Wishes from Son to Mom
1. It is always fun to watch you blow out the many birthday candles with lots of energy. Happy birthday to you
2. Hurray! My mom just turned a year older. She looks amazing with one extra wrinkle and a better smile
3. Now it's my turn to return the favor and pamper you on your birthday. Hope it won't be payback time for all the complaining I did. Happiest birthday mummy
4. Thanks for puzzling my life with lots of fun and laughter. I hope to see you enjoy the day. Best birthday wishes to you, mom
5. They say age is just a number, but seeing you become older has taught me to appreciate becoming a senior.
6. May you celebrate till you bone cannot stand the sound of your favorite music.
7. It is always a fun thing to sing to you a birthday song. 
Read: Heart Touching Birthday Wishes for Baby Girl
Conclusion: Deep Birthday Wishes for Mom from Son 
The above touching birthday wishes to a mother from her son are not only deep and unique but also sentimental. They will make you appreciate the great things your mom has done for you. You can never lack any reason to celebrate her birthday. Make sure you accompany her birthday gift with the right birthday messages on her card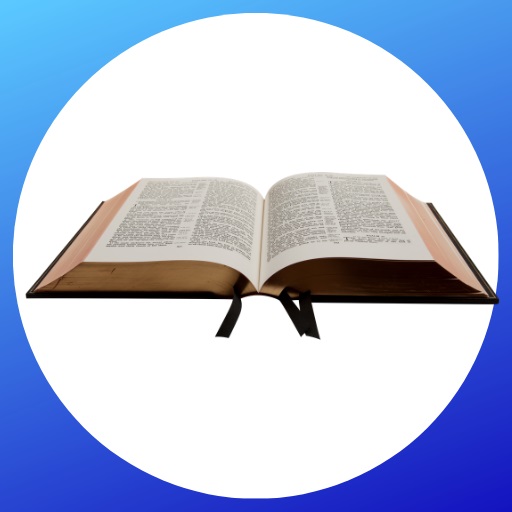 Mzuri Springs provides you with free study guides, devotionals, useful articles, and more