Special Birthday Prayer for My Husband: There are many ways to surprise your husband on his birthday. As you look for the perfect gift, don't forget to say a special prayer for him. He is the father of your children, he carries the power to bless your children. Pray that God will be with him so that he may lead your kids on the right path. Today we have looked at a sample of birthday prayers for the husband. As you go through this, hope you will find the inspiration to offer that special prayer for your husband. 
Special Birthday Prayer for My Husband
1. May the grace of God be with you and make you a man after His own heart. There are many promises that God has accorded to every man who walks in His way. I pray that you will always choose to walk on the right path. I am so grateful since you have so far been a great husband and father. May everything that comes your way make you stronger. Happy Birthday, love.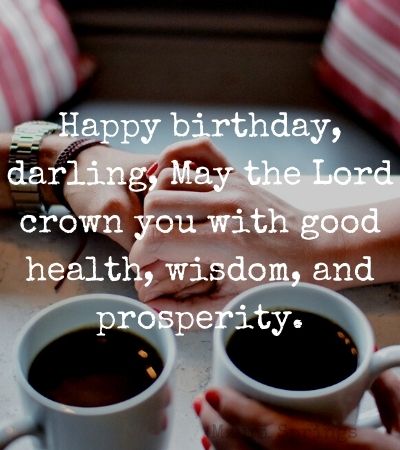 2. Heavenly Father, your words are true, that you will be with us till the end of times. Thank you for giving me a wonderful man. I ask you to bless him with wisdom and knowledge that comes from you, may the hidden treasures of your kingdom be revealed to Him for your glory. I trust you shall bless him when he goes out and when he comes back. Bless him with many more birthdays full of good health and prosperity.
3. I thank you Father because your mercy and grace never fail. When you bless no one can undo it, your joy is new every morning. Let your unfailing love be with this wonderful man you gave me. I look upon you for more blessing in his life. We choose to rejoice in you as he celebrates his birthday. May he be found worthy in your sight.
Read: Sweet Happy Birthday Message for Husband
Birthday Prayer for Husband
4. "Father, I pray for the counsel of the Holy Spirit for this special man in my life. I know you love him because you have constantly revealed it to us. You are the God who is true and unfailing. We recognize that without you, we are nothing. I ask you to reveal your divine plan to him, so that he may live to please you. Thank you for giving him the chance to celebrate another of his birthday. As he goes to the next year of his life be with him. Fulfill the desire of his heart, and let them be inclined to your word. Bless him, because he is the leader in our family. I honor You because I know it will be done in Jesus' name."
Find Also: Religious Birthday Wishes for Husband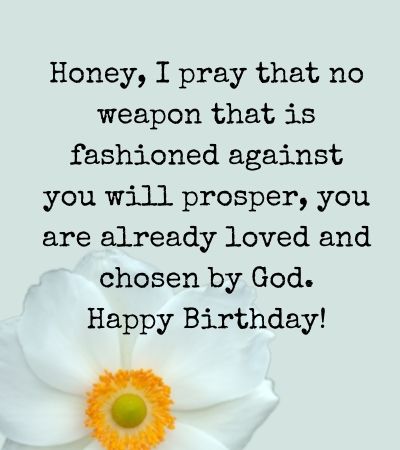 6. "Father, I am grateful for your love, the love that gave us your son to die on the cross. It is what you did for us that gives us the chance to be called your child. Thank you also for giving me a wonderful husband, I pray for your blessing upon him as he celebrates his birthday. Grant him good health, a sound mind, and a peaceful mind. I ask you God through Jesus to add more days to his life. Forgive him of his sins and help him to walk in your ways. Bless the work of his hands and give him godly contentment. Amen."
Short Prayer for My Husband on His Birthday
7. Great is your faithfulness upon me. I worship you for being the anchor in our lives. Cover my husband with your unfailing love. Make him be the man you created him to be. May his 30th birthday be blessed, amen.
8. God, you have never let me down. I put my faith in you, praying for my dear husband. Let your love and favor be upon him. Bless him as he celebrates his birthday.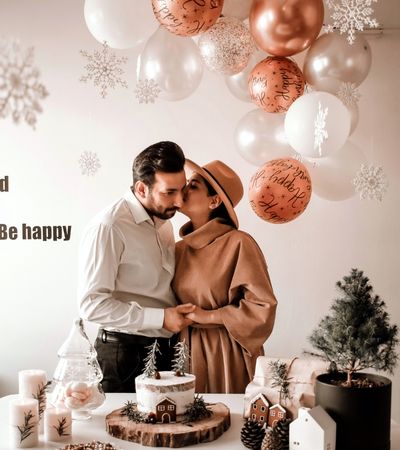 9. Thank you, God, for blessing our marriage. I commit this handsome man to your hands. Each day I pray you may guard his heart against any sins. Shower him with your favor and love as he celebrates another year in this world.
10. Heavenly Father, I come before you thanking you for the gift of life and for giving me such a wonderful husband. Protect him always and guide him on the right path. Give him good health and always make him follow your word.
Read: Good morning prayer for him
Prayer For my Man on his Birthday
11. I honor you God because all my life you have been faithful, to make it even better you gave me a man that loves you. I commit him into your hands, as he lives to see another year may he be a vessel of honor in your kingdom. Make him the head and not the tail. I pray you will satisfy him with many more birthdays.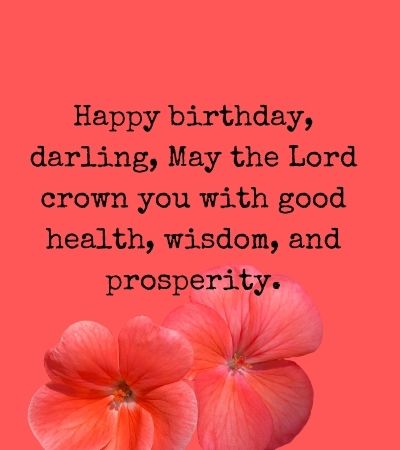 12. Happy birthday, sweetheart. My prayer for you this day is that God will open your heart to the truth of His word. I hope you will choose the narrow way. May God cover you with the blood of Jesus and raise you to a higher ground that the enemy may not reach you.  May He lead you into beautiful places and fight your battles. Choose to rejoice in Him now and always.
13. Dear Lord guard and guide the heart of this wonderful you gave to me. May you watch over him when he goes out and comes back. Surround him with the right people to offer the right counsel. I know he has big plans for our lives, and I commit every one of those plans to your hands. Let your will be done, let what is not pleasing to you be done away with. Grant us only what is pleasing to you. Keep Him in your perfect will. Amen.
Read: Birthday Prayer for a Child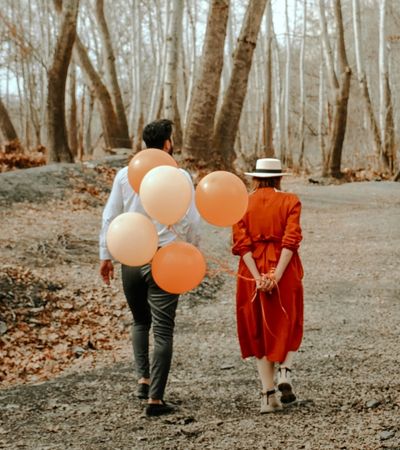 Long Happy Birthday Prayer for My Husband
"Dear Almighty God, it is another special day you have given to our family. A special time for my husband as he turns 35 years. Father, we owe everything to you. Our rising and our going to sleep are all because of your grace. On this day that we celebrate Mark's birthday, we choose to give you the sacrifice of thanksgiving.  Thank you because you know us by our name. I confidently put my trust in you because you shall make him great on this earth. Many will look at him and see your goodness upon him. I know all things work for the good of those who love you and are called according to your will. May you increase him and take him to places he never thought he would go. I thank you because it will be done in Jesus' name. Amen."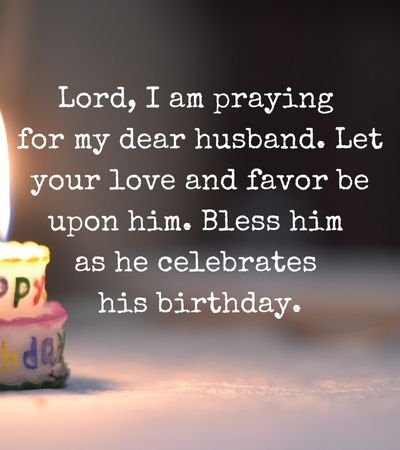 "Dear Lord, this is a special day for my husband. I pray for joy and blessings to fill his life. You know him inside out. I know you have a plan for him and you will never forsake him. Be his guide and protector whenever he goes. I know you have a plan to prosper him. Let him feel your presence and find his purpose in life. I know and believe you will answer my prayer. In Jesus' Name, Amen."
"Dear God, thank you for your protection and blessings over our family. Thank you for the opportunity you have given my husband to see another wonderful year. You have been an awesome God. Thank you for the blessings you have showered my husband. Today is a special day to celebrate his birth. May you continue blessing him."
Read Also: Short Prayer for Peace of Mind
Happy Birthday Prayer for My Lovely Husband.
1. God, you are enough in every circumstance. I pray for my husband this day. Be with him through the hills and the valleys. Protect Him.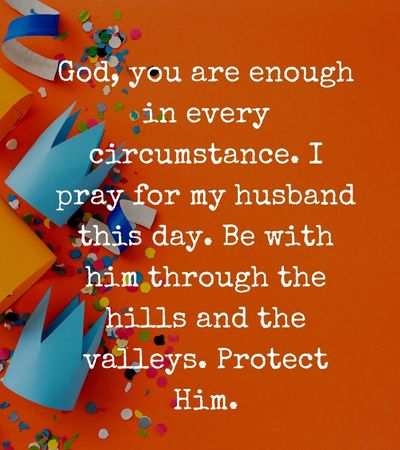 2. Honey, I pray that no weapon that is fashioned against you will prosper, you are already loved and chosen by God. Thanks to Him we can peacefully enjoy your birthday. Happy birthday.
3. I pray that as years go by you will remain in our father's cover. May you live to blow many candles. Happy birthday.
4. Being married to you has been an answered prayer. I am grateful to God for giving me a faithful and loving man. I pray that His hand will be whoever you go. Happy birthday, my husband.
5. I thank the almighty God for bringing you my way and making you mine forever. I celebrate this amazing day with you, and I wish you all the goodness of God forever. Happy birthday, darling.
6. Father if you dress the lily with most magnificent clothing, I know you will bless my husband with your goodness. You know Him by the number of his hair. Thank you for being his provider. May he love you each day.
Birthday Prayer for Husband with Love
1. Happy birthday, darling, May the Lord crown you with good health, wisdom, and prosperity.
2. Happy birthday, sweetie, I pray like Joshua you will choose to be strong and courageous. Let the word of God be with you always. To choose this day to serve the Lord that all the days of your life will be blessed.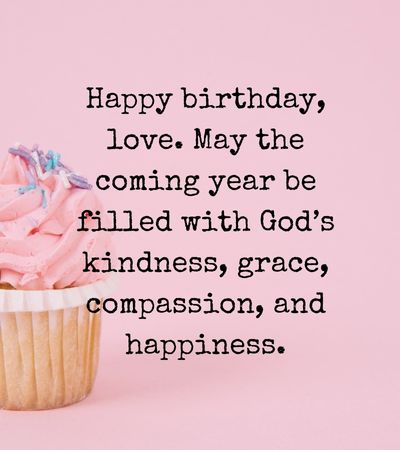 3. Happy birthday, love. May the coming year be filled with God's kindness, grace, compassion, and happiness.
4. Let God be your anchor, the foundation of your life. He will never let you down. Draw close to Him and He will draw close. He will be with you through it all. Happy birthday to you. 
Conclusion: Special Birthday Prayer for My Husband
The above Prayer for your Husband on His Birthday is meant to make him feel special. Your prayer for him on his special day is a blessing. God answers prayers and when your prayers will be answered, you will be glad you took the time to offer that special prayer. All the best as you take the time to say a Birthday Prayer for your Husband.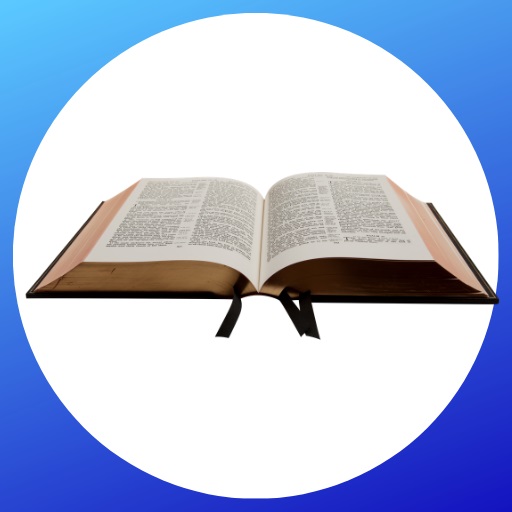 Mzuri Springs provides you with free study guides, devotionals, useful articles, and more