Christian Graduation Messages, Wishes, and Quotes: Graduation ceremonies are to be celebrated with lots of joy. Seeing a loved one graduate from University, College, or High school is a good achievement.
As a parent, relative, or friend you have the best chance to appreciate and congratulate a graduate for the effort and sacrifice they put in course of attaining their education.
In this article, we have come up with the best religious Graduation Messages, Wishes, and Quotes that you can use to come up with outstanding congratulatory messages for a loved one or friend. Hope as you go through the messages you will get the perfect words for the graduation wishes.
Christian Graduation Messages
1. Well done! Your graduation will be an opening for you to achieve great things in life. May God open the right paths in your life.
2. Happy that you are graduating. School life has prepared you with the knowledge to handle life. I pray God will add you more wisdom.
3. You did it, may the best opportunities come your way after this special day. Happy Graduation and God bless you
4. It is clear you worked hard for this day. The Lord will continue to bless the work of your hands. Cheers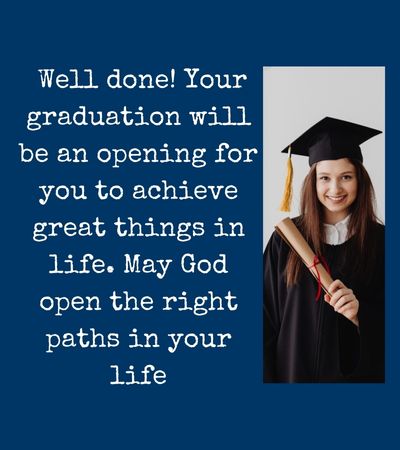 5. I celebrate your achievements today. You did it and you deserve an extraordinary day.
6. Rejoice for the Lord who has helped you to do your best and will also give you opportunities to utilize your skills and abilities.
7. Congratulation, on cultivating your potential.  You have a lot to give offer the world. All the best and be blessed on your graduation.
Read: Religious Graduation Announcements
Christian Graduation Wishes
1. The long hours of hard work have given birth to a delightful graduation day. May God be with you in all you do.
2. It is fun yet very inspiring to see you in your wearing gown. Congratulations and be blessed!
3. The graduation gown may look a bit oversize, but the journey of getting to wear it requires discipline. May you use your skills to touch the world.
4. Finally, the burden of classwork, assignment, and research have yielded to this day. May your hard work be capped with God's blessings
5. College may have been fun. But graduating is far better. All the best and cheers to more hopeful days
6. Life gives us a first time for everything. I am joyful that it is your first graduation. Always trust in the Lord for the best opportunities
Read: Religious Retirement Messages
Religious Graduation Wishes
1. Hurray, you made it through! Congratulations on your graduation and may God grant you the job that you need.
2. Congrats on attaining the best. May God be honored for allowing you to graduate with flying colors.
3. You have made us proud. I am happy to celebrate with you. Have a blessed graduation.
4. It is a happy graduation day for you, hope life after college will be better and more blessed.
5. May God bless you with favor for you to accomplish what you were created for
6. After jubilant graduation, go forth to the world and believe that God's guidance will take you to better places.
7. Congratulation on getting a good education. Keep on holding to your faith in God and all things will work out for the good
8. Celebrate, be happy, and be proud of the journey you have traveled through college. Continue putting your faith in God and all things will work out for the good.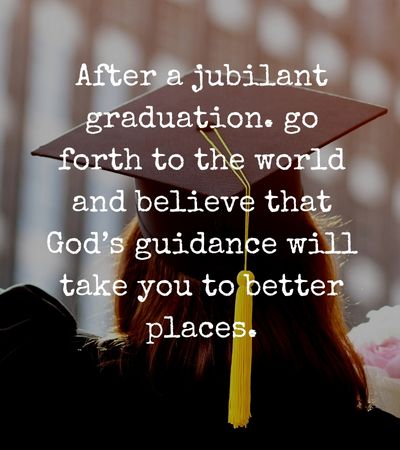 Read: Unique Graduation Announcements Wording
Spiritual Graduation Messages
1. Happy graduation to you, may God open doors for you to use your knowledge wisely
2. As you graduate today, may your future dreams come to pass. Cheers to a bright and blessed future
3. Congrats on your graduation! May the Lord grant you the courage to achieve the things that will make you a better person for His glory.
4. Cheers to blessed graduation, may your skill and knowledge be a channel for you to become a blessing to other people
5. Happy graduation! Congratulation on adding more knowledge to your life. I pray that God will add your wisdom to know how to become a better person.
6. We are excited about the better person you have become. You are more than a conqueror through Christ. Happy Graduation day my dear!
7. You have always been a great kid, but your degree will make you better at what you do. May the hand of God direct your path.
8. You may not know how to figure out life, but I believe when you are on God's side you are on the right path.
Read: Opening Prayer for Event
Christian Graduation Card Messages
1. I celebrate what you have achieved, even though the future is uncertain and the journey continues, hold on to the faith that has brought you this far.
2. Education has given you a step to do well in life, now aim to do good and become the best. Blessed graduation to you1
3. Education has given you a stepping stone to discover and follow your passion, open your eyes, and see the opportunities God will open for you. Happy Graduation
4. As you graduate keep in mind that you are the only person who can bring the greatest change in your life. Happy and blessed graduation
5. Achieving your college school education has made you gain more than just an education certificate, it has made your view of life better, Let God now make it the best.
6. You are gifted and after graduating, have the courage to achieve the best. All the best in your graduation
7. Real life is not predictable brace yourself for real-life experiences but with God on your side, nothing will be impossible. Happy graduation.
Read: Short Christian Quotes for Youth
Christian Quotes for Graduation
1. You can never unlearn what you have learned with pleasure. Cheers to many more Graduation!
2. The learning process in a classroom setup may be over, and welcome to the real lessons of life. Let God lead you to the best path in life.
3. As you graduate you have the best investment. May God bless the work of your hands so that you will start getting your education's good interest and dividends.
4. To achieve greatness in your life, seek ways to learn more and improve your knowledge. Good knowledge comes from fear of God.
5. It took you four years to get your college degree, true success in life has no shortcuts. Don't expect life to work out overnight, good things take time to grow. May God give you patience.
6. You now can research and learn more. Humanity has lots of unsolved problems that you can still give solutions to. Let God help you to know the measures to do it.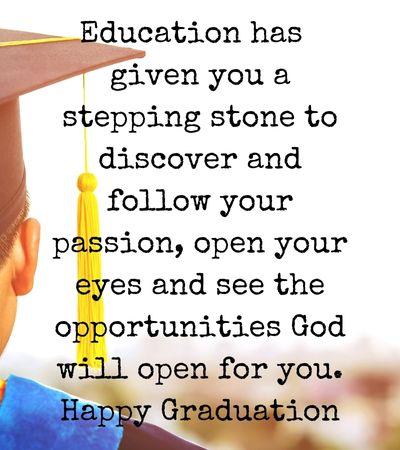 Spiritual Graduation Quotes
1. Bravo on your successful graduation. It is possible to achieve the best as long as God has still given us a chance to breathe.
2. Congrats on preparing for your future. You have done well! I pray the Lord will fulfill the desires of your heart.
3. The value of today's graduation will become important once you look back and see what you put in place to make it happen. May God bless you with success
4. Cheers to an inspiring achievement! Be prepared to impact the world in a better and godly way.
5. Congratulation on the best move to seeing your dreams come true. God has beautifully designed your life for the good.
6. It is a memorable and blessed day to see you graduate. Congratulations
7. The ups and downs of life have not deterred you from achieving the best. Congratulations!
8. Good things take time. your four years of hard work have paid off well. Bravo and be blessed.
9. The smile on your face tells us that you are proud of your graduation. May God give you the desires of your heart.
Blessings for Graduates
1. As you graduate just know that in life, no one is coming after you to tell you to become better. Believe in God and your ability, blessed graduation to you
2. Be ready to stand out from the crowd. Put God first and be willing to do what others are not willing to do. Have a blessed graduation.
3. The Lord of grace will bless the works of your hands. Congratulation on working hard and attaining the best.
4. Graduating is just one step to achieving success. Continue having faith in God and be ready to take the next step.
5. You will be more blessed if you know how to align your work with God's will in your life. Happy and blessed Graduation
6. Life is never meant to be easy. Let the struggles you face teach you to dig deep into God for support. Blessed graduation to you
Prayers for A Graduate
1. I pray the Lord will show you the best route to follow in your life.
2. May the fear of God be in your heart, I pray for more wisdom and understanding from Him
3. I trust the Lord will be the builder of your life. Your life will be more blessed in Him
4. May the Lord watch over your life, and make you the head and not the tail. Above all may He give you the confidence to become the person he wants you to be
5. I pray and place your future in God's hands. He knows your life from the beginning to the end. Let him be your guide
Conclusion: Christian Graduation Messages, Wishes, and Quotes
The above Christian Graduation Messages, Wishes, and Quotes will allow you to come up with the right message to your friends and loved ones who are graduating. There are many graduation Messages and wishes that you can come up with, but among the best and most inspirational are religious graduation messages. These messages add some hope and motivation to graduates as they enter another phase in their life.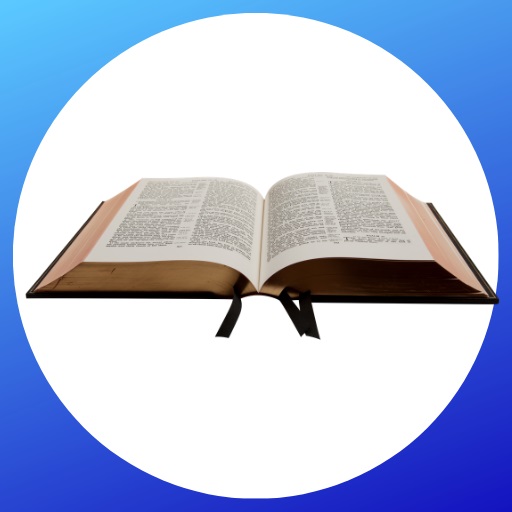 Mzuri Springs provides you with free study guides, devotionals, useful articles, and more