Monday Morning Prayers and Blessings: Are you looking for Monday morning blessings and prayers to guide you through the week? As a Christian starting, a Monday morning with inspirational prayer is very important. Not only will the Monday prayer ask for God's protection, but it will also open doors, give you hope and also inspire you to know God is with you.
For your Monday morning devotional, we have looked at several Morning Scriptures Devotional and prayers that you can look at as you have a special time in God's presence.
Monday Prayers and Blessings
1. I pray that this Monday will be a fruitful day and that you will be led by the Lord. All will work out for your good through His name. Amen
2. It is a wonderful and bright Monday morning! May the light of God shine on your life this day and help you achieve the best.
3. I trust you will have a joyful day, for this is the day the Lord has made. Being alive is a priceless gift. May your Monday morning be filled with blessings. Amen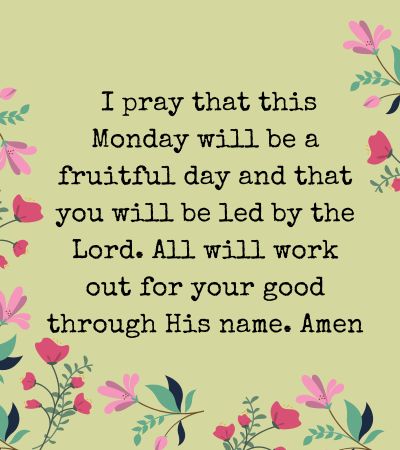 4. You are a special gift to the Lord. No one can perfectly fit into your shoe. Have faith that you will overcome all to turn your dreams into a reality. I wish you a prayerful Monday morning my friend.
5. May your guardian angel keep you from any harm and evil. Be blessed when you go out and when you come back.
6. On this Monday morning may the special favor of God be with you. May you have the right knowledge to make the right plans. Be blessed, my friend
Also Find: Tuesday Morning Prayers and Blessings
Monday Morning Blessings and Prayers
1. I pray today you will be favored and blessed by the Lord, may His comfort and protection be with you.
2. As you pray this morning, may our God hear you and answer according to His best will over your life. Amen
3. Blessed Monday to you! Arise and shine for the Lord is going to make a way where seems to be no way. Let your heart rejoice in Him.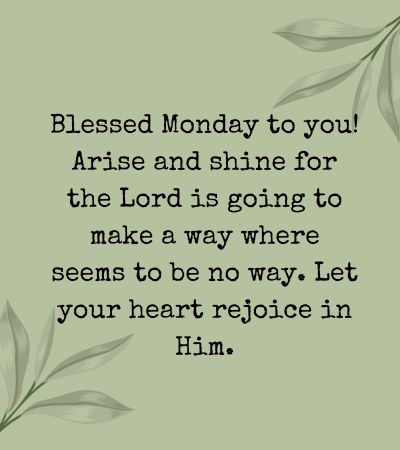 4. May the Lord plant a good seed in your life. May your life be filled with good fruits in and out of season. Blessed Monday Morning.
5. The joy of the Lord is our strength; may the Lord add joy that overflows in your life.
6. May the Lord open for you great doors and opportunities that no man can shut. Believe you are blessed.
7. My Monday morning blessing and prayer is that the Lord will enlarge your territories.
8. May God bless this Monday with answered prayers and open doors.
Read: Religious Good Morning Blessings
Monday Morning Prayer
"Almighty God, You are the one who is worthy of our praise, I thank you for this wonderful Monday morning. Being alive is the best gift you have given to me and I am grateful. Forgive me for the wrongs I have done before your eyes. As I start the new week I pray for guidance and protection. The plans I have laid down for the week I commit to you. May your best will be done in my life this day and during the week. I have no doubt you can do all things. I choose to call on you, to let you be the Lord in my life, I pray in Jesus' name. Amen.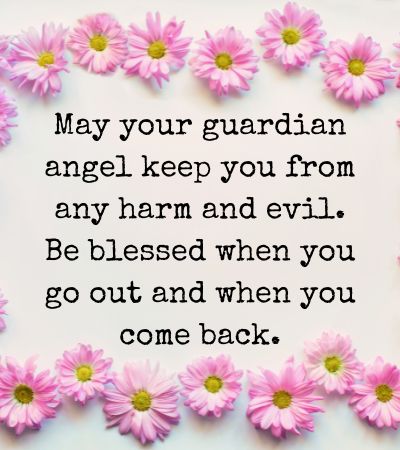 Monday Morning Blessings
1. May the Lord watch over you this blessed Monday morning. I trust He will be with you and guide your path. Have a blessed Monday morning.
2. It is a blessed Monday morning! As you start your Monday be assured all things will work for the good of those who love the Lord and are called to His purpose.
3. I pray the Lord will bless the work of your hands this day. May He make you the head and not the tail. Be inspired on this wonderful and blessed Monday!
4. Let everything that has breath praise the Lord. The hand of the Lord is not too short not to bless you. Let not any iniquity separate you from Him. Blessed Monday morning.
5. This will of God for you this Monday is to rejoice, pray with our ceasing and give thanks in everything. Blessed week.
6. Delight yourself in the Lord and He will give you the desires of your heart. May the Love of God be with you! Have a blessed Monday morning!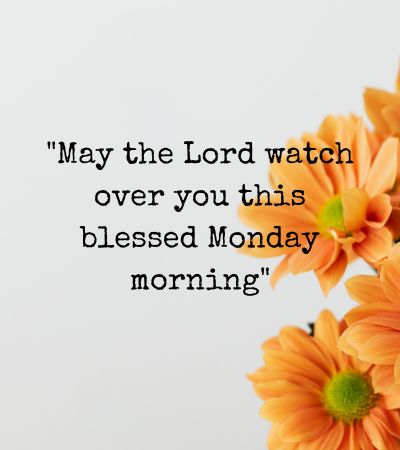 Read: Sunday Prayer for Family and Friends
Monday Morning Prayer for Family
Father in Heaven, thank you for giving me a wonderful family. I pray that your Holy Spirit will draw closer to every person in my family. May they feel the love of your embrace. Cover them with the precious blood of our savior Jesus Christ. Amen
Thank you, God, for giving a family that stays in unity. May you renew our minds and soul so that we may live with the same unity. Help us to stay in your steadfast love so that we learn how to love each other. Strengthen us in our weakness and give us a forgiving spirit. Above all let your perfect will be done in Jesus' name Amen.
Read: Have A Blessed Weekend Messages
Monday Blessings and Prayers
1. May the Lord bring revival into your life. That you find the strength to do great things that you were meant to achieve. Have a hopeful Monday morning
2. I believe the Lord is going to work in your heart. To give you a calm and peaceful mindset that will overcome the storms in your life. Blessed Monday to you.
3. My Lord, let your blessing go with me this day. Make me the head and not the tail. Let all the good works in my life be done according to your plan. Amen
4. Almighty God, send Your angels to protect me during the week. Lead me beside still water and walk with me through the valleys. Lead me to your divine purpose.
5. Lord, help me to be strong and courageous, so that I may fulfill all the plans you have for me this Monday and in my future life. Amen
Read: Inspiration Saturday Prayers and Blessings
Religious Good Morning Monday Blessings
1. With God on your side, you will be able to handle all things that are waiting for you this Monday morning.
2. Be happy, for you have not gabled your way to such a beautiful Monday morning. Being alive you are 100 percent blessed.
3. God has presented to you a new Monday morning for you to seize every good opportunity.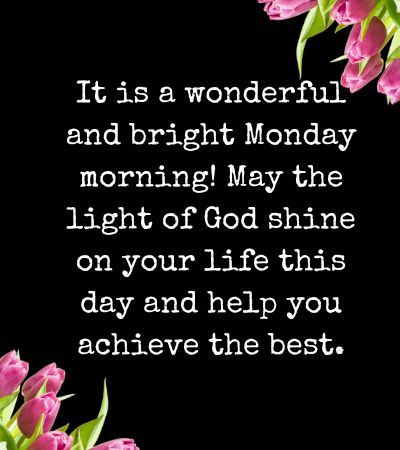 4. It is a blessed Monday, be ready to change your life. If you dint you will always give room for excuses! Good Monday morning!
5. You were created not only to work but to work the best way possible. Have a fruitful Monday!
6. When God gives you a new day, it is a chance for you to fight and find the best place for you in life. Blessed Monday.
7. Without Good in your life, no matter what you achieve, that will always be poor living. Live your Monday fully! 
Inspirational Good Morning Monday Blessings
1. You are a child of God and your destiny is in your hands. May your joy and peace be found in Him. Blessed Monday to you.
2. The Lord's love surrounds those who trust Him. Be inspired and always believe in Him who never fails. Blessed Monday morning.
3. May the Lord add to your life the good and perfect gifts that come from Him\
4. As the sun shines this morning, I pray the Lord will shine His face toward you and give you peace
5. Through your obedience to Him, may God supply and increase your store and enlarge the harvest of your righteousness
6. In a world where sickness is around us, I pray the Lord will grant you good health and a sound mind
7. May the Lord bless you in the heavenly realm and make you a successful person after God's own heart
Monday Morning Devotional
Proverbs 3:5-6
5 Trust in the Lord with all your heart, And lean not on your understanding;
6 In all your ways acknowledge Him, And He shall [a]direct your paths. (NKJV}
On this Monday morning chooses to trust the Lord, with all your heart, mind, and soul. As human beings, we don't know even what will happen in the minute, hours, or days. But the great news is that we have a God who knows everything. He knows the end from the beginning and vice versa. Nothing can ever pass without His knowledge. The Lord, who is our creator knows the best things for our lives. Let Him guide you. You may have your plans, but before you execute them, commit them to God and He will surely, guide you.
Conclusion: Monday Morning Prayers and Blessings
Although Monday morning comes with several challenges, it should be one of the best days of our week. A day that we are presented with a new week to fulfill our dreams and aspirations. Starting your Monday on a religious and spiritual note is important. That is whys Monday prayers are important. Your prayers can be for yourself, family, friends, co-workers, etc. Our guide to Monday Morning blessings and Prayers will help you come up with better devotional times. All the best in the starting week.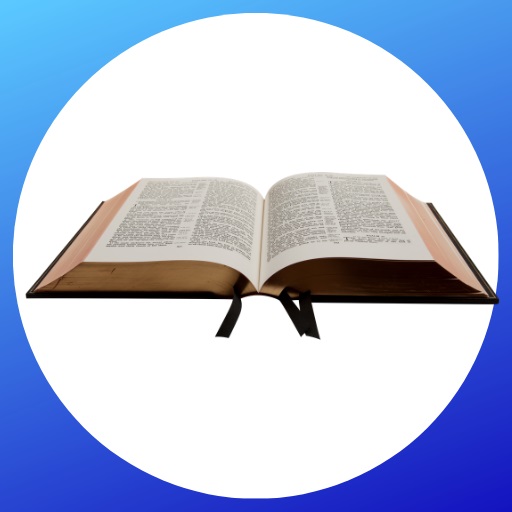 Mzuri Springs provides you with free study guides, devotionals, useful articles, and more