Religious Birthday Wishes for Son-in-Law: As a mother or father-in-law, it is not often you get the chance to say something special to your son-in-law. That is the reason why it is important to ensure you take time and celebrate your son in law birthday.
Today we have compiled the best Religious Birthday Wishes for Son in Law.
These Christian birthday wishes are based on God's word and they are also a form of birthday prayer for your son-in-law.
Religious Birthday Wishes for Son in-Law
1. Happy birthday son in law, you are a true blessing in our lives. May the Lord shower you with more blessings on this day.
2. Since you came into our daughter's life, you have been the best gift for her and us.  Wish you a very happy and blessed birthday.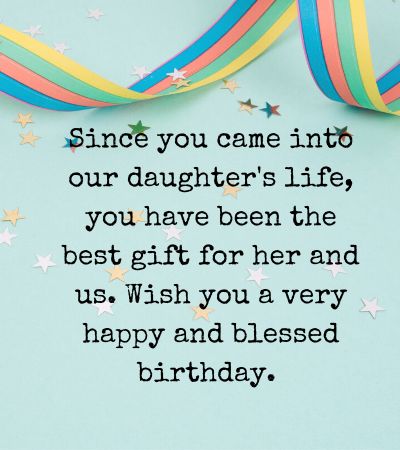 3. In the coming year may God favor your hard work and plans to achieve great success for your family. Happy birthday son in law!
4. As you look forward to another year, may you delight yourself in the Lord and He will give you the desire of your heart. Blessed birthday son in law
5. I wish you a wonderful birthday son in law. I pray the Lord will renew your strength to walk through all the challenges of life.
Read: Religious Birthday Wishes for Son
6. We are lucky to have you in our lives. May God add to you more fruitful years. Best wishes on your birthday son in law
7. You are a young man with a bright future. Hold on to the word of God and He will establish for you the best things in life. Happy birthday son in law
8. This is the day the Lord has made. As you celebrate your birthday, may the love of God and that of your family bring joy to you. Have a fantastic birthday!
9. It is always an honor to celebrate your birthday, I am wishing you nothing but the best on your birthday!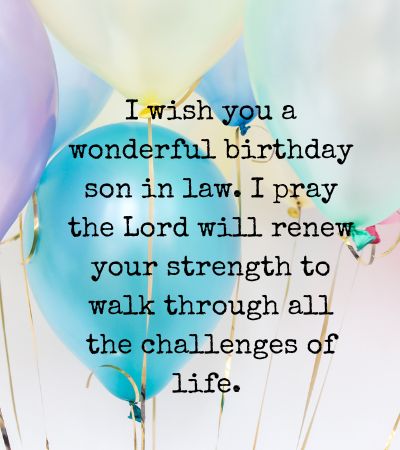 Christian Birthday Wishes for Son in Law
1. Happy birthday to the most amazing son in law! May the coming days present you with the best opportunity to achieve your dreams and goals.
2. Cheers to a memorable 35th birthday to my one and only son in law. You are a precious vine in God's vineyard. May His hand guide you in the coming year
3. I thank God for the rare gift of a good son-in-law. Have faith in you. All the best on your birthday
4. It is only the grace of God that will lead you to the best green pastures. Celebrate your best son in law. Have the best birthday ever!
Read: Religious Birthday Wishes for Brother in Law
5. Happy birthday to my lovely son in law. We are grateful to God for giving you another year. All the best
6. No words can describe what you mean to us. We wish you the very best on your special birthday.  Lots of blessings on your birthday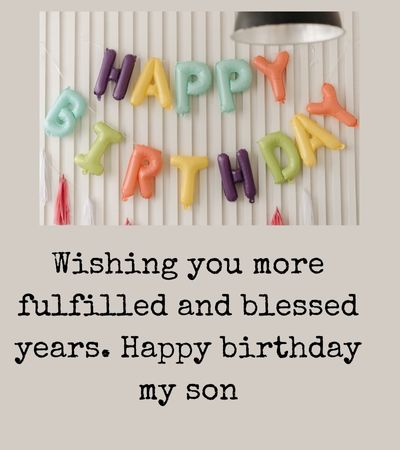 7. Wishing you more fulfilled and blessed years. Happy birthday my son
8. Unless the Lord builds a house those who do it do so in vain. As you turn one year older may God help you build the best family ever. Happy birthday
9. May God fulfill your life with many years full of happiness and hope. Happy birthday son in law!
10. Your coming days will be anointed by the Lord. Let God's word be light to your path. Cheers to better days ahead
11. Thank you for being an inspiration to us and your family. We love you and celebrate your birthday to the fullest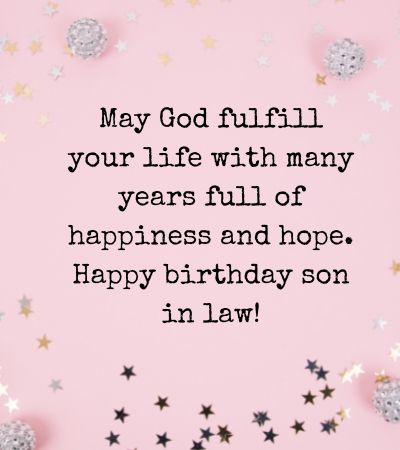 Read: Blessing Birthday Wishes for Son from Mother
Blessed Happy Birthday Son in Law
1. Have a blessed happy birthday son in law! As you get into another birthday year, let no worries or fears come to capture your mind. Let God be the guide in whatever you do.
2. It is another blessed birthday year, I pray your year will be blessed and the Lord will make your plans to succeed
3. Have a blessed birthday, as you continued to walk with the Lord may He establish your ways and bring success your way.
4. Cheers to the coolest son in Law, in the coming year may the Lord continue to meet your need according to His will. Be blessed
5. On this special 35th birthday, may God bless you with good health, long life, and happiness. Cheers to a great birthday
6. You are a man with a big heart. You have made us proud and we sincerely celebrate with you on this coming birthday. Be blessed greatly!
7. May the grace of God give you the wisdom you in life to become a better person for those who need you the most. Happy birthday son in law
8. May God's faithfulness, presence, and undeniable grace be with you as you plan for the coming year. Happy birthday son
Read: Christian Birthday Wishes for Daughter in Law
Birthday Prayer for Son in law
Dear God I thank you for giving us a wonderful son in law. I commit him before your hands, watch over him as he goes out and comes back. Bless the work of his hands so that he can always be able to provide for his family.
Your word says that Blessed is the man who walks not in the counsel of the ungodly, Lord keep the ungodly men away from his life. Bless the children of his youth and make his children like the olive plants.
Grant him good health and success. He will be blessed in the city and the fields. Guard his heart against all evil and when his strength gets weak renew it according to your will. I pray this believing in Jesus' name, amen
Happy Birthday Son in Law Funny 
1. Cheers to your most memorable birthday! As you grow older always remember that a long life appeals to everyone, but the idea of getting old doesn't appeal to many.
2. If you desire to live long, aging is the only available way to live a long life. Happy birthday son in law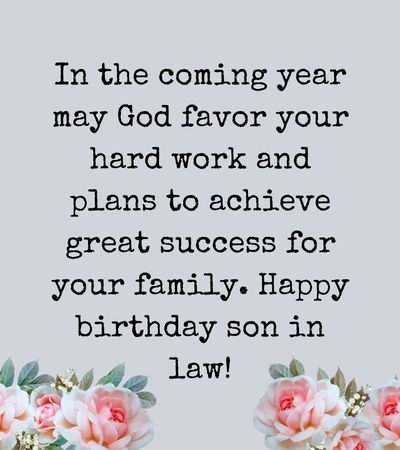 3. As you add another year to your age, keep in mind that you grow old when you stop laughing. As long as you laugh you are young enough!
4. Never look back and regret that you never took the time to have the muscles cramps from workouts. As you hit your 30s, take time to work out. Happy birthday to you
5. Birthdays are good for you, but they remind us that our life journey is nearer to the end by 365 days. Happy birthday to you
6. Old age is always 15 years older than we are.  Best Birthday Wishes to you Son-in-Law 
Read: Religious Anniversary Wishes for Daughter and Son in Law
Conclusion: Religious Birthday Wishes for Son in Law
As a parent, if you are lucky to have a son in law, bless the Lord for him. You must stand in the gap for him and his family, regardless of his character or habits. Occasionally on special days send your son in law Christian or religious birthday wishes. This will help you build and maintain a good relationship.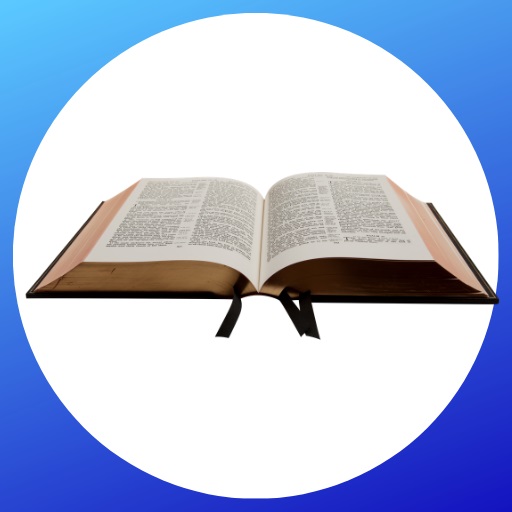 Mzuri Springs provides you with free study guides, devotionals, useful articles, and more