Good Christian movies on Netflix: Looking for a new or an old-time favorite Christian movie on Netflix or you are wondering what are some of the Names of Christian movies on Netflix? They are hundreds of religious movies across the world, but not all can be streamed online. That is why we have come up with the following Christian or religious movies on Netflix. Hope you will find one or several that will be memorable.
Good Christian Movies on Netflix 
Breakthrough
This is one of the Best Christian Movies on Netflix based on a true story. Breakthrough revolves around a 14-year-old boy known as Tom Smith. Smith drowned in Lake St. Louis for 15 minutes and was dead for nearly an hour. All the necessary steps were taken to save his life with no positive feedback. When his mother gets into the room and prays loudly for God to send His Holy Spirit, a pulse is heard and there is hope. Together in love and hope people united and prayed for Tom.
War room
This is a Powerful Christian Movie. The movie is about a Pharmaceutical salesman Tony Jordan and Elizabeth Jordan, his wife. To the outside world, this two appear as a happy couple with their large house, money, and beautiful daughter. However, there is another story to be revealed, Tony is abusive and is a workaholic who has no time for his daughter. Through several trials, and their renewed hope in God they can overcome their troubles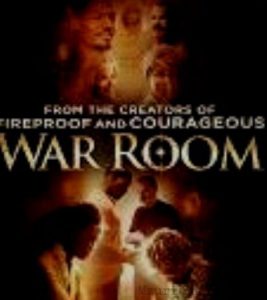 God's Not Dead
Ever heard anyone including your lecturer, teacher, neighbor, workmate or friend say there is no God, yet you believe the opposite? If you ever faced such a situation, this movie will be eye-catching. This all-time best Christian movie on Netflix never loses its meaning "God's Not Dead". It unveils the undying faith of a young man who is willing to do anything to prove his trust in God.  Some of the starring cast includes Kevin Sorbo, and Shane Harper and features a concert appearance by Newsboys
I Can Only Imagine Movie
Another inspirational movie on Netflix. It is a movie that retells the true story behind the inspirational song "I can only imagine by Mercyme". The movie shows the real power of God, and how He can mend people's lives and relationships
Find Also: Christian Birthday Wishes for Kids
God Calling -(2018)
One of the best Nigerian-based Christian movies on Netflix. The movie has captivating scenes and will get your emotions high. The story is about a grieving mother who is trying to overcome the sadness of losing her daughter. 
Overcomer- (2019) 
Overcomer is one of the best faith-based movies that look at the Life of John Harrison. John, who is a coach at a high school basketball team, faces a sudden twist of life events when the largest industrial plant shuts down and hundreds of families depart from their town. His future, together with that of his family is unknown. He can no longer dream about winning the basketball state championship. His life begins to change when he agrees to coach cross country. He meets a determined girl known as Amy. Inspired by Amy's life and prayers, John gathers some hope to help the cross country team.
Best Christian Movies on Netflix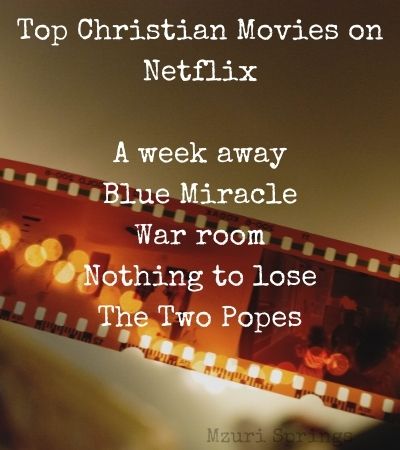 Good Sam 
This is a good movie for the whole family. Imagine receiving $ 100,000 on your doorstep. And the news spread that other people have received the same amount of money. A reporter Kate Bradley (Tiya Sircar) gets interested in the matter and is willing to discover who is the good Samaritan. This discovery in return turns her own life. It premiered in May 2019
Read: Inspirational Religious Christmas Messages
Kiss & Cry
This is another Christian movie on Netflix based on a true story. A young girl by the name of Carley Allison discovers she has cancer of the throat. As a competitive skater Carley, learns to adjust to her new way of living and she interestingly found the motivation to sing for an audience online. This is an inspiration for Christian movies that will remain relevant for years to come. Kiss & Cry was released in 2017.
A Champion Heart- (2018)
Mandy a 15-year-old teenager finds several challenges after the death of her mother. She gets a job at a ranch and as she finds a way to recover from her trouble, she learns horse riding and eventually gets inspired to racing.
Freshman Year 
This is one of the top Christian movies featured on Netflix. The journey of two young people going off to college from their sheltered homes. One of the boys CJ has a father who is a Pastor and he is in a challenge to defend what he has always believed. This movie portrays the real peer pressure faced by kids from Christian backgrounds.
Read: Short Bible Verses for Kids
New Christian Movies on Netflix
Below are the Latest Christian Movies that you can watch with family and friends
A week away- (March 2021)
This is one of the latest faith-based movies on Netflix. It has been referred to by many as a Christian musical movie. The movie is about a distressed teenager known as Will Hawkins (Kevin Quinn). Will has several bad life twists and turns with the law. He faced one dilemma: to either go to juvenile detention or join a Christian summer camp. He chooses the latter and at the summer camp, he gets attached to a girl (Bailee Madison). In this camp, Will find his journey to romance and faith.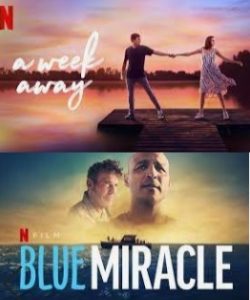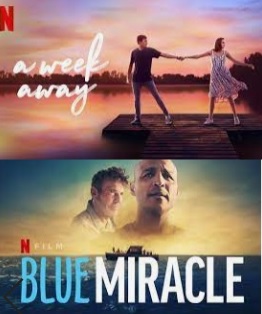 Blue Miracle- (May 2021)
This is a fun Christian movie that is interesting even to someone who is not a movie lover. It is based on the true story of a Mexican boys' orphanage home. After a bad storm, the orphanage is in bad condition, without enough funds to keep the place in good condition the boys choose to participate in a world tournament to rescue their orphanage.  You can bet that this incredible real story of Casa Hogar, will leave you inspired. 
Best Christmas Movies on Netflix 
Holiday
If you are single and you dread the pressure that comes from family just because you are single this movie will be enjoyable to watch. It features Emma Roberts (as Sloane) and Luke Bracey (as Jackson). These two characters dislike the holidays. On most holidays they often find themselves single. Their meeting at awkward Christmas light a spark between them but they end up in denial. They make a deal to be one another's "holidate" for every festive.  Nonetheless, as a year of ridiculous celebrations come to an end, Sloane and Jackson find that sharing everything they hate may just prove to be something they unpredictably love. 
Office Christmas Party 
This is a humorous movie featuring (Jennifer Aniston), who is the CEO that tries hard to close her partying brother's company's branch. Jennifer's brother (T.J. Miller) and his Chief Technical Officer rally their co-workers and host an epic office Christmas party to impress a prospective client and make a sale that will save their jobs. 
Holiday Rush 
Holiday Rush is another Best Christmas movie on Netflix. Released in November 2019 this Christmas romantic comedy-drama film was directed by Leslie Small. A famous radio DJ (Romany Malco) loses his job just as his 4 spoiled kids hand him their Christmas shopping list. Life changes drastically and they have to downsize to a less costly life. By cutting back on expenses, the family begins to grasp that having less could result in better things than imagined. 

Holiday in the wild-2019
This is a top movie about spending a Christmas holiday on your safari holiday in Africa. It stars Kate Conrad (Kristin Davis) whose husband ends their marriage a few days before Christmas. Since she had booked a safari to Africa, Kate decides to proceed alone. Her tour in Zambia allows her to meet Derek Holliston (Rob Lowe). When these two manage to rescue and take care of an orphan elephant much love could be seen from afar. Once the holiday moments are over will Kate choose to stay in Africa or go back to her home? A must-watch Christmas movie for your holiday. 
The Grinch 
One of the best animation movies on Christmas. This computer-animated Christmas fictional comedy is based on the 1957 book: How the Grinch Stole Christmas! by Dr. Seuss. The story is about an irritable Grinch who schemes to destroy Christmas for the village of Whoville. Eventually, the skeptical grump who plans to steal Christmas changes his heart on the mission after he interacts with a young and generous girl.
The Nutcracker and the four realms
Interesting Christmas movie where a girl, Clara (Mackenzie Foy) is looking for a key that will unlock a box with a priceless gift. Clara is given a golden thread by her godfather Drosselmeyer (Morgan Freeman). The thread leads her to the key, but the valued key disappears into another mystery world. In this strange world, Clara meets Philip, a gang of mice regents. The journey to recover the key requires courage. 
Jingle Jungle a Christmas journey 
If you know the pain of losing things and doing everything to get them back, this is the kind of movie you want to watch. Jingle Jungle a Christmas journey, is a musical escapade and a visual spectacle for the ages. The story follows a legendary toymaker known as Jeronicus Jangle (Forest Whitaker) whose fantastic discoveries come with wonders. Unfortunately, his reliable trainee (Emmy winner Keegan-Michael Key) steals his most prized creation. With the assistance of his creative granddaughter and long-forgotten invention, Jeronicus Jangle looks for a way to heal from past pains and awaken the magic within 
The Christmas Chronicles-2018 
The Christmas Chronicles expresses the story of brother Teddy Pierce (Judah Lewis) and his sister Kate (Darby Camp). On Christmas eve, these two strategize to catch Santa Claus (Kurt Russell) on camera. However, the plan turns into an unforeseen journey where they sneak into his sleigh, causing it to crash and closely disrupt Christmas. The two kids are delighted to work with Santa and see him at a close range. 
Best Christian Christmas movies on Netflix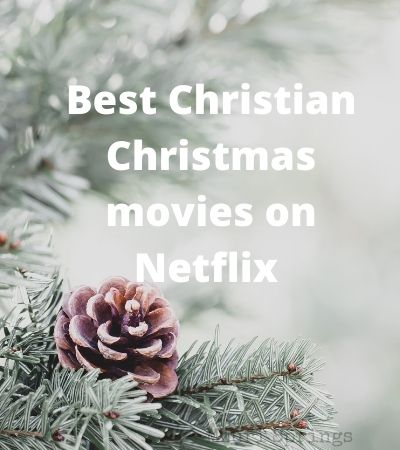 Dolly Parton's Christmas on the square
Jesus the Messiah
The Birth of Jesus
Christian Movies Based On True Stories On Netflix
A Greater Yes: The Story of Amy Newhouse
Born to Win (2014)
Finger of God (2007)
Hacksaw Ridge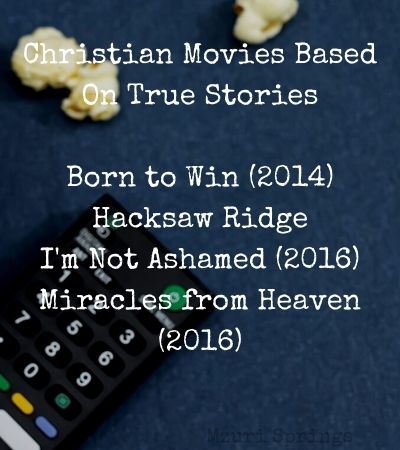 I Am Potential (2015)
I'm Not Ashamed (2016)
Miracles from Heaven (2016)
Sacred Vow (2016)
Summer Snow
The Blind Side (2009)
The Case for Christ (2017)
The Way Home (II) (2010)
Christian Movies on Netflix for Kids
 A Matter of Faith
God's Club
The Little Boy
Son of God
King's Faith
The One I Wrote for You
The Prince of Egypt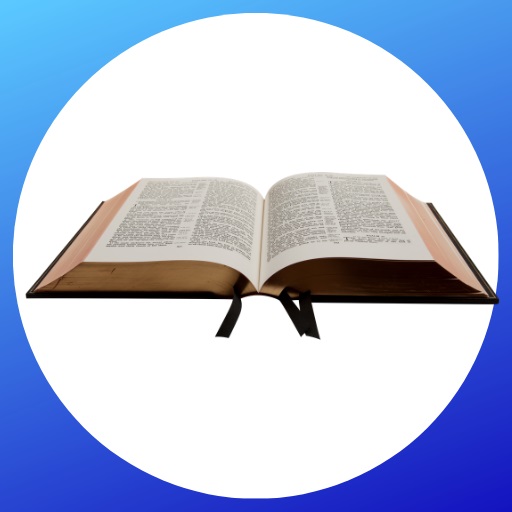 Mzuri Springs provides you with free study guides, devotionals, useful articles, and more