Kindness Stories in the Bible: There are lots of Kindness Stories in the Bible and today we are going to look at a few of them. There are numerous lessons we can learn from these stories. Jesus' stories of kindness in the bible have often been used in today's world to educate both kids and adults.
Below we have looked at Kindness stories in the Bible
Kindness Stories in the Bible
1. Elijah is fed by the widow of Zarephath (1 King 17:1-16)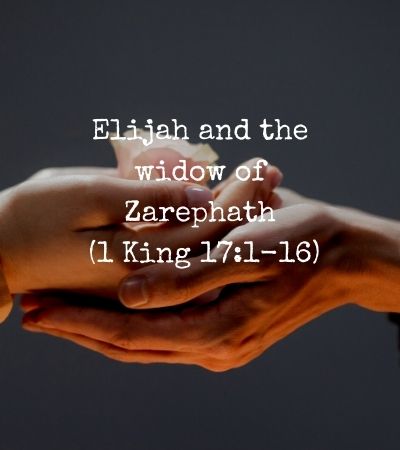 1 Kings 17:10-13
10 So he went to Zarephath. When he came to the town gate, a widow was there gathering sticks. He called to her and asked, "Would you bring me a little water in a jar so I may have a drink?"
11 As she was going to get it, he called, "And bring me, please, a piece of bread."
12 "As surely as the Lord your God lives," she replied, "I don't have any bread—only a handful of flour in a jar and a little olive oil in a jug. I am gathering a few sticks to take home and make a meal for myself and my son, that we may eat it—and die."
13 Elijah said to her, "Don't be afraid. Go home and do as you have said. But first make a small loaf of bread for me from what you have and bring it to me, and then make something for yourself and your son.
Lessons on kindness from Elijah and the widow of Zarephath story.
The widow of Zarephath was very kind to Elijah. She only had a small amount of flour that would only last her and her son one serving. She chose to share the bread with Elijah even though it wasn't even enough for her and the son.
It takes pure kindness to share the best things we have in life.
2. Healing the Leper- Matthew 8:1-3
Matthew 8:1-3
1 When Jesus came down from the mountainside, large crowds followed him.
2 A man with leprosy[a] came and knelt before him and said, "Lord, if you are willing, you can make me clean."
3 Jesus reached out his hand and touched the man. "I am willing," he said. "Be clean!" Immediately he was cleansed of his leprosy.
Lessons on kindness from the Healing the Leper
Leprosy was a sickness that ensured one was isolated and lived away from other people. Lepers were considered "unclean" and "untouchable". The kindness in Jesus made him touch him when everyone else run away from him. The Leper was healed because Jesus cared. Jesus taught us that kindness should be shown to everyone.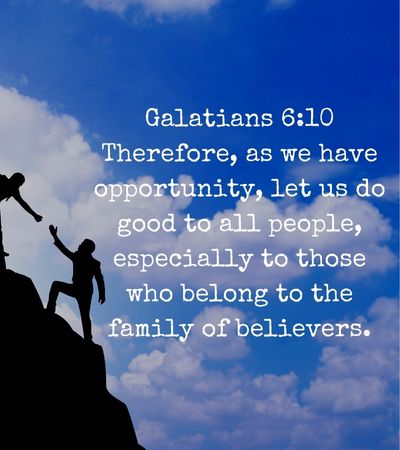 Read: Examples of Compassion in the Bible
3. Abraham Rescues His Nephew, Lot-Genesis 14:11-16
Genesis 14:11-16
11 The four kings seized all the goods of Sodom and Gomorrah and all their food; then they went away.
12 They also carried off Abram's nephew Lot and his possessions, since he was living in Sodom.
13 A man who had escaped came and reported this to Abram the Hebrew. Now Abram was living near the great trees of Mamre the Amorite, a brother[b] of Eshkol and Aner, all of whom were allied with Abram.
14 When Abram heard that his relative had been taken captive, he called out the 318 trained men born in his household and went in pursuit as far as Dan.
15 During the night Abram divided his men to attack them and he routed them, pursuing them as far as Hobah, north of Damascus.
16 He recovered all the goods and brought back his relative Lot and his possessions, together with the women and the other people.
Parables About Kindness
The Parable of the Unmerciful Servant-Matthew 18:23-33
Matthew 18:23-33
23 "Therefore, the kingdom of heaven is like a king who wanted to settle accounts with his servants. 24 As he began the settlement, a man who owed him ten thousand bags of gold[b] was brought to him. 25 Since he was not able to pay, the master ordered that he and his wife and his children and all that he had be sold to repay the debt.
26 "At this the servant fell on his knees before him. 'Be patient with me,' he begged, 'and I will pay back everything.' 27 The servant's master took pity on him, canceled the debt and let him go.
28 "But when that servant went out, he found one of his fellow servants who owed him a hundred silver coins.[c] He grabbed him and began to choke him. 'Pay back what you owe me!' he demanded.
29 "His fellow servant fell to his knees and begged him, 'Be patient with me, and I will pay it back.'
30 "But he refused. Instead, he went off and had the man thrown into prison until he could pay the debt. 31 When the other servants saw what had happened, they were outraged and went and told their master everything that had happened.
32 "Then the master called the servant in. 'You wicked servant,' he said, 'I canceled all that debt of yours because you begged me to. 33 Shouldn't you have had mercy on your fellow servant just as I had on you?'
Jesus Acts of Kindness
Jesus and the Samaritan Woman John 4:4-14
John 4:7-10
7 When a Samaritan woman came to draw water, Jesus said to her, "Will you give me a drink?" 8 (His disciples had gone into the town to buy food.)
9 The Samaritan woman said to him, "You are a Jew and I am a Samaritan woman. How can you ask me for a drink?" (For Jews do not associate with Samaritans.[a])
10 Jesus answered her, "If you knew the gift of God and who it is that asks you for a drink, you would have asked him and he would have given you living water."
Jesus and the woman caught in the act of adultery John 8:1-11
Jesus dining with sinners Mark 2:13-17
Mark 2:15-16
15 While Jesus was having dinner at Levi's house, many tax collectors and sinners were eating with him and his disciples, for there were many who followed him.
16 When the teachers of the law who were Pharisees saw him eating with the sinners and tax collectors, they asked his disciples: "Why does he eat with tax collectors and sinners?"
Jesus heals the man with a struck ear- Luke 22:47-51
Luke 22:47-51
47 While he was still speaking a crowd came up, and the man who was called Judas, one of the Twelve, was leading them. He approached Jesus to kiss him, 48 but Jesus asked him, "Judas, are you betraying the Son of Man with a kiss?"
49 When Jesus' followers saw what was going to happen, they said, "Lord, should we strike with our swords?" 50 And one of them struck the servant of the high priest, cutting off his right ear.
51 But Jesus answered, "No more of this!" And he touched the man's ear and healed him.
Examples of Acts of Kindness in the Bible
Jesus and the woman caught in the act of adultery-John 8:1-11
John 8:1-11
1 but Jesus went to the Mount of Olives.
2 At dawn he appeared again in the temple courts, where all the people gathered around him, and he sat down to teach them.
3 The teachers of the law and the Pharisees brought in a woman caught in adultery. They made her stand before the group
4 and said to Jesus, "Teacher, this woman was caught in the act of adultery.
5 In the Law Moses commanded us to stone such women. Now what do you say?"
6 They were using this question as a trap, in order to have a basis for accusing him.But Jesus bent down and started to write on the ground with his finger.
7 When they kept on questioning him, he straightened up and said to them, "Let any one of you who is without sin be the first to throw a stone at her."
8 Again he stooped down and wrote on the ground.
9 At this, those who heard began to go away one at a time, the older ones first, until only Jesus was left, with the woman still standing there. 10 Jesus straightened up and asked her, "Woman, where are they? Has no one condemned you?"
11 "No one, sir," she said. "Then neither do I condemn you," Jesus declared. "Go now and leave your life of sin."
The Kindness of Dorcas, her death and how she was raised from death Acts 9:36-42
Acts 9:36-42
36 In Joppa there was a disciple named Tabitha (in Greek her name is Dorcas); she was always doing good and helping the poor.
37 About that time she became sick and died, and her body was washed and placed in an upstairs room.
38 Lydda was near Joppa; so when the disciples heard that Peter was in Lydda, they sent two men to him and urged him, "Please come at once!"
39 Peter went with them, and when he arrived he was taken upstairs to the room. All the widows stood around him, crying and showing him the robes and other clothing that Dorcas had made while she was still with them.
40 Peter sent them all out of the room; then he got down on his knees and prayed. Turning toward the dead woman, he said, "Tabitha, get up." She opened her eyes, and seeing Peter she sat up.
41 He took her by the hand and helped her to her feet. Then he called for the believers, especially the widows, and presented her to them alive.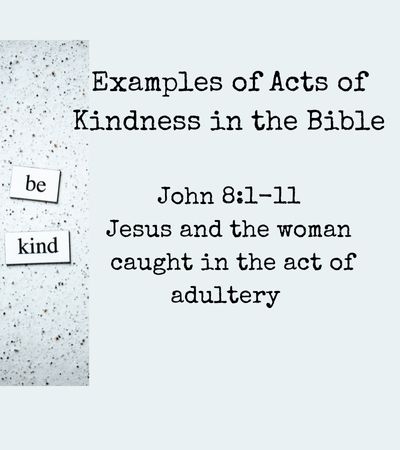 Bible Verses on Kindness
Proverbs 19:17
Whoever is kind to the poor lends to the Lord, and he will reward them for what they have done.
Galatians 6:10
Therefore, as we have opportunity, let us do good to all people, especially to those who belong to the family of believers.
Galatians 5:22-23
22 But the fruit of the Spirit is love, joy, peace, forbearance, kindness, goodness, faithfulness,
23 gentleness and self-control. Against such things there is no law.
1 Samuel 20:14
But show me unfailing kindness like the Lord's kindness as long as I live, so that I may not be killed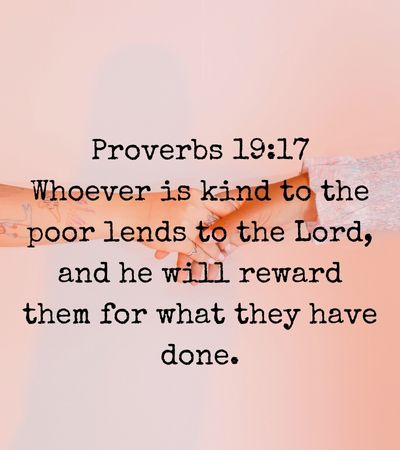 1 Corinthians 13:4
Love is patient, love is kind. It does not envy, it does not boast, it is not proud.
Conclusion: Kindness Stories in the Bible
There are numerous kindness stories in the bible. We are to learn important lesson from this stories.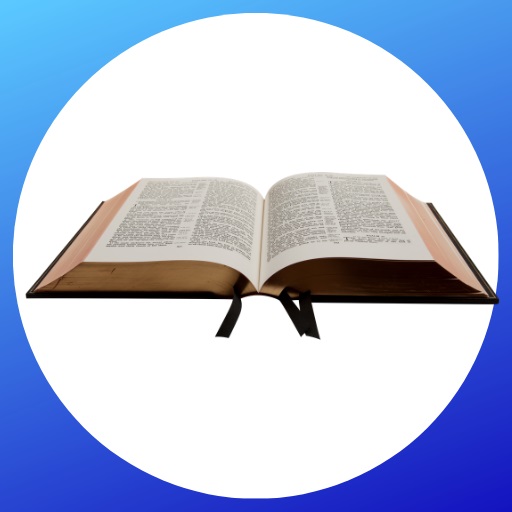 Mzuri Springs provides you with free study guides, devotionals, useful articles, and more