Praying Scripture Examples: A prayer is very powerful. We need to pray every day. When praying we need to praise Him, confess our sins, ask God to intercede for us and thank Him.
In this article, you will find praying scripture examples that you can use when praying.
We can always personalize a bible verse to fit into our situation. A praying scripture is very when used in prayer. This is because in most cases you are proclaiming who Christ is to you and at the same time claiming God's promises.
Transform your life by using these powerful Praying Scripture Examples
Praying Scripture Examples
Some of the prayers are examples based on the scriptures indicated.
Matthew 6:9–13 – The Lord's Prayer
Our Father in heaven,
Hallowed be Your name.
Your kingdom come.
Your will be done
On earth as it is in heaven.
Give us this day our daily bread.
And forgive us our debts,
As we forgive our debtors.
And do not lead us into temptation,
But deliver us from the evil one.
For Yours is the kingdom and the power and the glory forever. Amen.
Philippians 4:13
Thank you God, that I can do all things through Christ who strengthens me.
Psalm 119:18 (Based on)
Lord, please open my eyes that I may see wonderful things in your law.
Based on Hebrews 4:16
God, I come to your throne with confidence. May I receive your mercy and grace in my life especially this time of need.
Read: Bible Verses about Prayer
Psalm 24:1
God, The earth and everything in it is yours, and all who live in it; Please bless your people abundantly.
Acts 2:21
Lord, as the scriptures say in Acts 2:21 that everyone who calls on the name of the Lord will be saved. I pray that we will call your name in every need. Save us Lord for your glory.
Psalm 46:1
Thank you God for being my refuge and strength, an ever-present help in trouble
Psalm 37:7
Lord, help me to be still before you and wait patiently for you. Help me not fret when people succeed in their ways, and when they carry out their wicked schemes.
Proverbs 11:25 (NIV)
A generous person will prosper; whoever refreshes others will be refreshed.
John 8:32
Lord, Thank you for the truth which has set me free
Read: Prayer Point for Financial Breakthrough
Psalm 17:6 (NIV)
I call on you, my God, for you will answer me; turn your ear to me and hear my prayer.
Psalm 39:12 (NIV)
"Hear my prayer, Lord, listen to my cry for help; do not be deaf to my weeping. I dwell with you as a foreigner, a stranger, as all my ancestors were.
Psalm 54:2 (NIV)
Hear my prayer, O God; listen to the words of my mouth.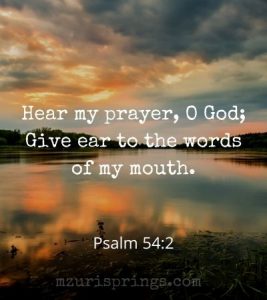 Read: Scriptures to Use When Praying
Scripture Prayers
1 Samuel 2:1 (NIV)
Hannah's Prayer
Then Hannah prayed and said: "My heart rejoices in the Lord; in the Lord my horn[a] is lifted high. My mouth boasts over my enemies, for I delight in your deliverance.
Psalm 55:1-15  (NIV)
1. Listen to my prayer, O God, do not ignore my plea;
2. hear me and answer me. My thoughts trouble me and I am distraught
3 because of what my enemy is saying, because of the threats of the wicked; for they bring down suffering on me and assail me in their anger.
4 My heart is in anguish within me; the terrors of death have fallen on me.
5 Fear and trembling have beset me; horror has overwhelmed me.
6 I said, "Oh, that I had the wings of a dove! I would fly away and be at rest.
7 I would flee far away and stay in the desert;
8 I would hurry to my place of shelter, far from the tempest and storm."
9 Lord, confuse the wicked, confound their words, for I see violence and strife in the city.
10 Day and night they prowl about on its walls; malice and abuse are within it.
11 Destructive forces are at work in the city; threats and lies never leave its streets.
12 If an enemy were insulting me, I could endure it; if a foe were rising against me, I could hide.
13 But it is you, a man like myself, my companion, my close friend,
14 with whom I once enjoyed sweet fellowship at the house of God, as we walked about among the worshipers.
15 Let death take my enemies by surprise; let them go down alive to the realm of the dead, for evil finds lodging among them.
2 Samuel 7:18-29 (NIV)
David's Prayer
18 Then King David went in and sat before the Lord, and he said:
"Who am I, Sovereign Lord, and what is my family, that you have brought me this far? 19 And as if this were not enough in your sight, Sovereign Lord, you have also spoken about the future of the house of your servant—and this decree, Sovereign Lord, is for a mere human!
20 "What more can David say to you? For you know your servant, Sovereign Lord. 21 For the sake of your word and according to your will, you have done this great thing and made it known to your servant.
22 "How great you are, Sovereign Lord! There is no one like you, and there is no God but you, as we have heard with our own ears. 23 And who is like your people Israel—the one nation on earth that God went out to redeem as a people for himself, and to make a name for himself, and to perform great and awesome wonders by driving out nations and their gods from before your people, whom you redeemed from Egypt? 24 You have established your people Israel as your very own forever, and you, Lord, have become their God.
25 "And now, Lord God, keep forever the promise you have made concerning your servant and his house. Do as you promised, 26 so that your name will be great forever. Then people will say, 'The Lord Almighty is God over Israel!' And the house of your servant David will be established in your sight.
27 "Lord Almighty, God of Israel, you have revealed this to your servant, saying, 'I will build a house for you.' So your servant has found courage to pray this prayer to you. 28 Sovereign Lord, you are God! Your covenant is trustworthy, and you have promised these good things to your servant. 29 Now be pleased to bless the house of your servant, that it may continue forever in your sight; for you, Sovereign Lord, have spoken, and with your blessing the house of your servant will be blessed forever."
1 Kings 8:22-55 (NIV)
Solomon's Prayer of Dedication
22 Then Solomon stood before the altar of the Lord in front of the whole assembly of Israel, spread out his hands toward heaven 23 and said:
"Lord, the God of Israel, there is no God like you in heaven above or on earth below—you who keep your covenant of love with your servants who continue wholeheartedly in your way. 24 You have kept your promise to your servant David my father; with your mouth you have promised and with your hand you have fulfilled it—as it is today.
25 "Now Lord, the God of Israel, keep for your servant David my father the promises you made to him when you said, 'You shall never fail to have a successor to sit before me on the throne of Israel, if only your descendants are careful in all they do to walk before me faithfully as you have done.' 26 And now, God of Israel, let your word that you promised your servant David my father come true.
27 "But will God really dwell on earth? The heavens, even the highest heaven, cannot contain you. How much less this temple I have built! 28 Yet give attention to your servant's prayer and his plea for mercy, Lord my God. Hear the cry and the prayer that your servant is praying in your presence this day. 29 May your eyes be open toward this temple night and day, this place of which you said, 'My Name shall be there,' so that you will hear the prayer your servant prays toward this place. 30 Hear the supplication of your servant and of your people Israel when they pray toward this place. Hear from heaven, your dwelling place, and when you hear, forgive.
31 "When anyone wrongs their neighbor and is required to take an oath and they come and swear the oath before your altar in this temple, 32 then hear from heaven and act. Judge between your servants, condemning the guilty by bringing down on their heads what they have done, and vindicating the innocent by treating them in accordance with their innocence.
33 "When your people Israel have been defeated by an enemy because they have sinned against you, and when they turn back to you and give praise to your name, praying and making supplication to you in this temple, 34 then hear from heaven and forgive the sin of your people Israel and bring them back to the land you gave to their ancestors.
35 "When the heavens are shut up and there is no rain because your people have sinned against you, and when they pray toward this place and give praise to your name and turn from their sin because you have afflicted them, 36 then hear from heaven and forgive the sin of your servants, your people Israel. Teach them the right way to live, and send rain on the land you gave your people for an inheritance.
37 "When famine or plague comes to the land, or blight or mildew, locusts or grasshoppers, or when an enemy besieges them in any of their cities, whatever disaster or disease may come, 38 and when a prayer or plea is made by anyone among your people Israel—being aware of the afflictions of their own hearts, and spreading out their hands toward this temple— 39 then hear from heaven, your dwelling place. Forgive and act; deal with everyone according to all they do, since you know their hearts (for you alone know every human heart), 40 so that they will fear you all the time they live in the land you gave our ancestors.
41 "As for the foreigner who does not belong to your people Israel but has come from a distant land because of your name— 42 for they will hear of your great name and your mighty hand and your outstretched arm—when they come and pray toward this temple, 43 then hear from heaven, your dwelling place. Do whatever the foreigner asks of you, so that all the peoples of the earth may know your name and fear you, as do your own people Israel, and may know that this house I have built bears your Name.
44 "When your people go to war against their enemies, wherever you send them, and when they pray to the Lord toward the city you have chosen and the temple I have built for your Name, 45 then hear from heaven their prayer and their plea, and uphold their cause.
46 "When they sin against you—for there is no one who does not sin—and you become angry with them and give them over to their enemies, who take them captive to their own lands, far away or near; 47 and if they have a change of heart in the land where they are held captive, and repent and plead with you in the land of their captors and say, 'We have sinned, we have done wrong, we have acted wickedly'; 48 and if they turn back to you with all their heart and soul in the land of their enemies who took them captive, and pray to you toward the land you gave their ancestors, toward the city you have chosen and the temple I have built for your Name; 49 then from heaven, your dwelling place, hear their prayer and their plea, and uphold their cause. 50 And forgive your people, who have sinned against you; forgive all the offenses they have committed against you, and cause their captors to show them mercy; 51 for they are your people and your inheritance, whom you brought out of Egypt, out of that iron-smelting furnace.
52 "May your eyes be open to your servant's plea and to the plea of your people Israel, and may you listen to them whenever they cry out to you. 53 For you singled them out from all the nations of the world to be your own inheritance, just as you declared through your servant Moses when you, Sovereign Lord, brought our ancestors out of Egypt."
54 When Solomon had finished all these prayers and supplications to the Lord, he rose from before the altar of the Lord, where he had been kneeling with his hands spread out toward heaven.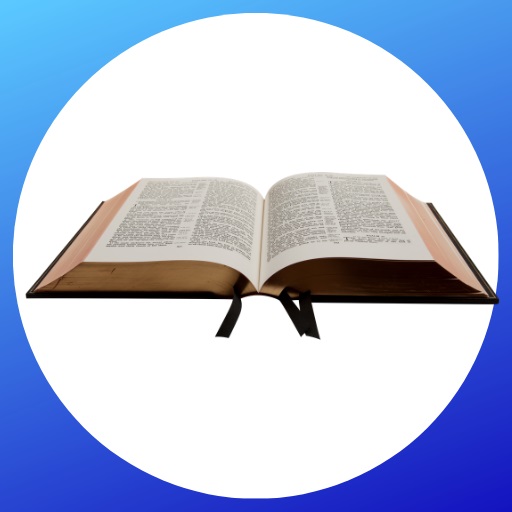 Mzuri Springs provides you with free study guides, devotionals, useful articles, and more