Scriptures to Use When Praying: Searching for bible verses to use when praying, then you are on the right page.
These verses will inspire you when praying. They will put you towards a deeper life of prayer. There are many things that God Says about prayer. These scriptures will inspire us when praying
Scriptures to Use When Praying
Mark 11:24
Therefore I tell you, whatever you ask for in prayer, believe that you have received it, and it will be yours.(NIV)
James 1:6
But let him ask in faith, with no doubting, for he who doubts is like a wave of the sea driven and tossed by the wind. (NKJV)
1 Thessalonians 5:16-19
Rejoice always, pray continually, give thanks in all circumstances; for this is God's will for you in Christ Jesus. Do not quench the Spirit.
Read: Effective Prayer for the Sick
1 John 5:14-15
This is the confidence we have in approaching God: that if we ask anything according to his will, he hears us. And if we know that he hears us—whatever we ask—we know that we have what we asked of him.
Philippians 4:6-7
Do not be anxious about anything, but in every situation, by prayer and petition, with thanksgiving, present your requests to God. And the peace of God, which transcends all understanding, will guard your hearts and your minds in Christ Jesus.
James 5:16
Therefore confess your sins to each other and pray for each other so that you may be healed. The prayer of a righteous person is powerful and effective.
John 15:7
If you remain in me and my words remain in you, ask whatever you wish, and it will be done for you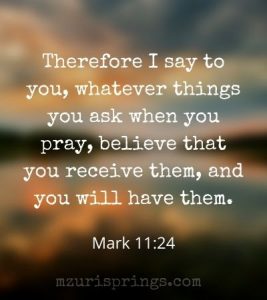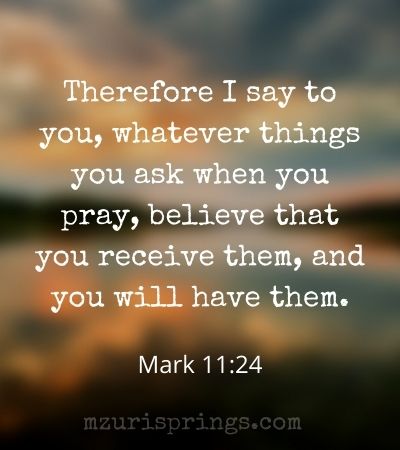 1 Timothy 2:5
For there is one God and one mediator between God and mankind, the man Christ Jesus
Matthew 21:21-22
Jesus replied, "Truly I tell you, if you have faith and do not doubt, not only can you do what was done to the fig tree, but also you can say to this mountain, 'Go, throw yourself into the sea,' and it will be done. If you believe, you will receive whatever you ask for in prayer."
Bible Verses about Prayer
Luke 11:9
"So I say to you: Ask and it will be given to you; seek and you will find; knock and the door will be opened to you.
Jeremiah 33:3
Call to me and I will answer you and tell you great and unsearchable things you do not know
James 1:5
If any of you lacks wisdom, you should ask God, who gives generously to all without finding fault, and it will be given to you
Matthew 6:7
And when you pray, do not keep on babbling like pagans, for they think they will be heard because of their many words
Read: List of Answered Prayers In The Bible
James 4:7
Submit yourselves, then, to God. Resist the devil, and he will flee from you.
Romans 8:26
In the same way, the Spirit helps us in our weakness. We do not know what we ought to pray for, but the Spirit himself intercedes for us through wordless groans
Psalm 91:1-4
1. Whoever dwells in the shelter of the Most High will rest in the shadow of the Almighty.
2. I will say of the Lord, "He is my refuge and my fortress, my God, in whom I trust."
3. Surely he will save you from the fowler's snare and from the deadly pestilence.
4. He will cover you with his feathers, and under his wings you will find refuge; his faithfulness will be your shield and rampart.
1 John 1:9
If we confess our sins, he is faithful and just and will forgive us our sins and purify us from all unrighteousness
Psalm 54:2 
Hear my prayer, O God; listen to the words of my mouth.
Scriptures About Prayer
Psalm 141:2
May my prayer be set before you like incense; may the lifting up of my hands be like the evening sacrifice
James 4:3
When you ask, you do not receive, because you ask with wrong motives, that you may spend what you get on your pleasures
Read: Praying Scripture Examples
2 Chronicles 7:14
If my people, who are called by my name, will humble themselves and pray and seek my face and turn from their wicked ways, then I will hear from heaven, and I will forgive their sin and will heal their land.
Matthew 26:41
Watch and pray so that you will not fall into temptation. The spirit is willing, but the flesh is weak
Psalm 50:15
And call on me in the day of trouble; I will deliver you, and you will honor me
Isaiah 54:17 King James Version (KJV)
No weapon that is formed against thee shall prosper; and every tongue that shall rise against thee in judgment thou shalt condemn. This is the heritage of the servants of the Lord, and their righteousness is of me, saith the Lord
1 Corinthians 15:57 King James Version (KJV)
But thanks be to God, which giveth us the victory through our Lord Jesus Christ
Scriptures to Use When Praying For Healing
Jeremiah 17:14
Heal me, O Lord, and I shall be healed;
Save me, and I shall be saved,
For You are my praise.
Psalms 146:8
The Lord opens the eyes of the blind;
The Lord raises those who are bowed down;
The Lord loves the righteous.
3 John 1:2
Beloved, I pray that you may prosper in all things and be in health, just as your soul prospers.
Exodus 15:26
and said, "If you diligently heed the voice of the Lord your God and do what is right in His sight, give ear to His commandments and keep all His statutes, I will put none of the diseases on you which I have brought on the Egyptians. For I am the Lord who heals you."
Scriptures to Use When Praying For the Church
2 Timothy 4:2
Preach the word! Be ready in season and out of season. Convince, rebuke, exhort, with all longsuffering and teaching.
Colossians 4:2
Continue earnestly in prayer, being vigilant in it with thanksgiving;
Acts 4:12
Nor is there salvation in any other, for there is no other name under heaven given among men by which we must be saved.
1 Thessalonians 5:17
Pray without ceasing,
Ephesians 4:1-3
I, therefore, the prisoner [a]of the Lord, beseech you to walk worthy of the calling with which you were called, with all lowliness and gentleness, with longsuffering, bearing with one another in love, endeavoring to keep the unity of the Spirit in the bond of peace.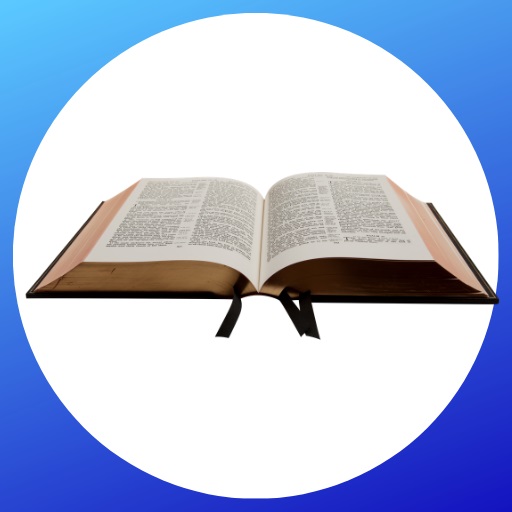 Mzuri Springs provides you with free study guides, devotionals, useful articles, and more