Quotes About Strong Woman of God: Strong women of God have an outstanding character that makes them stand out. In the word of God, several women can be referred to as strong women of God. Strong Women of God in the Bible include Sarah, Hannah, Easter, Naomi, Ruth, Zipporah, and many more.
This article about strong women of God has come up with quotable quotes about women who have a strong relationship with God. The quotes have been developed through a thorough study of women in the Bible and other influential women of God across the globe.
Quotes About Strong Woman of God
A strong woman of God finds her worth not in material things, but in knowing God is the foundation for all her life.
A God-fearing woman will find it in her heart to remain humble even when her light shines bright.
A married godly woman respects her husband at all times.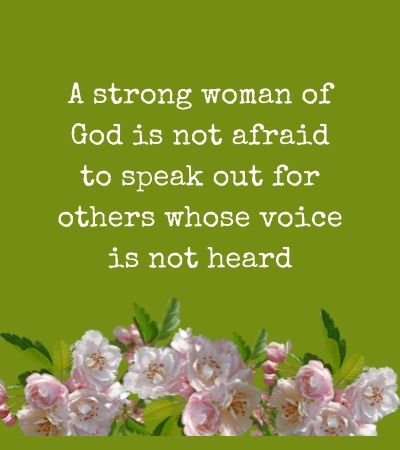 At all times a strong woman of God respects herself first. She will not bend her godly principle just to impress others.
To become a strong woman of God, love must be filled in the heart. First to love God then love others.
To maintain her relationship with God, a godly woman takes time to talk and listen to her maker.
The joy of the Lord is the strength of a godly woman. In most cases, she is jovial and friendly to those around her.
Also Find: Quotes About Being Proud of Someone You Love
A strong woman of God never fears the rumors around her. She knows her destiny is in the Lord.
To be a strong woman of God you must be self-confident. Always allowing God to mold her into what He wants her to be.
Without God, a woman of strong faith knows all is vain. God is the beginning and end of all she does.
A woman of God knows that it is not the lack of storms that make her strong but the presence of storms.
As long as God is with her, a goodly woman will not fear darkness, terrors in the night, or storms in the sea.
A strong woman of God never looks for assurance from others. She knows she is the masterpiece of God's work.
In her strength a god-fearing woman never undermines anyone. Instead she takes time and builds others to become stronger.
Find: Bible Verses about Women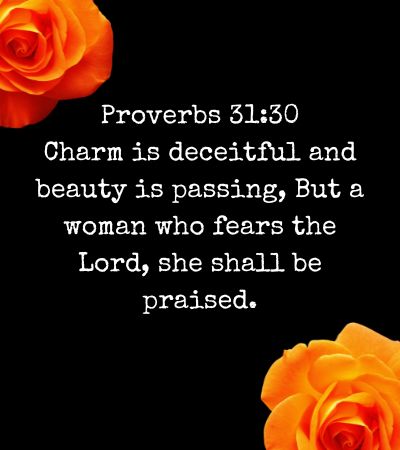 Strong Woman of God Quotes
A strong woman does not look for the opportunities to outshine others. She invests in others to make sure they are equipped to seize the opportunities when they come.
A strong woman of God is not afraid to speak out for others whose voice is not heard.
A godly woman knows the limit that comes with social class. She never fears dealing with the lowly and the mighty.
Godly woman identifies the voice of God even when He speaks in the least expected ways.
Society may be hard on women but a Godly woman knows in God's eyes all people are equal.
To please her Father in heaven, a strong godly woman is ready to make the hard decisions that others aren't ready to take.
Renowned godly women are not remembered for what they did for themselves, but for what they did for others.
Beautiful Godly Woman Quotes
Beauty and charm may be the stepping stones for many, but a godly woman finds her place through hard work and perseverance.
A godly woman knows beauty and strength pass away. She takes time to let God's word renew her inner beauty and strength.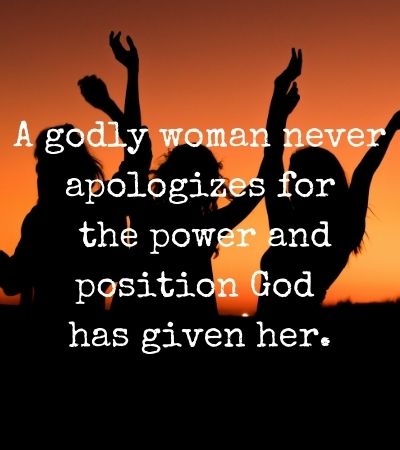 For a strong woman of God, the major battle of life is from own self. She strives to fight selfishness, jealousy, hate, prejudice, malice, self-righteousness, and many more.
A godly woman never apologizes for the power and position God has given her.
Even in her beauty, a godly woman always looks for ways to please the Lord.
A strong woman of God never fears to learn: learn from God and others.
"We need women who are so strong yet be tender, so learned still be humble, so fierce they can be sympathetic, so zealous they can be rational, and so self-controlled they can be free." By Kavita Ramdas
"Strong women don't act like the victim. They don't make themselves look pitiful or point fingers. They just stand and face the challenges they have to." By Mandy Hale
A godly woman often understands that to be heard often requires actions than words.
Even amid strong men, a godly woman understands her divine position in God.
A godly woman recognizes that she was created for a reason.
God Fearing Woman Quotes
"Above all, be the leading lady of your life, not the target." – Nora Ephron
"A woman of God seeks for ways to build herself in the Lord."
Without God in her life, a godly woman knows her life is nothing.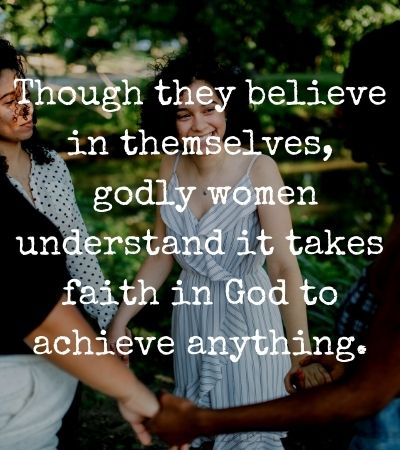 It is not the trends of the day that influence the standards of a god-fearing woman, but the true word of God.
A strong woman of God plays her role even when she sees no results. As long as she plants, it takes God's hand for seeds to grow.
Often beauty is in the eyes of the beholder, but a woman with kind words and good action is praised by all. 
Blessed Woman of God Quotes
A woman of God keeps her spiritual eyes open, she can even hear the still and small voice of God.
God-fearing women know the Lord as their shepherd. They let His rod be the guide for their life.
A woman of God climbs the mountain and walks in the valley without any distress. The God who leads her doesn't sleep or faint.
A godly woman is clothed with strength and dignity. She knows her body is the temple of God.
Like Mary Magdalene, a godly woman would do anything for Lord. Even to wipe his feet with her hair.
Due to her faithfulness, a god-fearing woman can be trusted with much and the little.
A good-fearing woman has no time for malice and cheap gossip. She dedicates her time to the noble cause of reaching out to others with good news.
A strong woman of God knows with God on her side, all things are possible.
God-fearing women value every work they do for God. Nothing is done in vain in the kingdom of God.
Read: Daily Inspirational Quotes about Life
A Woman of God Quotes
A woman of God never relies on her intellect to change the world; she abides in God's plan.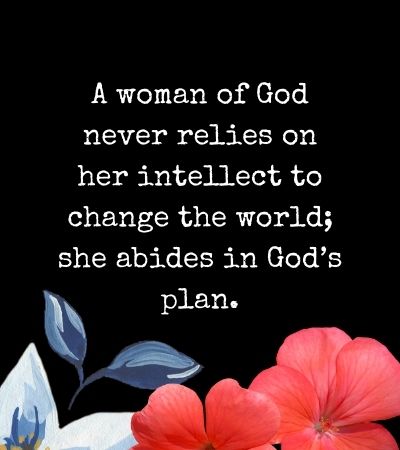 No matter the seasons in her life a woman of God ensures she creates the time to pray and apply the Word of God.
In times of joy and sorrow, a woman of God always rejoices in the Lord.
Without a big heart is hard doing the will of God.
A woman of God is never ashamed to cry before her father in heaven.
A god-fearing woman accepts rebuke and correction that comes from the Lord.
Every strong woman of God comprehends that she has a unique role to play. Just like the way our fingerprints are different so is our uniqueness.
A strong woman appreciates the role played by every woman, she sees the importance of great CEO as well as the significance of a caring mother who takes time to raise her kids. 
Read:  Inspirational Christian Quotes for Women
Warrior woman of God quotes
A strong woman of God recognizes when they walk away from God. They take time to mend their ways with Him.
Even when it is difficult, strong and God-fearing women find it in their hearts to forgive others. Like Christ forgave them, so do they forgive others.
Strong women of God don't rush to make promises to God. Like Hannah, they know the importance of keeping every promise.
Though they believe in themselves, a godly woman understands it takes faith in God to achieve anything.
Unlike tea bags, wise women of God don't wait to be in place in hot water to see their strength. The world sees their power in the small and great things they do.
To encourage others, a woman of God is not ashamed to let others learn from her experience.
A wise and strong woman admits the battles she has gone through. Although she has scars, her dreams remain valid.
Just because you are a strong woman of God, life will not always present opportunities. It's up to every woman to look and seize the opportunities.
Spiritual woman Quotes
Like Esther, godly women recognize that at times God will raise them to be used as vessels of God's power.
No matter the position they hold, godly women don't let power get into their heads.
God does not give out the spirit of fear. When fear creeps in, a godly seek the Lord to be strengthened.
Any woman can stand up for herself. To stand out for others, a woman needs God's intervention.
With God on their side, strong god fearing women don't quit or give up. When they feel like fainting, they call upon the Lord who renews their strength like an eagle.
Strong women of God don't mess around with sin. They know at the end of the day the devil will not be remorseful that he messed up their lives.
You cannot be a god-fearing woman and hold on to the mess within. You have to let go and become a renewed person.
Bible Verses About Strong Women
The Bible has several great women of God. These women had godly characters that today's women can emulate. If you are searching for inspirational bible verses for women we have taken the time and compiled the below list.
Proverbs 11:16
"Kindhearted woman gains honor, but ruthless men gain only wealth."
Strong women of God should be kindhearted. Kindness will honor to a godly woman
Proverbs 14: 1
"The wise woman builds her house, but with her own hands the foolish one tears hers down."
The Bible has several things to say about godly women. In the above verse, it is clear that wise women build their houses with their own hands. To build a strong house requires one to do as per God's word. A wise woman knows God is the foundation on which her house is built. If women are not keen, they could easily ruin their house with their own hands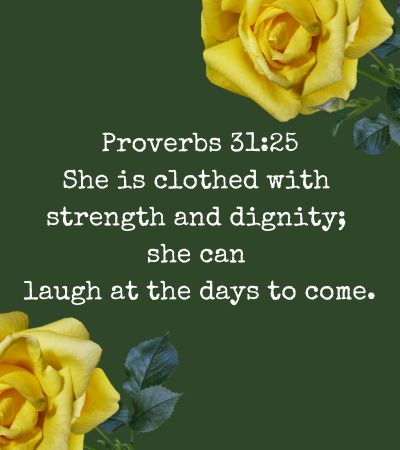 1 Peter 3: 1-2
Wives, in the same way, submit yourselves to your own husbands so that, if any of them do not believe the word, they may be won over without words by the behavior of their wives, 2 when they see the purity and reverence of your lives
This is a special bible verse about women's submission to their husbands. Blessed women of God should know how to submit to their husbands. Submission is not easy, more so if the husband is not a believer. But the Bible is clear, submit. Women can dram their husbands to Christ if they submit and remain pure and respectful.
Proverbs 31:28
Her children arise and call her blessed; her husband also, and he praises her:
A strong and godly woman should start the good work in her house. If things are not right in her house, life outside will be less impactful.
1 Peter 3: 3-4
3 Your beauty should not come from outward adornment, such as elaborate hairstyles and the wearing of gold jewelry or fine clothes. 4 Rather, it should be that of your inner self, the unfading beauty of a gentle and quiet spirit, which is of great worth in God's sight.
What does the bible say about women beauty and makeup? Well, the Bible is clear, a woman shouldn't be less concerned about her beauty but he greatest concern should be inner beauty. Sarah, Abraham's wife, was beautiful, but it is her humbleness and respect that inspire many women today. Godly women should dress in a manner that draws attention to God, not to themselves.
Quotes About Rest and Relaxation
Conclusion: Quotes About Strong Woman of God 
These Quotes About the Strong Woman of God serve as a great reminder that through Christ women can do anything. If you want to appreciate a strong woman of God in your life you can send her one of the above quotes. Whether you write the words on a mother's day card, send them as a text message, an email, or a what app message the quotes will have a positive impact.  At times standing out as a strong godly woman comes with challenges. When you take time and appreciate the role played by their women, their hope is also renewed. All the best as you find the time to appreciate your godly wife, mother, sister, grandmother, aunt cousin, or niece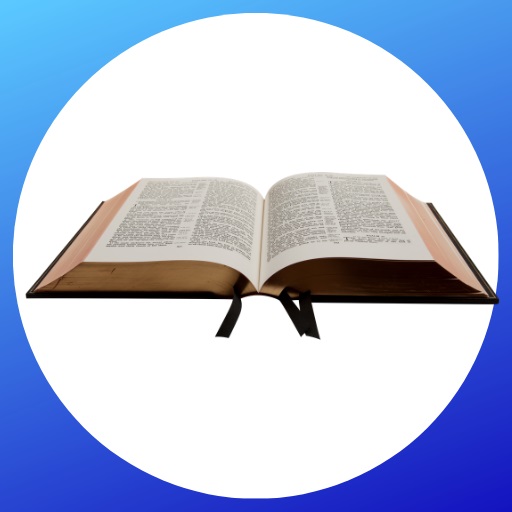 Mzuri Springs provides you with free study guides, devotionals, useful articles, and more