Bible Verses about Destroying Enemies: In their Christian walk, believers face many challenges from their spiritual enemies. There are bible verses about destroying the enemy that we should look at to help us understand how to win the spiritual battle.
To destroy the enemy Christians need to be well rooted in the word of God because He is the only one who can fight our spiritual wars. As you read your bible you will come across some the verses about destroying the enemies so take note of them.
The word of God encourages us to love one another and even pray for our enemies. In case you have enemies other than spiritual enemies consider praying for them, for we are not to hate anyone. You can still use one or two bible verse to defeat the enemy while you are praying.
Bible Verses about Destroying Enemies
Below are some of the bible verses about destroying enemies that will help in your prayers.
1. 1 Peter 5:8 -How to defeat your enemy
1 Peter 5:8
Be alert and of sober mind. Your enemy the devil prowls around like a roaring lion looking for someone to devour.
Resist him, standing firm in the faith, because you know that the family of believers throughout the world is undergoing the same kind of suffering. (NIV)
2. Romans 16:20 -Crushing the enemy under our feet
Romans 16:20
The God of peace will soon crush Satan under your feet. The grace of our Lord Jesus be with you. (NIV)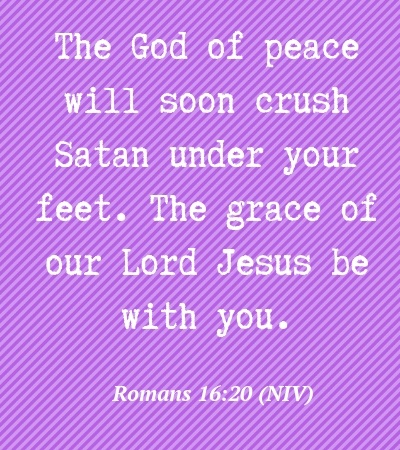 Read: Back To Sender Bible Verses
3. Ephesians 4:12 -Understanding your enemy
Ephesians 4:12
For our struggle is not against flesh and blood, but against the rulers, against the authorities, against the powers of this dark world and against the spiritual forces of evil in the heavenly realms
4. James 4:7 -How to make the devil flee from you
James 4:7
Submit yourselves, then, to God. Resist the devil, and he will flee from you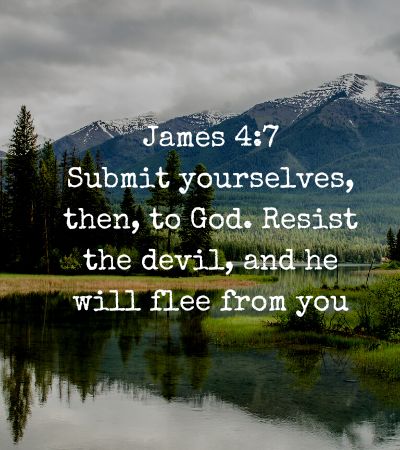 5. Revelation 12:11 -Overcoming your enemy
Revelation 12:11
They triumphed over him by the blood of the Lamb and by the word of their testimony; they did not love their lives so much as to shrink from death.
Read: Bible Verses about Prayer
6. 1 Corinthians 10:13- God promise to help you defeat your enemy
1 Corinthians 10:13
No temptation has overtaken you except what is common to mankind. And God is faithful; he will not let you be tempted[d] beyond what you can bear. But when you are tempted, he will also provide a way out so that you can endure it (NIV)
Bible Verses about Destruction of Enemies
7. Isaiah 54:17- The enemy will not hurt you
Isaiah 54:17
No weapon forged against you will prevail, and you will refute every tongue that accuses you. This is the heritage of the servants of the Lord, and this is their vindication from me," declares the Lord. (NIV)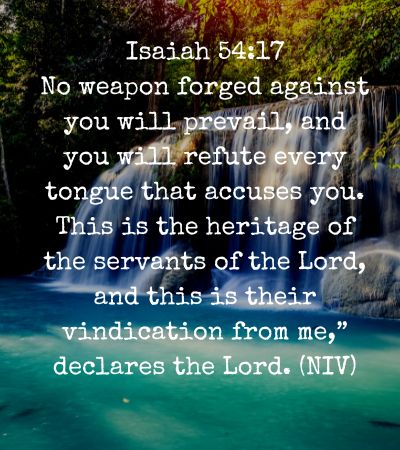 8. Luke 1:74- Rescue from the enemy
Luke 1:74
The oath he swore to our father Abraham: to rescue us from the hand of our enemies, and to enable us to serve him without fear
Read: Bible Verses about Being Thankful For Someone
9.1 Corinthians 15:26-28- Our greatest enemy death will be destroyed by Jesus
1 Corinthians 15:26-28
The last enemy to be destroyed is death.
For he "has put everything under his feet. Now when it says that "everything" has been put under him, it is clear that this does not include God himself, who put everything under Christ.
When he has done this, then the Son himself will be made subject to him who put everything under him, so that God may be all in all. (NIV)
10. Genesis 22:17- Taking possessions of our enemies
Genesis 22:17
I will surely bless you and make your descendants as numerous as the stars in the sky and as the sand on the seashore. Your descendants will take possession of the cities of their enemies,
11. Psalms 143:12- Destroying the enemy
Psalms 143:12
12 And in your mercy cut off my enemies, and destroy all them that afflict my soul: for I am your servant
Bible Verse About Defeating Enemies
12. Luke 21:15-19- The battle may become tough but God is with you
For I will give you words and wisdom that none of your adversaries will be able to resist or contradict.
You will be betrayed even by parents, brothers and sisters, relatives and friends, and they will put some of you to death.
Everyone will hate you because of me. But not a hair of your head will perish. Stand firm, and you will win life.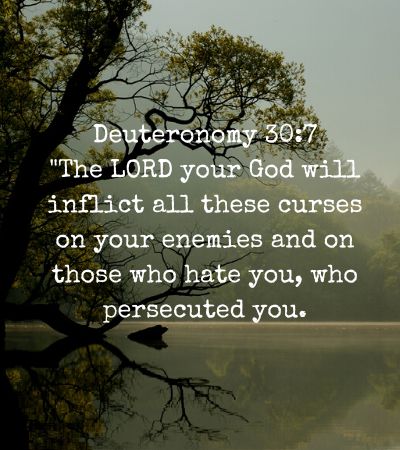 13. Micah 7:10- Your enemy will be ashamed
Micah 7:10
Then my enemy will see it and will be covered with shame, she who said to me, "Where is the Lord your God?" My eyes will see her downfall; even now she will be trampled underfoot like mire in the streets.
14. Zephaniah 3:15- The Lord will turn back the enemy
Zephaniah 3:15
The Lord has taken away your punishment, he has turned back your enemy. The Lord, the King of Israel, is with you; never again will you fear any harm
15. Deuteronomy 30:7- For those who persecute you, the Lord will revenge for you
Deuteronomy 30:7
"The LORD your God will inflict all these curses on your enemies and on those who hate you, who persecuted you.
16.Romans 12:14-21- How to treat your enemies
Romans 12:14-21
Bless those who persecute you; bless and do not curse. Rejoice with those who rejoice; mourn with those who mourn.
Live in harmony with one another. Do not be proud, but be willing to associate with people of low position. Do not be conceited.
Do not repay anyone evil for evil. Be careful to do what is right in the eyes of everyone. If it is possible, as far as it depends on you, live at peace with everyone.
Do not take revenge, my dear friends, but leave room for God's wrath, for it is written: "It is mine to avenge; I will repay," says the Lord.
On the contrary: "If your enemy is hungry, feed him; if he is thirsty, give him something to drink.
In doing this, you will heap burning coals on his head."  Do not be overcome by evil, but overcome evil with good
17. Psalm 81:14
14 how quickly I would subdue their enemies and turn my hand against their foes!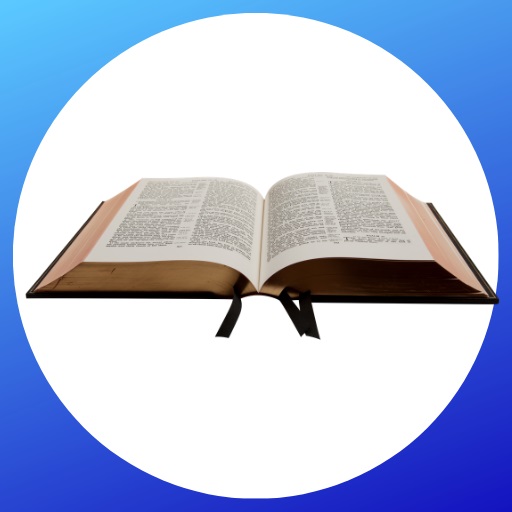 Mzuri Springs provides you with free study guides, devotionals, useful articles, and more