Religious Christmas Messages for Family: Looking for the best religious Christmas message for your family? Christmas makes family times more enjoyable and meaningful. As you embrace the celebration you can share one or two warm Christian messages with your family. To help you come up with the best, we have compiled the below messages.
Religious Christmas Messages for Family
1. Merry Christmas to the family that I love, you bring the best moments in my life. You are special!
2. Thank you for your support and prayers. You give me a reason to look forward to a Merry Christmas. Merry Christmas my dear family.
3. Wishing you a remarkable Christmas festivity. You are an extraordinary family. Because of you in my world, is better. Merry Christmas!
Read: Christmas Prayers for Families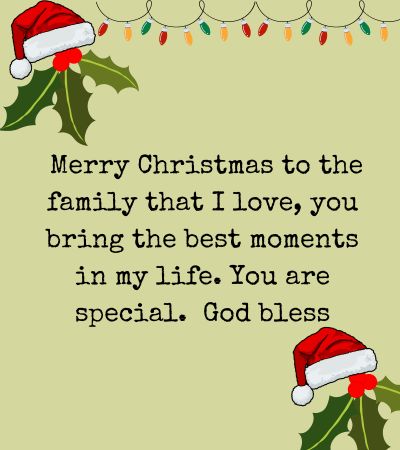 4. Until the end of time, you were the family that I thank God for. I appreciate you as the greatest gift ever. Best  Christmas wishes to you all.
5. All the days of my life I pray you will always be blessed with more laughter, peace, and love. I wish you a merry Christmas.
6. With lots of admiration and appreciation, I take this opportunity to wish you a happy Christmas.
Merry Christmas Wishes for Family Religious
1. Merry Christmas fam,  may you have the ultimate joy of knowing Jesus Christ and His saving grace.
2. Joy to us for our Savior is born, a good reason to rejoice and make merry. May the love shown to us from heaven be with us this season and the coming year.
Read: Christmas Messages for Brother in Law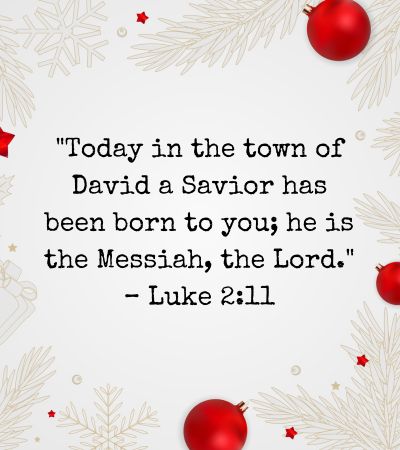 3. Take time and enjoy this holiday, with Christmas and New Year at hand, I send you my warm Christmas greetings.
4. My sincere and warm Christmas greeting to you, let's not forget to share the love with those who have no chance of having anyone around them,
5. As the whole world is celebrating the birth of a Messiah, may we create the best memories by always experiencing the unconditional love of God. Cheers to a splendid Christmas!
6. Merry Christmas to you, you are such a wonderful family! I hope this one will be a Christmas to remember.
7. This Christmas it is good to know it is the gift of every one of you that makes our family special. Merry Christmas to you all
Read: Christmas Message to Husband Long Distance
Short Merry Christmas Greetings to Family
1. Wishing you a wonderful and blissful holiday, fam!
2. May you have a merry Christmas and a successful New Year!
3. May this season bring you blessings and may the coming year become better.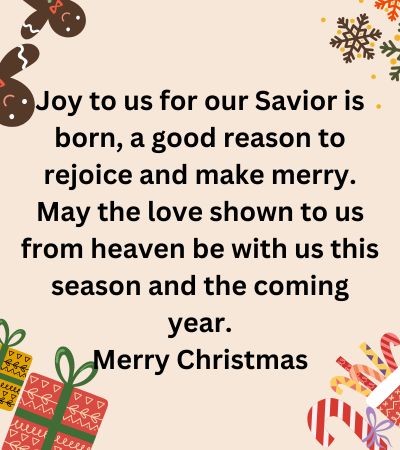 4. Merry Christmas to you! Let this season bring you lots of joy.
5. I wish you the best Christmas ever. May more and better memories come to you.
Read: Merry Christmas Daughter and Son in Law Messages
6. Cheers to a Christmas full of happiness and laughter.
7. Best wishes I send to you this Christmas, my family. May you enjoy every chance
8. May the good times of this season become the gems of the coming year. Merry Christmas
Christian Merry Christmas Greetings Message for Family
1. May love and happiness come to you this Christmas. Have a very blessed and merry Christmas!
2. I take this chance to wish you a happy Christmas. Let the laughter of everyone close bring a smile to us. Merry Christmas and Happy New Year!
Read: Christmas Message for Boyfriend Long Distance
3. The gift of having a God-given family that loves us is good. Let us take time and enjoy this season with our loved ones. Merry Christmas to you
4. Being a season of love, I take this time to express my love to you. You are the best family could ever have. Here to a wonderful Christmas
5. Merry Christmas family, I only wish you The best things in your life. May you smile more, and may laughter fill our house
6.  May the heavenly light of Christ's love shine in your life this season. Merry Christmas and Happy New year
Read: Christmas Quotes for Preschoolers
Conclusion: Religious Christmas Messages for Family
Coming up with warm Christmas wishes for family does not have to take much of your time. Use and edit the above messages to come up with inspirational Christmas messages for your family, that will not only touch their heart but also make the holiday memorable.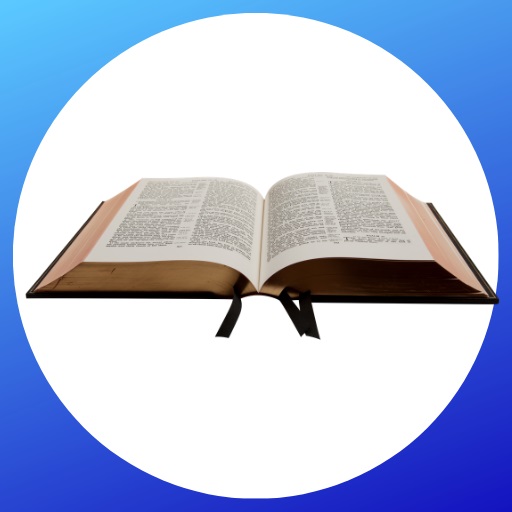 Mzuri Springs provides you with free study guides, devotionals, useful articles, and more