Christmas Card Messages For Family: Are you planning to send Christmas card messages to your love one? If yes, then it is good to understand that Christmas card messages can say much more that the actual words written on them. You should not just scribble any word. You will need to understand the like, taste and personality of the person you are sending the message to.
It is in this regard that we have tried to help you get some idea on what kind of Christmas card messages to send to your family. This collection of wonderful messages will inspire you to improve you creativity while sending Christmas messages.
Christmas is a time of spending time with family so as you send your gift it can be accompanied by family Christmas cards. The greatest Christmas messages are ones that are sincere and come from deep inside the heart.
Below are some of the best Christmas card messages for family
Christmas card messages for family
Wishing you a wonderful and blissful holiday!
May you have a merry Christmas and successful New Year!
May this season bring to you blessing and may the coming year become better
Merry Christmas to you
Let this season bring lots of joy to you
May more and better memories come to you
Cheers to a Christmas full of happiness and laughter
Wonderful Wishes I send to you this Christmas
May you enjoy every chance with your loved ones
As the New Year comes let the past memories become a basis on which you will build better dreams
Merry Christmas
May the good times of this season become the gems the coming year
May love and happiness come to you and your family this Christmas
Merry Christmas to you
I take this chance to wish you a happy Christmas
As you meet with your loved ones this season let love be ignited in your heart
Let the laughter of everyone close to you bring a smile to you
Merry Christmas and happy New Year!
Let this Christmas season remind you the most important people in your life
The gift of having a family that loves you is a good thing
Take time and enjoy this season with your loved one
Merry Christmas to you
Being a season of love, I take this time to express my love to you
I only wish the best, may you smile more, and may laughter fill your house
Merry Christmas and happy New Year
Its Christmas time
A period of hope,
A period of love,
A period of blessings
May the heavenly light of Christ's love shine in your life this season
Merry Christmas and Happy New year
Read: Christian Christmas Wishes
Christmas card Sayings for Family
It feels great that it's another Christmas season
A time when we all meet together
A time to share our best and worst moments of the year
Look forward to a wonderful time
Cheers to a happy season
My heart is bursting with joy
I can't help but smile with joy
It another time when we shall all seat around one table
Just like the old days, look forward to presenting my Christmas gift to every one of you
Merry Christmas!
This Christmas may your moments be splendid.
May your heart be filled with the most things that you cherish
Let all your dreams be fulfilled in the coming year
Cheers to a happy holiday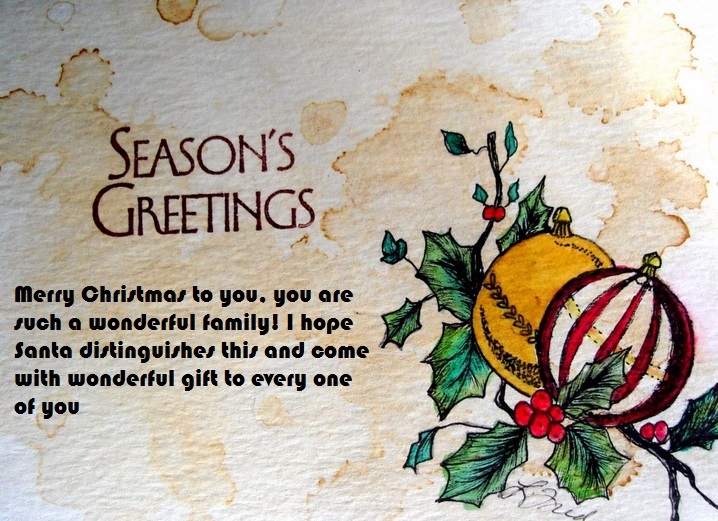 Merry Christmas to you
It's another time to set that Christmas tree,
A season when we shall have a chance to decorate that tree
The gifts from our loved one will once again bring joy and smile to our hearts
I take this moment to send to you heaven send love
As you celebrate this season I take time to just wish you a merry Christmas
Lots of love
Let a song of joy fill your heart this Christmas
May God bless you this season
May the coming year present you with opportunities to fulfill your dreams
Merry Christmas
Shining stars on the top of the Christmas tree
Christmas gifts around the Christmas tree
The songs in our ears are nothing more than melodious carols
The air is filled with laughter of our loved ones
As we celebrate together I take this moment to wish you a blessed and blissful Christmas season
Christmas card Wishes for Family
1. Merry Christmas from me and my family! Cheers to another time of love and togetherness!
2. As the year come to end, it come with a season when family come together, I cannot forget to wish a happy and merry Christmas followed by a blessed new year
3. It's a time when the joy of seeing our family becomes real, as you celebrate, let the God fill your hearts with unspeakable love. Merry Christmas and happy new year to you
4. Nothing brightens our Christmas than warm wishes we receive from our loved one. As you take time and celebrate this Christmas be assured that my hearts wishes you a wonderful time, my love is always with you.
5. It brings joy in my soul to see a Christmas season when you are around. I take the moment to just let you know I cherish every season we meet to just sing the Christmas carols. Cheers to a joyful season
6. Wishing you a holiday season full of amusing moments and a happy new year filled with success and abundance.
7. To me I cherish every moment with my family, this Christmas I will celebrate the holiday away from home. I take time to wish a merry Christmas to you, even though I am far away, you will be in my heart!
8. As you celebrate this Christmas may good memories be inscribed in your heart. I wish you will find all the opportunities that will make your heart rejoice
9. The blessing of seeing another Christmas is a great gift, That is why it cannot escape my mind to take a chance to wish you a wonderful and memorable Christmas
10. It's not the Christmas tree, or the Santa or the Christmas carols that make Christmas, it simply the joy of knowing Jesus Christ came to save the world. Merry Christmas and happy new year to you
Christmas greetings for family
Christmas greeting to you and your family, as you celebrate this Christmas may the hope, love and joy fill your house
Joy to us for our savior is born, a good reason to rejoice and make merry. May the love shown to us from heaven be with us this season and the coming year
Take time and enjoy this holiday, with Christmas and New Year at hand, what other time can we compare to this season, as your family meet again to celebrate I send to you my warm Christmas greetings
I send my sincere Christmas greeting to you, let's not forget to share love with those who have no chance of having any one around them, it's a time to give without expecting to receive back. Merry Christmas to you
The whole world is celebrating the birth of a messiah, it's not just the sweet memories we shall share, but also the unconditional love of God, cheers to a splendid Christmas!
Merry Christmas to you, you are such a wonderful family! I hope Santa distinguishes this and come with wonderful gift to every one of you
This Christmas it is good to know what will decorate this Christmas more than decorations, it is our family. Our holiday will brighten up by having such valuable people in our lives, Merry Christmas to you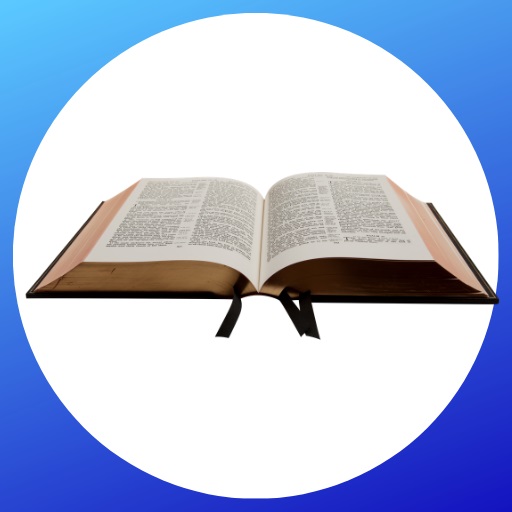 Mzuri Springs provides you with free study guides, devotionals, useful articles, and more